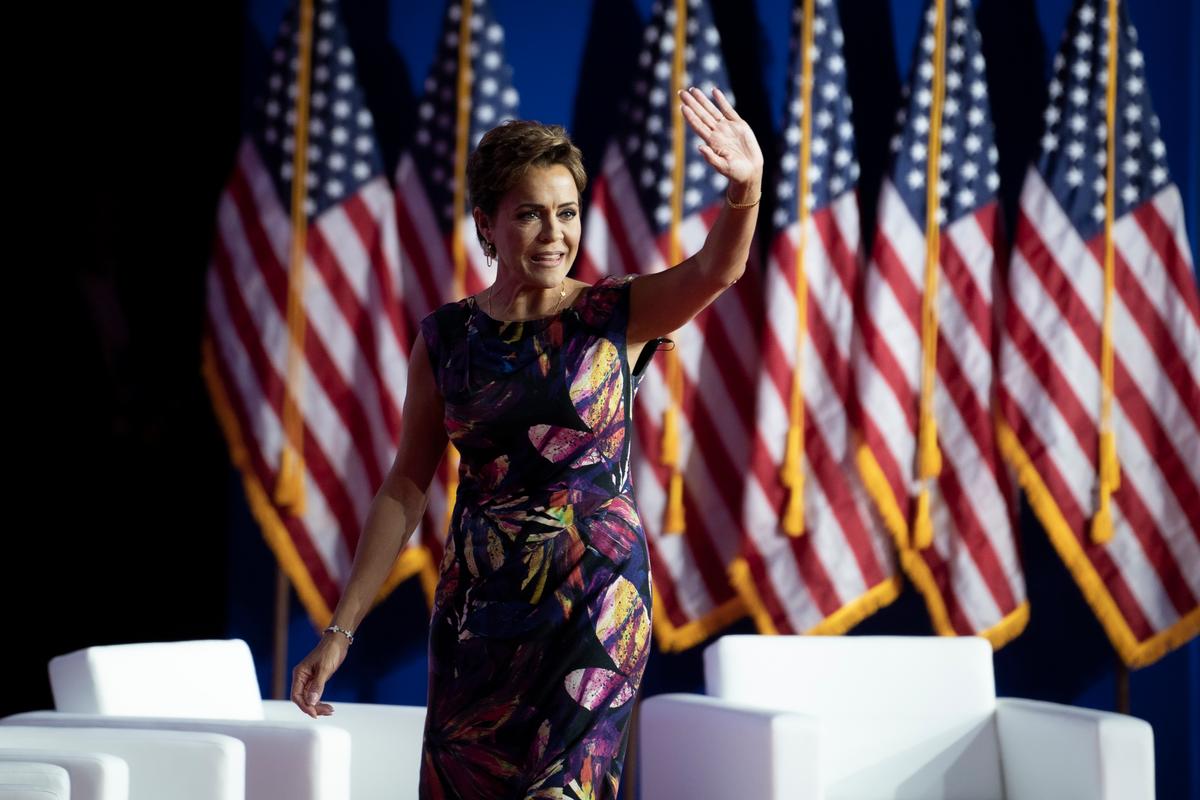 https://www.theepochtimes.com/us/kari-lake-files-fec-paperwork-to-run-for-us-senate-in-arizona-5503579?src_src=News&src_cmp=breaking-2023-10-04-1&est=qrXK6dMnryiXo3u%2FxVfR8%2F5H1iNpcnyIt%2FkAosMPLLQNPZAW11z3r9gBhWOWlGr9oO8RaQ%3D%3D
Kari Lake, a former Republican Arizona gubernatorial candidate, has officially submitted paperwork to the Federal Election Commission (FEC), announcing her bid for the U.S. Senate.
After months of "seriously considering," Ms. Lake confirmed her intentions for a 2024 Senate campaign last week to The Wall Street Journal. Her campaign filed the necessary paperwork on Tuesday, a week before her scheduled public announcement on Oct. 10.
Ms. Lake's goal is to secure the Senate seat currently held by Sen. Kyrsten Sinema (I-Ariz.). She has emphasized the need for "a senator in there who is going to fight back and put America first."
In an interview with the WSJ published last week, Ms. Lake, a prominent conservative and vocal supporter of Republican former President Donald Trump, revealed that she would formally announce her candidacy on Oct. 10, with an announcement event planned in Scottsdale, reported AZ Central.
She teased her announcement in a video posted on X last week, featuring news clips and interviews speculating on her potential campaign, urging her followers to "stay tuned."
Ms. Lake's entry into the race is expected to make it one of the most closely watched contests in the upcoming 2024 election. The outcome of this pivotal race could potentially shift the balance of power in the U.S. Senate.
Arizona, traditionally a Republican stronghold, saw President Joe Biden narrowly win in 2020, and Democrats have claimed victory in the last three Senate elections. Furthermore, the state's GOP is grappling with recent losses in key statewide races, including the governor and secretary of state positions.
Ms. Lake's candidacy may complicate the contest for Ms. Sinema's seat, potentially leading to a three-way general election. Ms. Sinema, who left the Democratic Party to become an Independent in December, has not yet announced whether she intends to run for reelection.
Meanwhile, Pinal County Sheriff Mark Lamb, a Republican, has already declared his candidacy for the seat, and it is expected that Rep. Ruben Gallego (D-Ariz.) will be the Democratic nominee.
The former television journalist has been dropping hints about a potential candidacy for several months, particularly after not being declared the winner in the Arizona gubernatorial race last year. In past statements to The Epoch Times, she has expressed her commitment to the people of Arizona.
Caroline Wren, Ms. Lake's senior adviser, has said that Ms. Lake is dedicated to providing a conservative alternative for Arizona voters. She believes that Mr. Gallego and Ms. Sinema are "rubber stamps for Joe Biden and his radical agenda" and has suggested that Arizona needs a "true conservative fighter" in the U.S. Senate.
"The people of Arizona want Kari Lake to stay in this fight and are calling on her to run and she's very likely to answer that call," Ms. Wren previously told The Hill.
Despite her loss in the 2022 Arizona gubernatorial race against Gov. Katie Hobbs, a Democrat, Ms. Lake has maintained her belief that election fraud played a role in her defeat.
Over the past year, she has traveled across the country to raise funds for lawsuits related to her gubernatorial race. She has also authored a book and served as an official surrogate for President Trump's presidential campaign. Recently, she campaigned for the former president in Iowa and served as a surrogate during a Republican debate.
Ms. Lake has been mentioned as a potential running mate for the former president, although this possibility may be less likely if she becomes the Republican nominee in a critical Senate race.
Arizona is considered a potential pickup opportunity for Republicans in this election cycle, given the more favorable Senate landscape compared to for Democrats, who must defend a larger number of seats.
Republicans in the state anticipate Ms. Lake becoming the Republican nominee if she decides to run, but the prospect of a three-way race adds an element of unpredictability to the contest.
Savannah Hulsey Pointer contributed to this report.