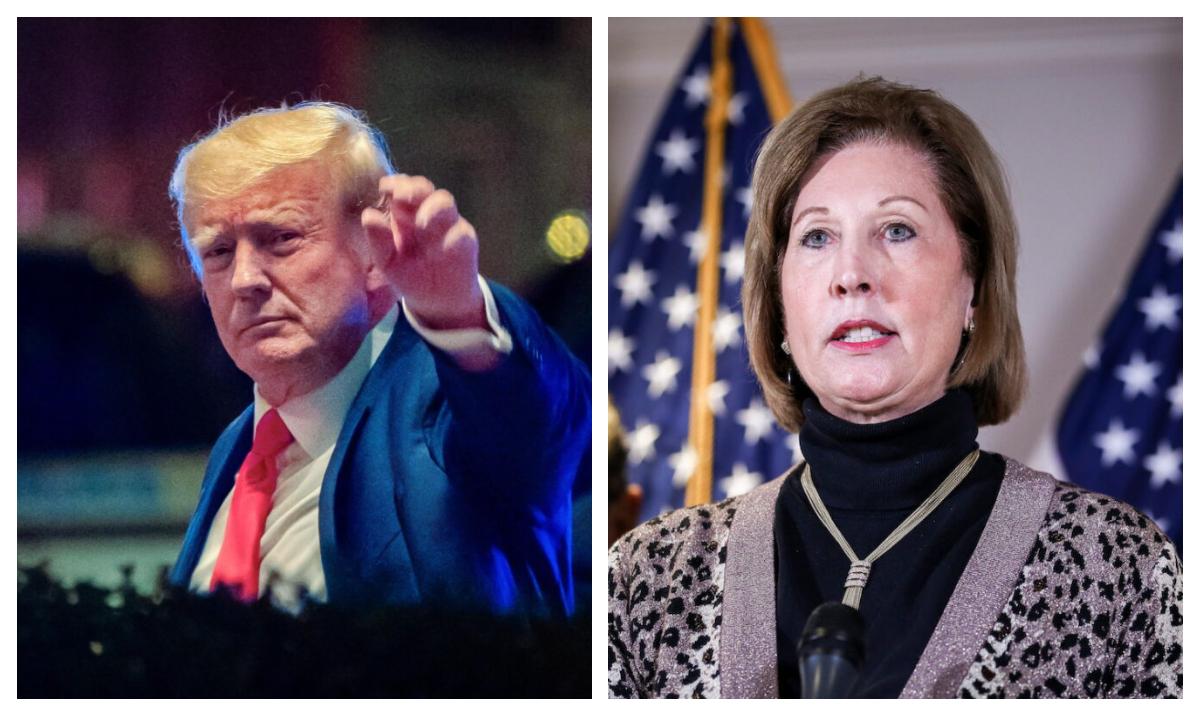 https://www.theepochtimes.com/us/trump-responds-to-sidney-powell-guilty-plea-in-fulton-county-5514782?src_src=morningbriefnoe&src_cmp=mb-2023-10-23&cta_utm_source=morningbriefnoecta&est=8vUI0GnZmqVa6fJhV0nJWdaxGbH%2FdHt%2FqFKHVj5V82Y6E%2BaP2dkHwiM9UFlP2UhinCf24Q%3D%3D
Former President Donald Trump on Sunday responded to attorney Sidney Powell's guilty plea in a Fulton County, Georgia, election case by saying that she wasn't ever his attorney.
"Sidney Powell was one of millions and millions of people who thought, and in ever increasing numbers still think, correctly, that the 2020 Presidential Election was rigged & stolen," he wrote on Truth Social.
He added that Ms. Powell "was not my attorney and never was." If she was his attorney, "she would have been conflicted," the former president said.
"Ms. Powell did a valiant job of representing a very unfairly treated and governmentally abused General Mike Flynn, but to no avail. His prosecution, despite the facts, was ruthless. He was an innocent man, much like many other innocent people who are being persecuted by this now Fascist government of ours, and I was honored to give him a Full Pardon," President Trump wrote on Truth Social.
As Ms. Powell's trial in Fulton County approached, she tried to distance herself from President Trump. She "did not represent President Trump or the Trump campaign" because she never signed an "engagement agreement" to be their attorney in an official capacity, her attorneys said in a court filing in August, coming weeks after she was charged.
The court filing added that Ms. Powell's name wasn't ever on any Trump campaign court filings.
Ms. Powell agreed to cooperate with the Fulton County District Attorney's office and testify against her co-defendants in the election-related case. In return, she pleaded
guilty
to six misdemeanors and agreed to pay a fine, while it did not require her to plead guilty to the racketeering charge that ensnared her and 18 co-defendants, including the former president.
The plea was issued as she was slated to go to trial on Oct. 23 alongside attorney Kenneth Chesebro, who similarly pleaded guilty to related crimes last week. And like Ms. Powell, Mr. Chesebro agreed to testify against other defendants in the case.
In a Twitter post nearly three years ago, President Trump
announced
Ms. Powell would be added to his legal team and said that she would work with former New York City Mayor Rudy Giuliani on a team with other lawyers. She also appeared in a November 2020 news conference with Mr. Giuliani and fellow attorney Jenna Ellis, making statements about an alleged scheme to flip votes from President Trump to then-candidate Joe Biden.
But the campaign's legal department later clarified she was never part of their team.
Later on in 2020, President Trump's campaign released a statement saying that Ms. Powell was " practicing law on her own," adding that she isn't "a member of the Trump Legal Team. She is also not a lawyer for the President in his personal capacity."
At the time, Ms. Powell issued a statement saying that she would continue to pursue legal activity despite the statement from the Trump campaign.
"I agree with the statement today. I will represent #WeThePeople and seek the Truth," she said in late 2020. "I intend to expose all the fraud and let the chips fall where they may. We will not allow the foundations of this great Republic to be destroyed by abject fraud or our votes for President Trump and other Republicans to be stolen by foreign interests or anyone else."
After the election, Ms. Powell generated a significant number of headlines for her prognostications regarding the 2020 election while claiming she would "release the Kraken" about voter fraud.
Between Dec. 1, 2020 ,and Nov. 30, 2021, she r
aised
more than $14 million via her nonprofit, Defending the Republic. The organization spent about $8 million, including $3.8 million on legal fees and $2 million on other expenses, according to reports, as Ms. Powell told media outlets last year that her nonprofit has independent accountants, legal counsel, and auditors.
Compelled to Lie?
Harvey Silverglate, lawyer for John Eastman, one of the co-defendants,
told
The Epoch Times that he believes Ms. Powell was actually innocent and is trying to escape a wrongful conviction based on what he described as an unfair law.
"This is how prosecutors operate. They charge, they overcharge, including charging innocent people," Mr. Silverglate told The Epoch Times last week after her guilty plea.
"It's much more difficult to beat conspiracy cases than substantive criminal cases. And the reason is that if the government can convince a jury that you were involved with these people in a conspiracy, rather than in a lawful undertaking, anything any member of that conspiracy did, you are responsible for," he added.
If or when she is called to testify, the lawyer had questions about her intentions. "Is she going to tell the truth, or is she going to say something to satisfy Fani Willis?" Mr. Silverglate asked. "She can say that she was lying previously, and now she's telling the truth, which, of course, would not be the truth," he said.