Nicolas Maduro
Venezuela's government, striving to legitimize President Nicolas Maduro's grab for control, said that more than 8 million people
participated
in a vote to rewrite the constitution even though polling places and streets were mostly empty and quiet.
The constituent assembly chosen Sunday will meet as soon as this week to discuss changing the charter rewritten under former socialist leader Hugo Chavez, who is still revered as the inspiration for the revolution that Maduro claims to lead. The opposition says the rewrite is meant to replace a critical congress and delay general elections.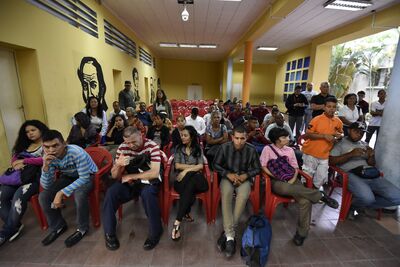 National Electoral Council head Tibisay Lucena said late Sunday that more than 41 percent of the country's voters took part, for a total of 8.09 million people. That figure would surpass Maduro's own election results in 2013. The opposition said it estimated only about 15 percent took part, while
Torino Capital
said its exit polls showed participation of about 3.6 million.
Humberto Pelaez a 71-year-old cab driver, said he voted in central Caracas because he wanted to bring peace to his country, but that turnout was poor compared with previous years.
"Under Chavez, elections were a party," he said. "There's hardly anyone now. The government isn't governing for everyone."
Sunday's vote was a watershed moment in Venezuela democracy's slow crumbling. It prompted anger from the U.S. and other Latin American nations. With the constituent assembly installed, Venezuela is poised to become the world's newest dictatorship, with Maduro heading a country with vast oil resources, but a ravaged economy and riven society.
Attention now turns to whether the U.S. will fulfill
threats
to increase sanctions against individuals in the Venezuelan government or apply more painful restrictions that could curb the flow of dollars to the administration. The opposition called on supporters to protest in major cities Monday against the assembly and what they see as an increased crackdown by authorities. More than a dozen people died Sunday alone around the country as security forces clashed with demonstrators.
"I suspect the U.S. is strongly considering forcing economic collapse by halting the purchase of Venezuelan oil," said Brian Fonseca, a professor at Florida International University in Miami who specializes in Venezuela. He said that the ruling socialists would likely muddle through by further centralizing power. "It's not sustainable, but will continue for now."
Bets on a Venezuelan default are climbing. The implied probability of the country missing a payment over the next year has risen to 62 percent, according to Bloomberg data on credit-default swaps. That's the highest level since March 2016.
Investors' bets reflect international concerns about the nation's shaky political underpinning. The European Union "has grave doubts" about whether the election results can be recognized, spokeswoman Mina Andreeva
said
Monday.
Brazil, Colombia, Peru, Argentina, Chile and Panama issued statements saying they wouldn't recognize Sunday's vote, while U.S. ambassador to the United Nations Nikki Haley said she would not accept an illegitimate government.
'Step Toward Dictatorship'
"Maduro's sham election is another step toward dictatorship," she wrote in a post on her Twitter account.
After several months of protests against Maduro, about 110 people have died with thousands more injured and jailed, according to the public prosecutor's office. Maduro's six-year term would end in early 2019, although critics have speculated the constituent assembly could delay elections indefinitely.
Hermann Escarra, a constitutional lawyer who helped craft the country's current charter and is advising Maduro on attempts to rewrite it, said Friday that the assembly would convene Aug. 3 and quickly move to reorganize the public prosecutor's office. Its current head, Luis Ortega Diaz, has emerged as one of the staunchest critics of Maduro inside the ruling socialist party.
"I am confident that President Trump will respond swiftly and decisively," U.S. Senator Marco Rubio of Florida said in a statement Sunday. "I urge him to impose economic sanctions on the Maduro regime."
Sector-wide sanctions could prove devastating given the two countries' close economic ties and the dire state of Venezuela's finances. The U.S. buys about a third of Venezuela's crude production and is the main buyer that pays in cash.
Maduro was undeterred by U.S. threats of retaliation. Sunday's voting was monitored by a massive deployment of police and soldiers, and at many polling places, lines were filled with the elderly and pensioners.
The mood stood in stark contrast to an unofficial referendum the opposition organized two weeks ago to reject the assembly. Organizers said about 7.5 million voted that day. Crowds gathered to chant and sing against Maduro.
— With assistance by Fabiola Zerpa