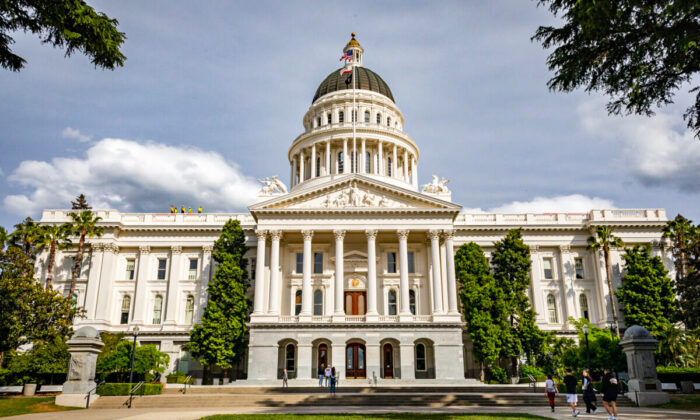 The California State Capitol building in Sacramento on April 18, 2022. (John Fredricks/The Epoch Times)

https://www.theepochtimes.com/mkt_app/9-controversial-california-laws-taking-effect-on-jan-1_4952414.html
As Californians get ready to turn the page on 2022, hundreds of new laws will go into effect starting Jan. 1. From increasing the minimum wage to legalizing jaywalking to shielding criminal records, the new laws will impact employment, health care, housing, public safety, and consumer protection.
Here's a look at what to expect in 2023.
Minimum Wage (SB 3)
California's minimum wage will increase by 50 cents to $15.50 per hour for nearly all workers—regardless of the number of employees at a business.
This 3.33 percent increase is less than half of the 7.9 percent inflation increase between 2021 and 2022 calculated by California's Department of Finance.
Although the latest minimum wage hike will happen on Jan. 1, the law was signed by then Gov. Jerry Brown in 2016. According to the law, if annual inflation increases by more than 7 percent, it triggers the minimum wage to increase.
Currently, the minimum wage is $15 per hour for companies with 25 or more employees and $14 per hour for those with 25 or fewer employees.
Jaywalking (AB 2147)
Under the new "Freedom to Walk Act," pedestrians will no longer be fined for crossing the street outside of designated intersections or crosswalks unless they cause a hazard on the street.
Supporters say the law will reduce inequitable policing toward certain racial groups. Some also suggest it will encourage more people to walk instead of drive.
Opponents worry that it will lead to more accidents and ultimately cause more pedestrian deaths.
In California, the base fine for jaywalking has been $25 to $250 per infraction.
COVID Misinformation (AB 2098)
This law allows doctors to face discipline for spreading so-called misinformation or disinformation about COVID-19—including information about vaccine effectiveness and other treatments—and categorizes such as unprofessional conduct.
Physicians and surgeons are regulated by the Medical Board. Under current law, the board is required to act against any licensed doctor who is charged with unprofessional conduct.
Criminal Records (SB 731)
At least 225,000 Californians with prior convictions or arrests will be able to have their records automatically sealed from criminal background checks due to this new law.
While the records will be automatically sealed once people complete their sentence and go four years without new arrests, others will now be able to petition a judge to have theirs sealed.
In California, there are around 8 million people that have criminal records, according to Californians for Safety and Justice.
Loitering (SB 357)
A new California law decriminalizes loitering for the intent to engage in prostitution.
Also known as the "Safer Streets for All Act," the law was introduced last year by state Sen. Scott Wiener (D-San Francisco). In a statement, Wiener said it "eliminates an anti-loitering offense that leads to harmful treatment of people for simply 'appearing' to be a sex worker."
However, opponents have said that the new law will encourage more public prostitution. Los Angeles Sheriff Department officials have also stated the law will take a major tool away from law enforcement, especially for targeting sex buyers.
Parking Requirements (AB 2097)
The law will prohibit cities across the state from enforcing a minimum number of parking spaces on a development project if it is located within a half-mile of public transit.
The law was established to support the development of affordable housing units by reducing the cost and land space required for development.
Critics of the law say that it will, instead, reduce developers' efforts to build affordable housing, because many cities are already reducing parking requirements as an incentive for developers to include affordable units in their projects.
FAST Recovery Act (AB 257)
The new law applies to fast-food chains that have 100 or more locations nationally and creates a council that would set industry-wide minimum standards on wages, working hours, and other conditions.
Under the law, minimum wages could rise to as high as $22 an hour for 2023, with the option to increase further each year based on inflation.
Opponents have argued it will lead to higher food prices and job losses. Additionally, the effects of the law won't be limited to just major fast-food chains, but small businesses as well—since they will be compelled to raise pay to compete for staff, some have said.
Abortion (SB 1375)
Starting January 1st, nurse practitioners will be able to perform first-trimester abortions without a doctor's supervision under a new law.
The law was introduced in February by Sen. Toni Atkins (D-San Diego) and was intended to help expand access to abortion as California expects to see an influx of patients coming from other states.
In November, voters also passed Proposition 1 to change the California Constitution to say the state cannot deny or interfere with a person's decision whether or not to have an abortion or whether to use contraceptives.