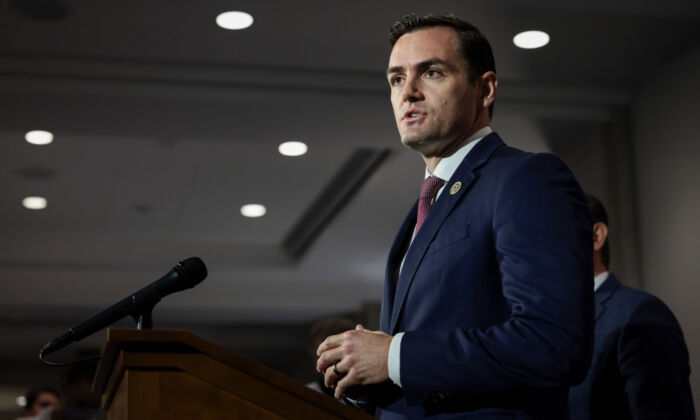 https://www.theepochtimes.com/new-house-china-committee-has-aggressive-plan-to-counter-ccp-rep-gallagher_4965457.html
Leadership for the new Republican-led House Select Committee on China is ready to pursue an aggressive agenda aimed at countering the malign influence of China's communist regime.
Rep. Mike Gallagher (R-Wis.), who is slated to lead the panel, said that he was eager to begin the process, but that the delay in selecting a House speaker would put an extra load on the committee's first weeks.
"We have a very aggressive plan that we're ready to launch but we can't launch it until the committee is created and we get members on that committee," Gallagher said during a brief interview on Thursday with NTD, a sister media outlet of the Epoch Times.
"We'll have to work weekends, we'll have to work nights, you know, we'll get no time off. That's fine. We'll make it up. I'm just so eager to get to work and do that."
Republican lawmakers first announced that they would establish a new Select Committee on China to counter threats from the communist regime back in early December.
At that time, then-House Minority Leader Kevin McCarthy (R-Calif.) tapped Gallagher to chair the committee based on his experience as a Marine and dedication to strengthening the nation's military.
"The Chinese Communist Party is the greatest geopolitical threat of our lifetime," McCarthy said in a statement at the time. "We need a whole-of-government approach that will build on the efforts of the Republican-led China Task Force and ensure America is prepared to tackle the economic and security challenges posed by the CCP."
"As a Member who served in uniform as a Marine Counterintelligence officer and has dedicated his time in Congress to understanding, educating, and defending America from the threat the CCP poses, Mike Gallagher is exceptionally qualified and is the right person to lead and advance this important agenda at this vital moment."
Threat From Communist China

The new House Select Committee on China will aim to curb the malign influence of the Chinese Communist Party (CCP), which rules China as a single-party state, and which is engaged in a whole-of-society effort to supplant the United States from its position of global leadership.
Defense and security experts say that the CCP has adopted a strategic doctrine of "unrestricted warfare," through which the regime aims to achieve military objectives through diplomatic, economic, technological, and other means.
Moreover, the Pentagon's 2022 China Military Power Report found that the CCP was developing its military to win a war against the United States. That report also found that the regime sought to seize Taiwan, eject U.S. forces from the Indo-Pacific, and displace the United States as the world's preeminent power.
As such, Gallagher vowed that the new committee, though established by Republicans, would build out a unified and bipartisan front to combat Chinese communist aggression and defend American interests from CCP machinations.
"The CCP continues to commit genocide, obscure the origins of the coronavirus pandemic, steal hundreds of billions of dollars worth of American intellectual property, and threaten Taiwan," Gallagher said in a statement in December.
"The Select Committee on China will push back in bipartisan fashion before it's too late. Even in divided government, we have an opportunity to build a united front against CCP aggression."