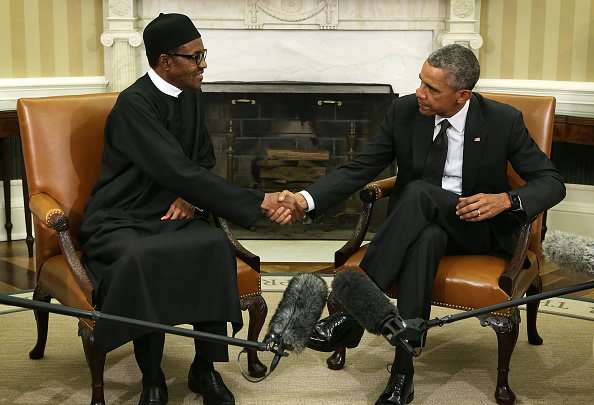 US President Barack Obama (R) shakes hands with Nigerian President Muhammadu Buhari (L) during a meeting in the Oval Office of the White House on July 20, 2015 in Washington, DC.
Getty Images
http://www.ibtimes.co.uk/us-president-obama-gives-nigerian-president-muhammadu-buhari-names-oil-thieves-1513241
US President
Barack Obama
has handed over names of Nigerian oil thieves to Nigeria's President
Muhammadu Buhari
.
The confidential information was passed over by the US administration after Buhari's request to help eradicate corruption believed to have been infiltrated since the administration of former Nigerian President
Goodluck Jonathan
.
Several sources confirmed the information pass over, including a member of the Nigerian president's entourage who accompanied Buhari at the
White House
recently.
"I can tell you that the president already has the list of names of the people engaging in the stealing of Nigeria's oil. The list, when released by the president, will shock Nigerians," said a source speaking on the condition of anonymity, reported
Punch
.
"The president will probe all of them and make sure they return whatever fortune they made from their thievery."
President Buhari hopes to bring back the estimated $150bn (£96bn) that was stolen through looting the country's oil.
He has alleged that nearly 250,000
barrels of oil
were stolen on a daily basis by ministers from Jonathan's administration.
"The amount involved is mind-boggling. A lot of damage has been done to the integrity of Nigeria with individuals and institutions already compromised," said Buhari who was sworn into presidency in May 2015, reported
IBTimes
.