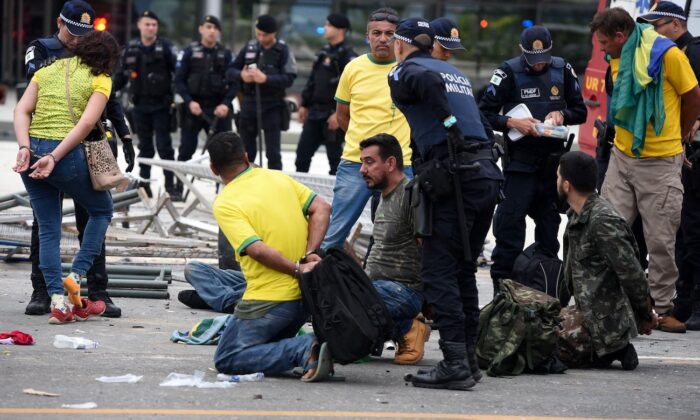 Security forces arrest rioters after retaking control of Planalto Presidential Palace in Brasilia on Jan. 8, 2023. (Ton Molina/AFP via Getty Images)

https://www.theepochtimes.com/mkt_app/400-people-arrested-in-brazil-after-breach-of-government-buildings-bolsonaro-condemns-attack_4970623.html
Lula declares 'Federal Security Intervention'

More than 400 people have been arrested in Brazil as of late Jan. 8 after protesters breached and attacked the nation's Congress, the Supreme Court, and presidential palace in the capital of Brasilia, a week after the inauguration of President Luiz Inácio Lula da Silva.
Multiple videos from local broadcasters and groups related to Brazil's former president, Jair Bolsonaro, showed rioters inside the presidential palace, and smashing furniture in Congress and the Supreme Court. Security forces were initially overwhelmed by the rioters.
In posts on Twitter late on Jan. 8, Bolsonaro condemned the attacks on government buildings and pushed back against Lula who had blamed him for the riot.
"Peaceful demonstrations, in the form of the law, are part of democracy," Bolsonaro said, per a translated version of the Twitter post. "However, depredations and invasions of public buildings as occurred today, as well as those practiced by the left in 2013 and 2017, escape the rule.
"In addition, I repudiate the accusations, without evidence, attributed to me by the current head of the executive of Brazil," he added. "Throughout my mandate, I have always been within the four lines of the Constitution, respecting and defending the laws, democracy, transparency and our sacred freedom."
Bolsonaro was responding to Lula, who had earlier in the day blamed Bolsonaro for the events.
"They took advantage of the silence on Sunday, when we are still setting up the government, to do what they did," Lula wrote in a series of Twitter posts, referring to the rioters. "And you know that there are several speeches by the former president encouraging this. And this is also his responsibility and the parties that supported him."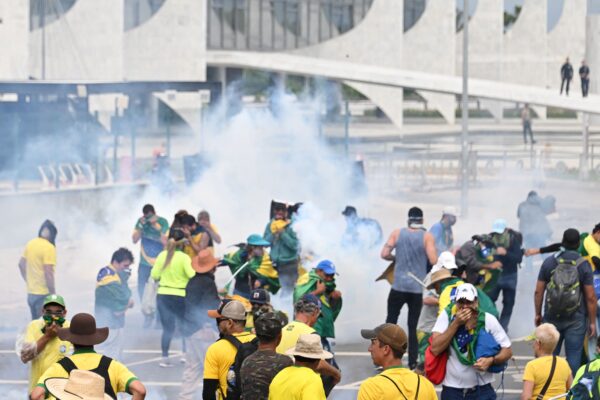 Lula Declares 'Federal Security Intervention'
Ibaneis Rocha, Brasilia's governor, confirmed late on Jan. 8 that more than 400 people have been arrested.
'[M]ore than 400 people have already been arrested and will pay for the crimes committed," he said on Twitter. "We continue working to identify all the others who participated in these terrorist acts this afternoon in the Federal District. We continue to work to restore order."
Lawmakers in Brazil are currently on recess.
Lula, who was on a trip to Brazil's most populous state Sao Paulo when the attacks erupted, declared a "federal security intervention" until the end of January.
"All these people who did this will be found and they will be punished," he said at a press conference.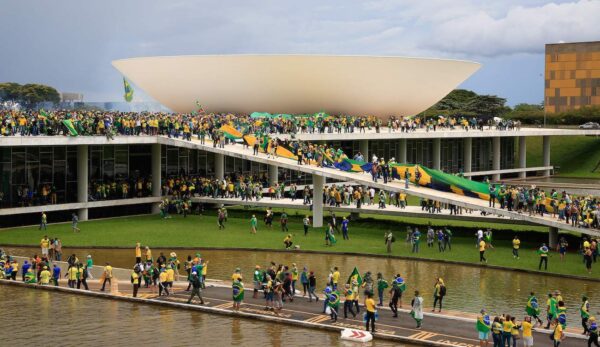 Mass protests have persisted in Brazil since the outcome of the national election on Oct. 30 last year. Bolsonaro's supporters doubt the authenticity of the results. They have blockaded major roads across Brazil and demanded that the military step in to intervene.
Lula, a socialist, was declared the winner with 50.9 percent of the vote. Bolsonaro has not publicly conceded, but said in a speech in November 2022 that he would abide by the country's constitution.
Ivan Pentchoukov, Reuters, and The Associated Press contributed to this report.