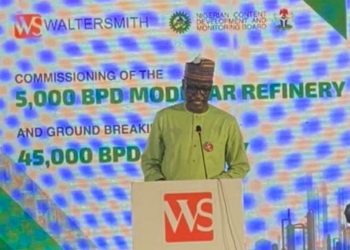 President Muhammadu Buhari of Nigeria
https://www.petroleumafrica.com/president-buhari-commissions-waltersmith-modular-refinery/
President Muhammadu Buhari of Nigeria virtually commissioned the 5,000 barrel per day Waltersmith Modular Refinery in Ibigwe, Imo State, on November 24. The president stated the project was "in fulfillment of our Refinery Roadmap." Work has now commenced to expand the capacity of the refinery to 50,000 barrels per day.
"We rolled out our administration's Refinery Roadmap in 2018, with the ultimate goal of making Nigeria a net exporter of petroleum products. The Roadmap has four key elements, namely, Rehabilitation of existing refineries, Greenfield Refineries, Co-location & Modular Refining, Buhari stated on his Twitter feed.
"I am delighted that the Waltersmith Refinery is coming on-stream within two years of the commencement of the Roadmap, and after many years of granting licenses for the establishment of modular refineries with nothing to show for it," he added.