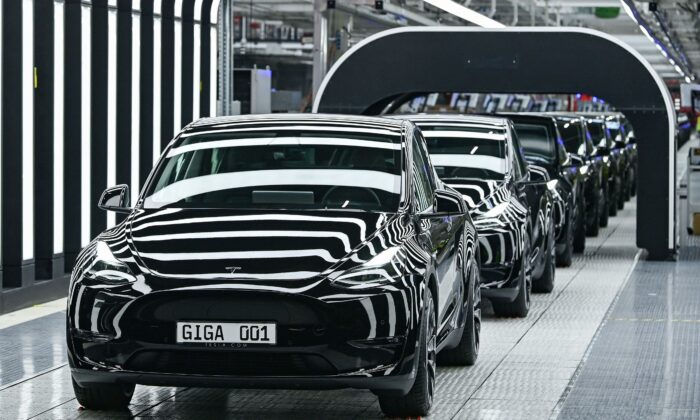 A line of electric vehicles of the model Y during the start of the production at Tesla's "Gigafactory" in Gruenheide, southeast of Berlin on March 22, 2022. (Patrick Pleul/Pool/AFP via Getty Images)
ttps://www.theepochtimes.com/biden-admin-unveils-rule-to-force-67-percent-of-cars-sold-to-be-electric-by-2032_5189758.html
President Joe Biden further accelerated the nation's switch to electric vehicles by announcing two proposed federal rule changes aimed at reducing greenhouse gases and other pollutants in motor vehicle emissions.
The changes, announced on April 12, would affect virtually all gasoline-powered vehicles on U.S. highways, save consumers an estimated $12,000 in fuel and maintenance costs over the life of a vehicle, and avoid almost 10 billion tons of carbon dioxide emissions through 2055, according to the Environmental Protection Agency (EPA).
The move aims to further the president's goal of having 50 percent of all new cars and light trucks and 30 percent of new medium- and heavy-duty trucks sold in 2030 be zero-emission vehicles. Electric vehicles (EVs) are considered zero-emission vehicles.
The EPA estimates that approval of these rules would result in 67 percent of new passenger vehicles and light trucks being EVs by 2032, along with 50 percent of buses, 35 percent of short-haul freight tractors, and 25 percent of long-haul freight tractors.
Critics have claimed that the move, which will increase the price of new cars, was made without consideration of the ability of the nation's supply chain to meet the demand.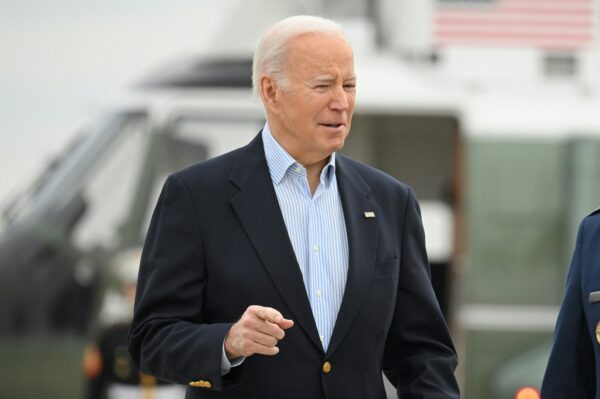 The Biden administration has spent roughly $31 billion on the development of so-called clean transportation over the past two years, including the development of a network of EV charging stations, improving the supply chain for materials needed to produce EV batteries, and making loans to companies that manufacture EVs and EV components in the United States.
U.S. car manufacturers and a number of states have been voluntarily moving the market toward electric-powered vehicles.
General Motors, Ford, and Stellantis—the maker of Chrysler, Fiat, Ram, and Jeep brands—stated in 2021 that they would aim to reach EV sales of at least 40 percent of all their new vehicle sales by 2030.
The rule change comes 10 months after six major automakers pledged to stop selling gas and diesel-powered cars worldwide by 2040.
In November 2021, Ford, General Motors, Mercedes-Benz, Volvo, Jaguar Land Rover, and Chinese automaker BYD pledged to stop selling diesel-powered cars worldwide by 2040.
In 2022, the state of Washington followed California in announcing a ban on the sale of new gasoline-powered cars in the state by 2035.
Washington enacted a law in 2020 to follow California's vehicle emissions standards. Connecticut, Colorado, Delaware, Maine, Maryland, Massachusetts, New Jersey, New Mexico, New York, Oregon, Pennsylvania, Rhode Island, Vermont, and Washington D.C. also have adopted California's vehicle emission standards.
GOP Reaction
Republican lawmakers immediately criticized the announcement.
"First President Biden came for our gas stoves. Now he wants to ban the cars we drive," said Sen. John Barrasso (R-Wyo.), the ranking Republican member of the Senate Committee on Energy and Natural Resources.
"His misguided policies are hurting American families while helping China. The president's disastrous energy transition is making us more reliant on our enemies while driving up prices for Americans. The 'electrification of everything' is not a solution. It's a road to higher prices and fewer choices."
Sen. Shelly Moore Capito (R-W.Va.) wrote on Twitter, "Today, the Biden administration made clear it wants to decide for Americans what kinds of cars and trucks we are allowed to buy, lease, and drive."
She noted that the Biden administration "did not consider that the average price of an electric vehicle was roughly $65,000 last year, more than the household income of 46 percent of American families.'
Auto Industry
Automakers around the world have announced plans to invest $1.2 trillion in creating EVs by 2030, according to the Alliance for Automotive Innovation. Yet even that may not be enough to meet the aggressive goals set by the Biden administration.
The number of charging stations is currently insufficient to meet demand, the Alliance noted in an April 6 statement. Of the nation's 3,100 counties, 39 percent had no chargers installed as of 2022, and 63 percent had five or fewer.
Minerals needed to supply the battery market may also be in short supply, according to the Alliance. North America is projected to produce only about 3.5 percent of the supply needed by 2030, which could increase dependence on China if the situation isn't altered, according to the statement.
Automakers are committed to the shift to EVs, the Alliance stated, but how fast that shift will happen largely depends on factors outside their control.
"The question isn't whether it can be done, it's how fast can it be done … and how fast will depend almost exclusively on having the right policies and market conditions in place to achieve the shared goal of a net zero carbon automotive future," the group stated.