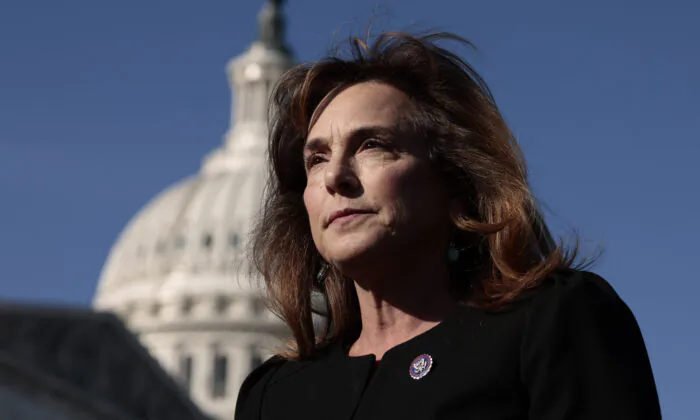 Rep. Lisa McClain (R-Mich.) departs from a press conference on vaccine mandates for businesses with House Republicans on Capitol Hill in Washington on Nov. 18, 2021. (Anna Moneymaker/Getty Images)

https://www.theepochtimes.com/chinese-money-launderers-central-to-cartels-fentanyl-trade-rep-mcclain_5223839.html
China's communist regime is overseeing massive money-laundering operations being conducted by Chinese nationals to support drug cartels that are flooding the United States with lethal opioids.
The Chinese Communist Party (CCP) gives cover to schemes that support the production of synthetic drugs responsible for killing hundreds of thousands of Americans, according to testimony given during a House Subcommittee on Health Care and Financial Services hearing on April 26.
"Criminal organizations based in [China] have captured the money-laundering organizations of the cartels," subcommittee Chair Lisa McClain (R-Mich.) said.
"We have to work together to find solutions to fight against the CCP."
Chinese Organizations Critical to Cartels
The subcommittee examined how Chinese money-laundering organizations (MLOs) have become an indispensable part of Latin American cartels and are depended upon to launder illicit funds needed to produce and finance fentanyl and fentanyl-related compounds.
"Cartels are making millions as Chinese organized crime is laundering money and providing the precursor elements needed to produce, finance, and traffic narcotics moving across the border," McClain said.
While cartels used to take weeks to months to launder the same amounts of money, the Chinese MLOs are capable of accomplishing that in a matter of hours, McClain said, which has "significantly increased the cartels' bottom line."
Fentanyl was the foremost cause of death of Americans aged 18 to 45 in 2021. That year, more than 100,000 Americans died from drug overdoses, including more than 75,000 who died from opioids such as fentanyl.
The Chinese MLOs have been highly successful because they exploit China-specific exchanges and manufacturing centers to profit from the drug trade, says Channing Mavrellis, director of the illicit trade program at the think tank Global Financial Integrity.
The system relies on Chinese citizens residing in the United States who act as money brokers between the cartels and China-based launderers who convert the money into tangible goods.
Essentially, proceeds from drug trades are given to a Chinese broker in the United States. That broker then advertises the dollars for sale to Chinese nationals in China, who purchase the equivalent sum in local currency and use that currency to purchase goods, which they then send to Latin America. An operative in Latin America then sells those goods in local currency for the cartel.
That system, Mavrellis said, is highly lucrative and successful.
A Chinese MLO network operating in Chicago and New York laundered tens of millions of dollars in drug proceeds for Mexican cartels, she said. One of the network's couriers, a Chinese national who was a permanent U.S. resident, had an average cash pickup of $500,000.
In another example, she said, a Chinese businessman with U.S. citizenship laundered nearly $30 million of drug proceeds for Mexican, Colombian, and Guatemalan cartels by using a casino in Guatemala, a U.S.-based seafood export company, and U.S. and Chinese bank accounts.
CCP Looks the Other Way
The money-laundering efforts couldn't have continued without the CCP's "complicity" in overlooking such schemes, McClain said.
Anthony Ruggiero, former senior director for counterproliferation and biodefense at the National Security Council, said the Biden administration hasn't tackled the issue of how Chinese banks continue to allow such behavior. The administration, he said, appears "afraid" to use the tools at its disposal, out of concern of exacerbating international tensions.
"There's this fear of going after Chinese banks," he said. "They fear the impact on the global economy."
To that end, Ruggiero said that Chinese banks still covet access to Western markets and that the United States should make that access contingent upon conditions, including taking steps against the Chinese MLOs.