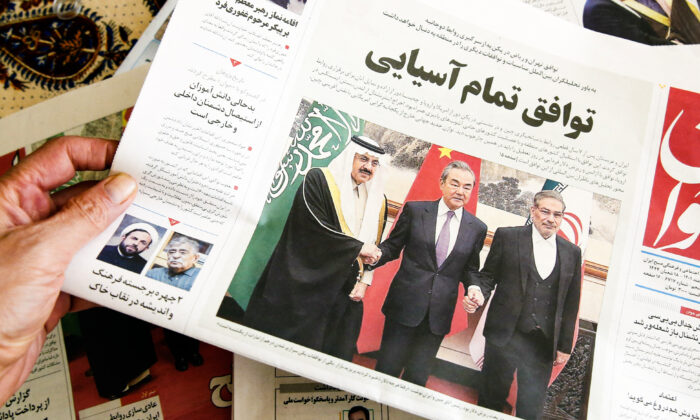 A man holds a local newspaper reporting on the China-brokered deal between Iran and Saudi Arabia to restore ties, in the Iranian capital Tehran on March 11, 2023. (Atta Kenare/AFP via Getty Images)

https://www.theepochtimes.com/us-needs-to-be-worried-about-chinas-model-in-the-middle-east-expert_5171234.html

Communist China's apparent efforts to broker peace in the Middle East are part of a larger campaign to undermine global U.S. influence, according to one expert.
The regime's role in brokering a diplomatic detente between Iran and Saudi Arabia in March was just as much an attempt to gain an advantage over the United States as it was to stabilize the region, said Alex Vatenka, founding Director of the Iran Program at the Middle East Institute think tank.
"So far, what China has done is act as a sort of venue and score a diplomatic point against the United States," Vatenka said during an April 4 talk with the Jamestown Foundation, a D.C.-based think tank.
"The Chinese just came in and were able to create the venue. And I'm sure this was deliberate for both Iran and the Saudis."
Vatenka said that the Chinese Communist Party (CCP), which rules China as a single-party state, was working to undermine the United States' international influence by trying to convince other nations it is a destabilizing influence, and that the Chinese regime's authoritarian model for peace was preferable for the international system.
"China wants to be, not just a deal broker, but a peacemaker," Vatenka said.
"This is where the United States needs to be worried. The contrast to the Chinese model is the American model, which Beijing wants to portray as either warmongering or deliberately creating tensions throughout the regions of the world."
Still, Vatenka added, the CCP does not have the power or influence to create and champion such a deal on its own.
Indeed, he said, Iran and Saudi Arabia began talks to reach such an agreement in Baghdad back in April 2021, with China only being brought in later to provide a venue for the negotiation and send a signal to the United States that the two powers were diversifying their options for international engagement.
"I doubt China has the kind of Middle East expertise and clout to do this on its own," Vatenka said.
Biden Admin Failing to Maintain Middle East Presence
The CCP's diplomatic surge in the Middle East, and regional powers' decision to signal their discontent with the United States through such diplomacy, stems in part from a Biden administration decision to pull resources from the region to pivot toward prioritizing the Indo-Pacific, said Sen. James Lankford (R-Okla.).
This transition left leaders in the Middle East unsure of U.S. commitment, and baffled as to what the nation was actually willing to do to stabilize and engage with the region, he added.
"No one in the region knows where America stands with Iran," Lankford said during a March 23 discussion with the America First Policy Institute, a conservative think tank.
"If [leaders in the Middle East] don't know what America is willing to do, they're going to turn to China, they're going to turn to somebody else, they're going to figure out how they can just survive because there's no clear plan."
To that end, Lankford said that the CCP's largely symbolic victory in brokering the thawing of diplomatic relations between Iran and Saudi Arabia was more a result of a failure in American political strategy than any innovation on China's part.
"While we were 'pivoting to Asia,' Asia was pivoting to the Middle East," Lankford said.