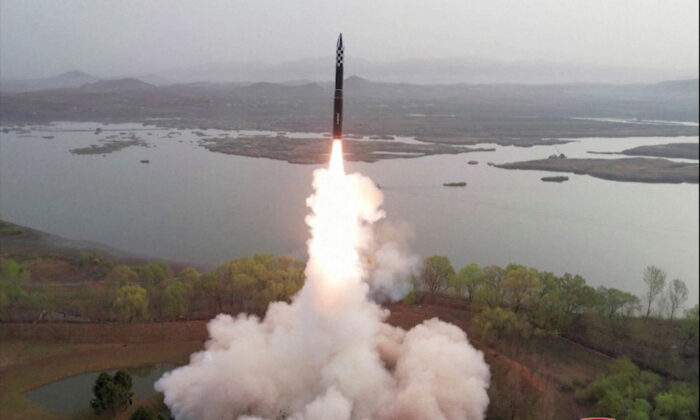 A view of a test launch of a new solid-fuel intercontinental ballistic missile (ICBM) Hwasong-18 at an undisclosed location in this still image of a photo used in a video released by North Korea's Korean Central News Agency (KCNA) on April 14, 2023. (KCNA via Reuters)

https://www.theepochtimes.com/north-koreas-df-41-intercontinental-ballistic-missile_5207283.html?src_src=ref_share&src_cmp=cw-cc
After having warned of its development for seven years and revealed its transporter erector launcher (TEL) in a Feb. 8 parade, on April 13 for the first time, North Korea successfully tested its solid-fuel intercontinental ballistic missile (ICBM), which it calls the Hwasong-18.
With propaganda images and videos of the Hwasong-18 and his daughter revealed by North Korean state media on April 14, North Korean dictator Kim Jong-un was likely paying homage to the real technology source of his new ICBM.
The next day, April 15, was the 11th anniversary of the official revelation of the China Aerospace Science and Industry Corporation's (CASIC) transfer of Sanjiang Special Vehicle 16-wheel TELs to North Korea, in a parade celebrating the birthday of the first North Korean communist dictator Kim Il Sung.
Over the subsequent decade, the Chinese Communist Party (CCP) has barely concealed its continued proliferation of technology to assist North Korea's nuclear missile programs.
In North Korea's military parade on April 15, 2017, a version of the CASIC TEL was used to display a full-scale mockup of the future solid fuel cold-launch tube for the North Korean solid fuel ICBM, as TELs based on Chinese Sinotruk trucks from a 2013 co-production scheme pulled a mockup of a medium-range solid fuel ballistic missile that looked like the early CASIC 932-mile range DF-21 ballistic missile.
In that same parade, a Sinotruk-based TEL pulled North Korea's new solid fuel submarine launch ballistic missile called KN-11. A smaller Sinotruk-based TEL was used for a new precision-guided 300-millimeter diameter artillery rocket in a parade on Oct. 10, 2015.
There are two more versions of CASIC-Sanjiang TEL, an 18-wheel version revealed in a North Korean military parade on Feb. 2, 2018, carrying the liquid-fueled Hwasong-15 ICBM, and then a 22-wheel version, the largest ICBM TEL in the world, revealed in a military parade on Oct. 10, 2020, carrying the liquid-fueled Hwasong-17.
The 18-wheel version of the CASIC-Sanjiang TEL carries the new solid fuel Hwasong-18.
This analyst has long held that to build their TELs, China's CASIC-Sanjiang would also have to have intimate knowledge of the missiles being carried, which points to the high likelihood that CASIC and the China Aerospace Science and Technology Corporation (CASC) have been heavily involved in North Korea's liquid and solid fuel missile programs.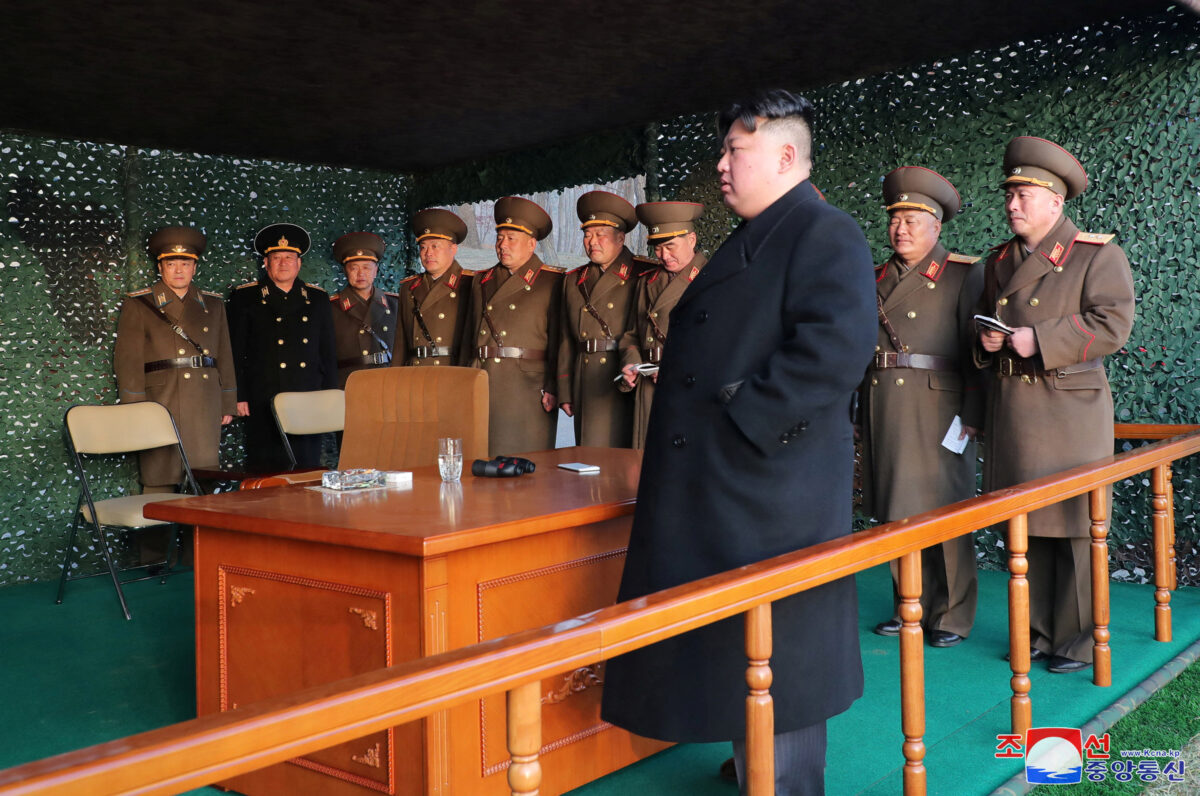 In its first military technology exhibit in October 2021, when Pyongyang revealed that it had a hypersonic glide vehicle (HGV) warhead almost exactly like that of the CASC DF-17, it was clear that the CCP did not care that the world understood its role in North Korea's nuclear missile program.
In his early analysis of the Hwasong-18 based on North Korean revealed images and videos, analyst and 3D image artist Nathan J. Hunt estimates that the diameter of the first stage of the three-stage Hwasong-18 is 2.21 meters.
If the Hwasong-18 is based on a Chinese solid-fuel missile, then there are two possible technology sources. One is CASC's 8,000-mile range DF-41 with an estimated 2.28-meter diameter. The other is the 2.2-meter diameter CASIC Kuaishou-11, currently a space launch vehicle. Still, since CASIC has undertaken previous deception exercises attempting to conceal its near-total creation of Pakistan's large solid-fuel ballistic missiles, it could have easily mounted a deception operation to help develop the Hwasong-18 based on Kuaizhou-11 technology.
But what is clear is that the Hwasong-18 is a mobile solid fuel ICBM in the same class, if not a replica of the DF-41 or a CASIC equivalent not yet deployed by the People's Liberation Army Rocket Force.
As the DF-41 is credited, mainly by Chinese sources, as having the potential to carry up to 10 warheads, it should be considered that the Hwasong-18 will eventually have a similar capability.
In Kim Jong-un's January 2021 Work Report to the 8th Congress of the Worker's Party of North Korea, he stated the North's "research into perfecting the guidance technology for multi-warhead rocket" was in its "final stage."
This could mean larger multiple warheads for the Hwasong-17. Still, with North Korea's March 28 revelation that it has developed a new small common tactical nuclear warhead for eight short-range ballistic missiles, land attack cruise missiles, and unmanned underwater delivery systems, such a small nuclear warhead could also form the basis of a smaller multiple warhead system for the Hwasong-18.
Unlike the Hwasong-15 and Hwasong-17, which require time for fueling that creates vulnerability to attack, the solid fuel Hwasong-18 can be made ready for an attack within minutes of emerging from its under- or above-ground base, making possible effective surprise nuclear strikes.
The solid-fuel Hwasong-18 can also be developed into a rapid space launch vehicle that can build a constellation of Chinese-assisted surveillance satellites to enable continuous North Korean targeting of its nuclear missiles.
In addition, the Hwasong-18 can be developed into an effective anti-satellite weapon capable of attacking crucial U.S. Medium Earth Orbit satellites, such as its Global Positioning Satellite (GPS) system.
The Chinese regime likely began helping to build North Korea's nuclear missile capacity in the early 2000s, first to deter a large-scale U.S. attack against the Pyongyang dictatorship and second, to make Pyongyang into a proxy nuclear rogue, capable of creating nuclear crises that divert U.S. military resources to make possible the CCP's invasion of Taiwan.
But as North Korea also traffics in nuclear and missile technology to Iran and Pakistan, it can now sell the full range of nuclear missiles, from short-range tactical to medium-range, HGV, and solid-fuel ICBMs.
But what is perhaps most confounding is that the United States has refused to expose the CCP's full role in creating North Korea's nuclear threat. Recall that when the United States helped save China from a Soviet nuclear attack in 1969, it subsequently worked hard to convince South Korea to forgo its nuclear weapons program.
Even more galling is that the Biden administration refuses to consider building up U.S. nuclear forces—limited to 1,550 deployed nuclear warheads by the 2010 New Start nuclear agreement to which Russia suspended its adherence on Feb. 21—as China is building up its nuclear weapons from 3,000 to 4,000 warheads by the early 2030s.
Should China and Russia engage in cooperative nuclear targeting of the United States—which has long been suggested by their increasing cooperation in missile defense—then a combined Chinese, Russian, and North Korean nuclear force threatens to overwhelm that of the United States, making Americans vulnerable to nuclear coercion or a massive first strike.
The United States is in danger of losing the opportunity to redeploy warheads reduced due to New Start, deploy new ones, rebuild its regional nuclear forces, and commit to building a real national missile defense.
Views expressed in this article are the opinions of the author and do not necessarily reflect the views of The Epoch Times.