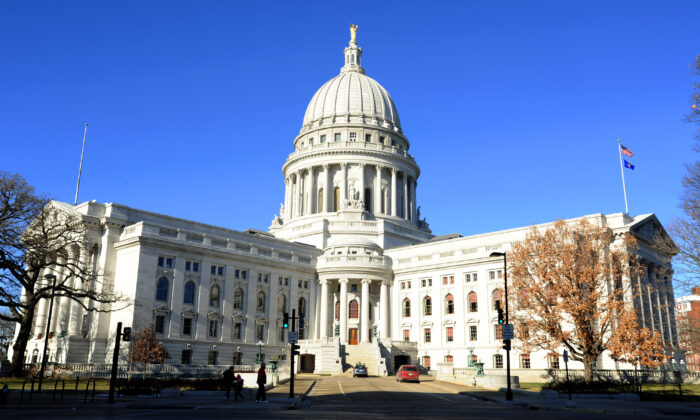 The Wisconsin State Capitol building in Madison, Wis., on Dec. 24, 2011. (Karen Bleier/AFP via Getty Images)
https://www.theepochtimes.com/republican-wins-open-state-senate-seat-giving-gop-supermajority-and-added-impeachment-power_5176422.html?src_src=uschinanoe&src_cmp=uschina-2023-04-07&est=3dFvzwGnyMkzi57k2zZ1284PGsnvgQsBPSEtjUU20Wy9PEW5DNBqX6M6Jss9gWLu4gn%2BTw%3D%3D
Republican Wisconsin state Rep. Dan Knodl won an open state senate seat in a special election on Tuesday, giving Republicans a supermajority in the state senate.
Knodl defeated Democrat attorney Jodi Habush Sinykin in the election for Wisconsin's 8th state senate district, an area representing Milwaukee's northern suburbs. Republican Alberta Darling had held the senate seat, but Darling decided to retire in December of last year, leaving the seat open after the 2022 election.
Before the 2022 election, Republicans held a 21-12 majority in the state senate, leaving them one seat shy of a supermajority. Republicans flipped one seat in the November 2022 election, which would have given them a 22-11 supermajority in the new state congressional session until Darling retired just weeks later, delaying those Republican supermajority prospects. With Knodl's win on Tuesday, the Republicans will soon be able to exercise supermajority powers in the state Senate.
Supermajority Powers
With a supermajority, Republicans can now override a gubernatorial veto in the state Senate. A successful override takes a two-thirds vote in the Senate and State Assembly, and Assembly Republicans remain two seats shy of the 66 they need for a supermajority in that house.
The Senate supermajority means Republicans could theoretically convict the state government's judges and executive branch officers in an impeachment proceeding, including Democrat Gov. Tony Evers and Lt. Gov. Sara Rodriguez. The State Assembly can vote to impeach elected officials with a simple majority, and the Senate can convict those officials on the impeachment charges with a two-thirds majority, both of which the Wisconsin Republican Party now has.
The Tuesday election also saw Milwaukee County Circuit Judge Janet Protasiewicz win her bid for the state Supreme Court, tipping the balance of the seven-member judicial panel toward the liberals on the court. The Republican impeachment powers in the state legislature could allow them to impeach Protasiewicz.
Knodl has said he's not interested in impeaching Evers, saying he has been able to work with the governor. But he said he wants to impeach Milwaukee judges for being too lenient on criminal defendants.
Protasiewicz's opponents criticized her for being too soft on crime in the lead-up to this Wisconsin Supreme Court race.
"Protasiewicz presided over one case in which a father abused his children, ages 5, 8, and 10, by whipping them with a dog leash. He was convicted of a Class I felony with two counts of child abuse. Yet, Protasiewicz sentenced him to only nine months of work-release jail and probation," the Wisconsin Republican Party said in a February press release. "In response to questions about her weak sentences, Protasiewicz doubled down by calling them 'fair' and 'appropriate.' Her soft-on-crime record is deeply troubling."
As one of her final appeals in the election, Habush Sinykin tweeted, "Don't give the GOP the power to impeach. I'm asking for your vote today."
"We are at a crossroads in Wisconsin," Habush Sinykin added in a statement to CBS 58. "And this election is going to decide the future of our state."
Recent GOP Gains in State Legislatures
Knodl's remarkable election victory came in the same week that Democrat North Carolina state Rep. Tricia Cotham switched party affiliations, becoming a Republican and handing the Republican Party a supermajority of seats in the North Carolina House of Representatives. Republicans in North Carolina now have supermajorities in both houses of the state legislature, allowing them to override vetoes from Democrat Gov. Roy Cooper, who's vetoed a record number of Republican bills.
North Carolina Democrats called Cotham's party switch a betrayal. The party's chairs said, "If she can no longer represent the values her constituents trusted her to champion, she should resign immediately."
Republicans also gained a supermajority in the Louisiana House of Representatives in March after Democrat Rep. Francis Thompson switched party affiliations. Republicans now hold supermajorities in both houses of the Louisiana state legislature, potentially increasing their ability to override vetoes by Democrat Gov. John Bel Edwards.
"While Rep. Thompson's decision (to switch parties) is disappointing, it is not surprising. He already caucused with Republicans," House Democratic Caucus Chairman Rep. Sam Jenkins said in a statement following Thompson's party switch.
The Associated Press contributed to this article.
From NTD News