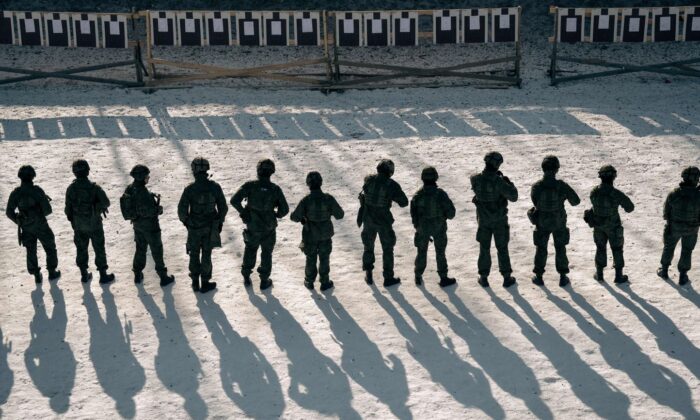 Finnish reservists of the Guard Jaeger Regiment stand at a shooting range as they take part in a military exercise at the Santahamina military base in Helsinki, Finland on March 7, 2023. (Alessandro Rampazzo/AFP via Getty Images)
https://www.theepochtimes.com/natos-border-with-russia-doubles-as-finland-joins-military-bloc_5170829.html
Finland formally joined NATO on Tuesday and essentially doubled the military alliance's border with Russia amid the year-long war in Ukraine—drawing a warning from the Kremlin.
The move by Finland, which shares an approximately 832-mile border with Russia, will bolster NATO's eastern flank as Finnish Foreign Minister Pekka Haavisto completed the accession process by handing over an official document to U.S. Secretary of State Antony Blinken at its headquarters in Brussels, Belgium.
"We welcome Finland to the alliance," NATO Secretary General Jens Stoltenberg said at the end of a brief ceremony on Tuesday. "This will make Finland safer and NATO stronger," he told reporters, adding that Russia has "a declared goal of the invasion of Ukraine to get less NATO along its borders and no more membership in Europe" and the Kremlin is "getting exactly the opposite."
Both Finland and its neighbor Sweden had previously adopted a policy of non-alignment—namely during the Cold War. However, after the Ukraine-Russia conflict erupted, both countries sought to join the alliance amid fears of a wider conflict brewing in Europe.
As for Sweden, which only shares a maritime border with Russia, its NATO bid remains stuck as top officials in Turkey have accused the Swedish government of harboring left-wing Kurdish militant groups that it has accused of terrorist acts. Hungary has also signaled opposition to Sweden joining the alliance.
But Tuesday's event marks the end of an era of military non-alignment for Finland that began after the country repelled an invasion attempt by the Soviet Union during World War Two and opted to try to maintain friendly relations with nearby Russia. Since the end of the Cold War three decades ago, Moscow has watched successive waves of NATO expansion to the formerly communist east of Europe with consternation, and the issue drew sharp criticism from Russian President Vladimir Putin long before the invasion of Ukraine.
Reactions
Finnish President Saul Niinisto said Finland's most significant contribution to NATO's common deterrence and defense would be to defend its own territory. There is still significant work to be done to coordinate this with NATO, he said.
"It is a great day for Finland and I want to say that it is an important day for NATO," Niinisto said at a joint news conference with Stoltenberg.
On Tuesday morning, the White House released a statement from President Joe Biden, who said that he "look[s] forward to welcoming Sweden as a NATO member as soon as possible, and encourage Turkiye and Hungary to conclude their ratification processes without delay."
When Russia launched its invasion of Ukraine last February, the Kremlin believed it could "divide Europe and NATO … today, we are more united than ever. And together—strengthened by our newest Ally Finland—we will continue to preserve transatlantic security, defend every inch of NATO territory, and meet any and all challenges we face," Biden added.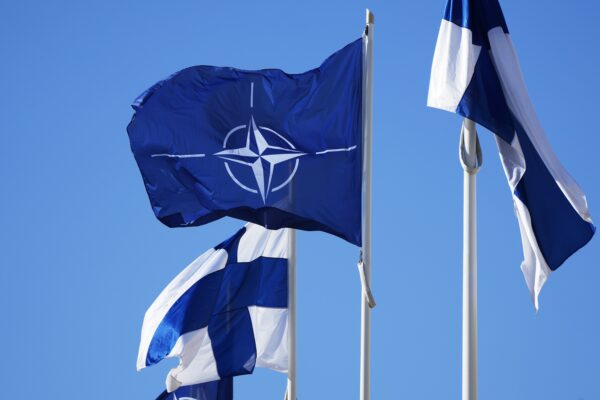 The Kremlin's chief spokesman, Dmitry Peskov, warned that Russia will have no choice but to respond to Finland's accession. Peskov, however, noted that Finland is "fundamentally different" from Ukraine, which was a former Soviet territory, and that "Finland never became anti-Russia."
"The Kremlin believes that this is another aggravation of the situation," he told reporters, according to Russia's Interfax news agency. "NATO expansion is an encroachment on our security and the national interests of the Russian Federation."
"Naturally, this forces us to take countermeasures to ensure our own security and both tactically and strategically," Peskov said. He did not elaborate.
NATO has repeatedly stressed that it is solely a defensive alliance and does not threaten Russia. The Kremlin and Putin long accused the bloc of attempting to destabilize Russia.
Sweden?
Swedish Foreign Minister Tobias Billstroem told reporters it was Stockholm's ambition to become a member at the NATO summit in Vilnius in July. "This is a question of utmost importance for Sweden … there is no reason for neither the Turkish parliament or the Hungarian parliament to make any further delays," he said.
Turkey says Stockholm harbors members of what Ankara considers terrorist groups—an accusation Sweden denies—and has demanded their extradition as a step toward ratifying Swedish membership. Hungary cites grievances over criticism of Prime Minister Viktor Orban's record on democracy and rule of law. NATO diplomats say they expect Budapest to approve Sweden's bid if it sees Turkey moving to do so.
Reuters contributed to this report.