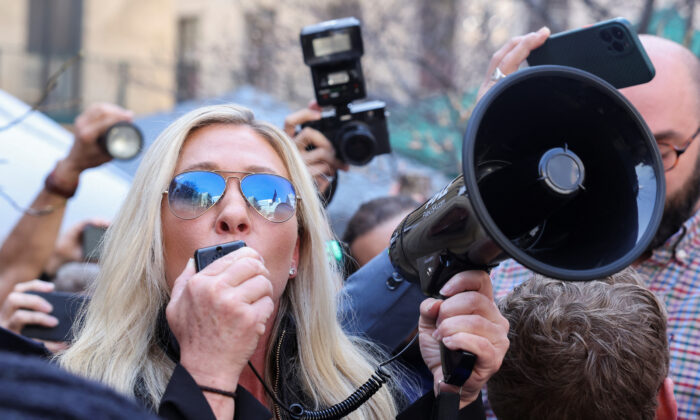 Rep. Marjorie Taylor Greene (R-Ga.) speaks outside Manhattan Criminal Courthouse on the day of former President Donald Trump's planned court appearance on April 4, 2023. (Reuters/Caitlin Ochs)

https://www.theepochtimes.com/this-is-what-happens-in-communist-countries-rep-greene-decries-trump-indictment-in-rally-outside-ny-courthouse_5171201.html
NEW YORK—Rep. Marjorie Taylor Greene (R-Ga.) joined supporters of former President Donald Trump in New York on April 4 to protest his indictment.
"I came to your state to peacefully protest against the persecution of an innocent man," Greene told a crowd of protesters at Collect Pond Park just hours before Trump was scheduled to be arraigned across the street. "Not just any man—this is the former president of the United States of America, and the government has been weaponized against him."
"Every American should take a stand," she added. "This is what happens in communist countries, not the United States of America. We have to take a stand against the injustice, the corruption, and the communist Democrats who are taking our legal code and twisting it, manipulating it, and converting it into something it was never meant to be."
Last week, Trump was indicted by a Manhattan grand jury on charges that remain under seal, though the indictment is suspected to include falsification of business records charges relating to a hush money payment to adult film actress Stormy Daniels made by Trump's former attorney Michael Cohen in the weeks preceding the 2016 presidential election.
Cohen, who has since been disbarred, pleaded guilty in 2018 to campaign finance violations relating to the payment, among other unrelated charges.
Decrying the indictment as a "travesty" that amounts to "election interference," Greene asserted that Manhattan District Attorney Alvin Bragg, a Democrat, was pursuing charges against Trump to prevent him from winning the presidency in 2024.
But Trump, she contended, was not their only target.
"They're coming after President Trump today, and they will come after you tomorrow," she said.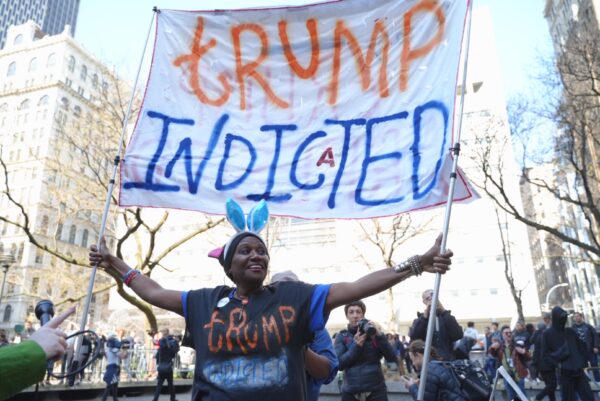 Dueling Protests
Organized by the New York Young Republicans Club, the pro-Trump protest was met with pushback from counter-protesters who were there to express their distaste for the former president.
Displaying banners with such statements as "Trump Lies All the Time" and "Trump 4 Prison," the anti-Trump protesters jeered, whistled, and shouted obscenities during Greene's remarks in an attempt to drown her out.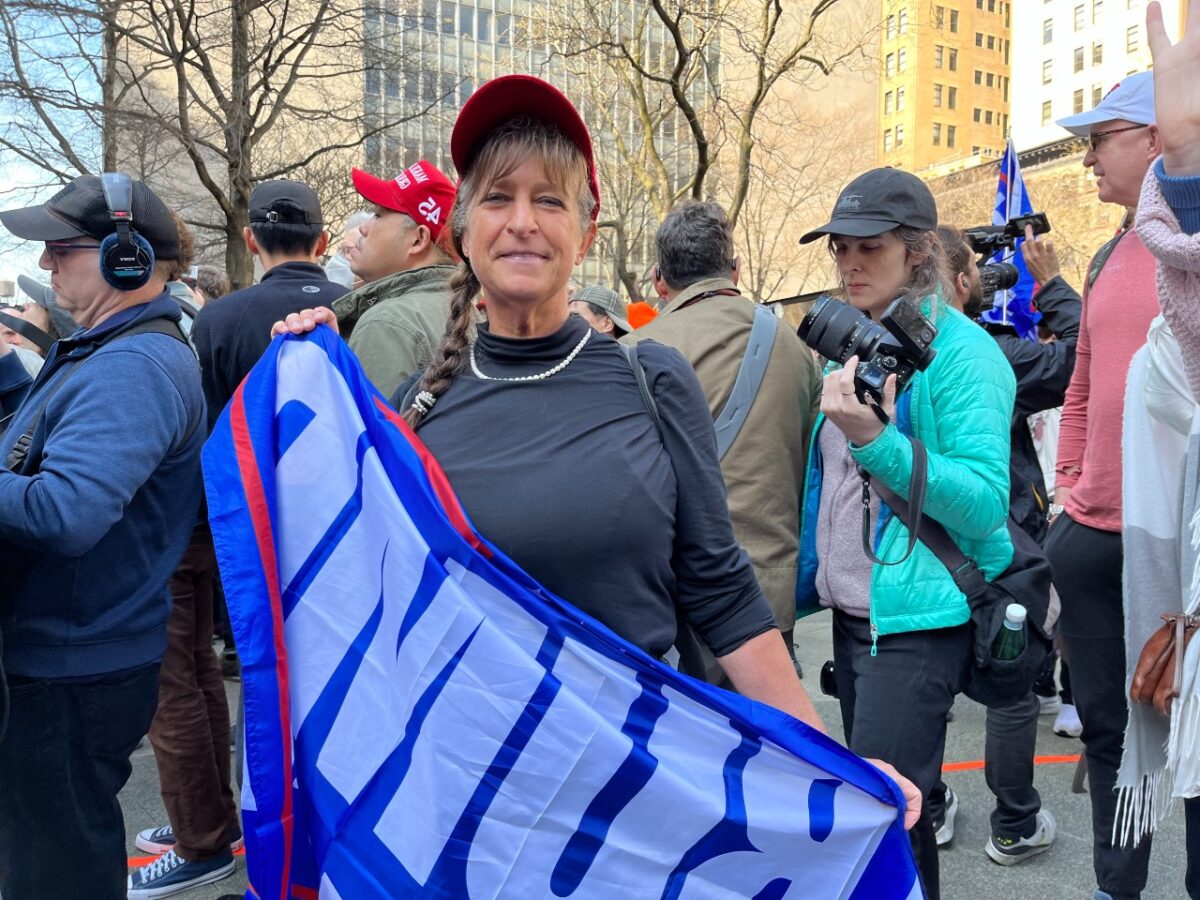 Kristine Goddard, 54, who traveled from Washington, D.C., to support Trump, said the opposing protesters were behaving like bullies.
"These people are bullying—look what they're doing here," she said. "Someone's trying to speak and they're disrespecting. It's everything they do, and it's mean."
Although she had hoped to listen to Greene's remarks, Goddard said she was unable to hear over the din caused by the anti-Trump crowd but added that she wasn't surprised.
"This is what they do," she said. "It's just pure meanness. And they've got somebody [Trump] who is honest and wants to help all the people. He doesn't do drugs, he doesn't drink—he's not a drinker—and he's an open book on everything, so they try to bring up junk."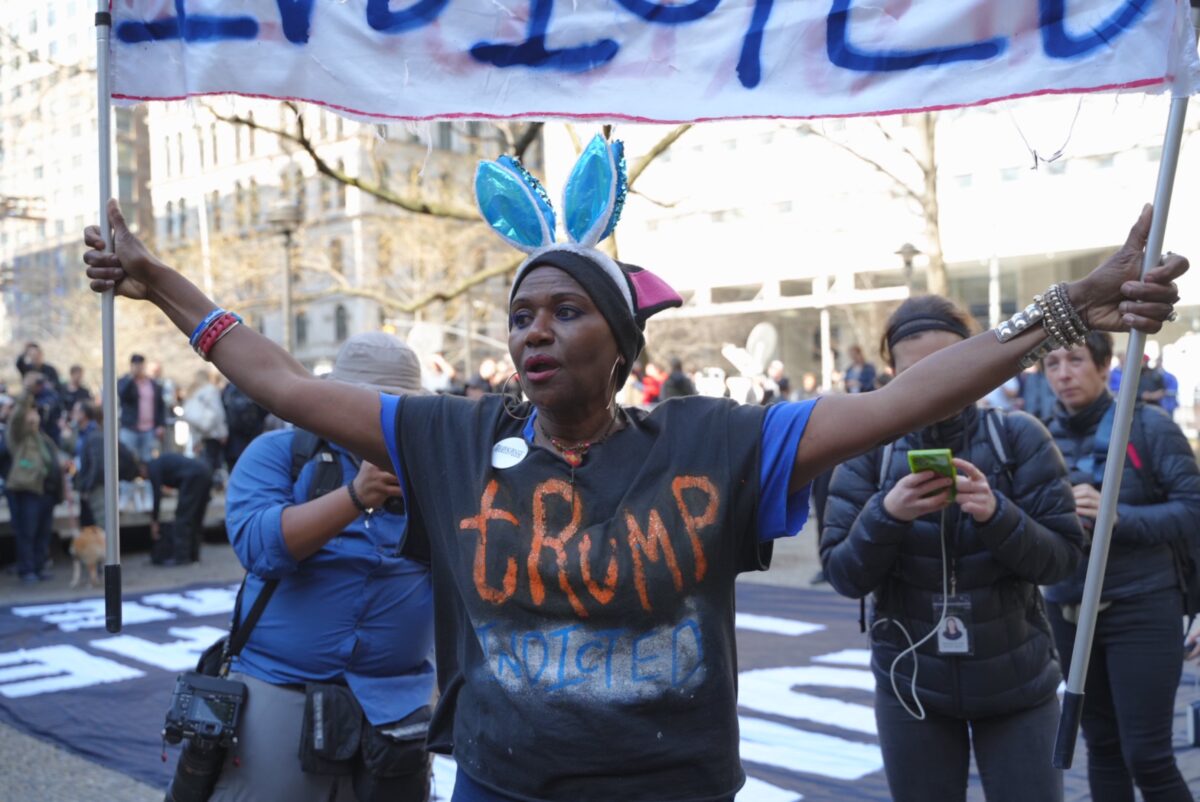 Meanwhile, anti-Trump protester Nadine Seiler, 57, said she had come from Waldorf, Maryland, specifically to oppose Greene, whom she contended was aiming to incite another "insurrection."
"That's what she's doing—she's just trying to instigate these people into action," she asserted. "And we know their action. We saw them in action. So, the fact that she wanted to do that, I am going to come here to make sure that we show up just as much as they are here."
Seiler added that she felt Trump supporters were "divorced from reality" and that she did not care about their perspective.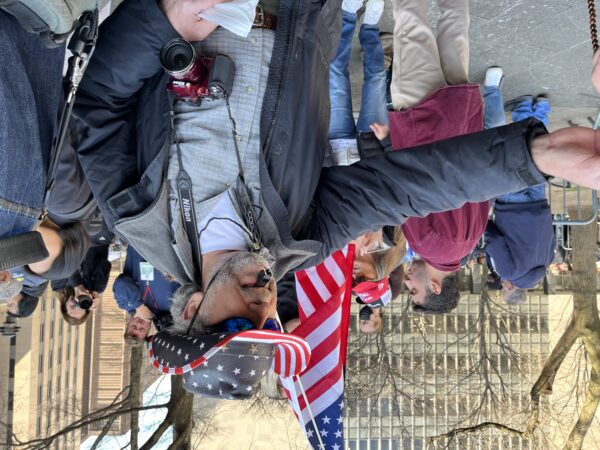 On April 3, New York Mayor Eric Adams warned Trump supporters—specifically, Greene—that violent protests would not be tolerated.
However, Greene said Tuesday that it was the anti-Trump protesters who were guilty of violence.
"I'm here in NY to protest with my voice against the weaponization of the justice system on innocent President Trump, but the counter protestors are coming to commit assault that can cause audible damage to everyone's ears including NYPD," she wrote in a Twitter post. "But Mayor Adams warns me by name! If counter protestors are violating freedom of speech and committing assault, they should be arrested."
Notably, one of the protesters handing out whistles Tuesday was a man named Spiro, who said he was there to support President Trump.
"People must hear us," said Spiro, who declined to share his last name. "We are here to make noise—we demonstrate."
Noting that he felt the former president was being unjustly "crucified," Spiro added: "We want America great again. We like our prosperity, freedom, justice, and we have to do something about it."