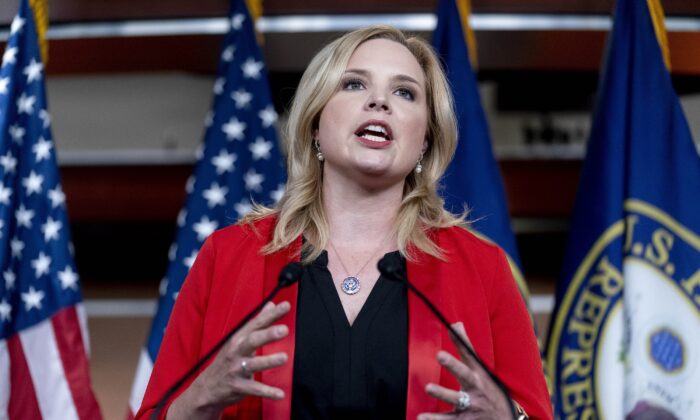 Rep. Ashley Hinson (R-Iowa) speaks at a news conference on Capitol Hill in Washington on June 15, 2021. (Andrew Harnik/AP Photo)

https://www.theepochtimes.com/rep-hinson-calls-for-biden-admin-to-shut-down-ccps-expansive-surveillance-in-us_5179428.html
Rep. Ashley Hinson (R-Iowa) called for the Biden administration to shut down the "CCP's expansive surveillance" in the United States following her participation in the delegation meeting with Taiwanese leadership.
"Let me be clear: The U.S. stands with Taiwan in the face of the CCP's aggression," Hinson told The Epoch Times.
"Furthermore, it comes as no surprise that the CCP spy balloon was transmitting sensitive intelligence back to Beijing in real time. The Biden administration must work with Congress and get serious about shutting down the CCP's expansive surveillance state—whether it's a spy balloon, TikTok spyware, or their police stations on American soil. Enough is enough."
Hinson's comments come following an NBC News report that the Chinese balloon was able to transmit data to Beijing in real time despite U.S. government efforts to prevent it from doing so.
This revelation could increase Republican criticism of President Joe Biden's decision to wait until the balloon reached a safe location before shooting it down. The publication cited two anonymous current senior U.S. officials and one purportedly former senior administration official.
The lawmaker was one of the recipients of the Chinese embassy's threatening letter over the Taiwan meeting where it said it would "not sit idly by" in the face of what it called "blatant provocation."
"This is a pathetic threat from the CCP. We will relentlessly stand up for freedom and with Taiwan, and we are never going to cower," Hinson said.
"My message back to them is this: I look forward to meeting with President Tsai and reaffirming our commitment to Taiwan and freedom-loving nations everywhere."
Several other Republican lawmakers have spoken out against the Chinese spy balloon narrative.
Rep. Greg Steube (R-Fla.) told Newsmax on April 6 that he believes the federal government is "lying to the American people" about the spy balloon.
"President Biden told the American people that the Chinese spy balloon wasn't a security breach. It's not the first time President Biden was wrong on foreign policy, and unfortunately for our country, it won't be the last," he wrote on Twitter.
Meanwhile, Sen. Roger Wicker (R-Miss.), the ranking member on the Senate Armed Services Committee, said that "we have consistently learned more from press reports about the Chinese surveillance balloon than we have from administration officials" in recent days.
In a letter to Defense Secretary Lloyd Austin, Wicker wrote that the Pentagon should provide answers to questions in an unclassified manner.
"These revelations clearly demonstrate that the administration made an unacceptable mistake. I will not abandon my oversight efforts to discover the full range of information related to this event, and I intend to hold this administration accountable. It is critical that Congress also explore the capability and protocol improvements at the Department of Defense that are necessary to prevent something like this failure from ever happening again," he added.
Jack Phillips contributed to this report.