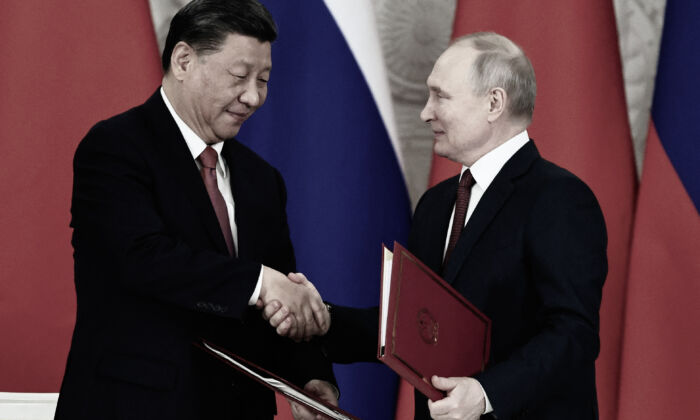 Russian President Vladimir Putin and Chinese leader Xi Jinping shake hands during a signing ceremony following their talks at the Kremlin in Moscow on March 21, 2023. (MIKHAIL TERESHCHENKO/SPUTNIK/AFP via Getty Images)

https://www.theepochtimes.com/xi-and-putin-are-pushing-to-create-new-china-led-international-totalitarian-order-analysts_5143879.html?src_src=uschinanoe&src_cmp=uschina-2023-03-25&est=Lil9UlWoZDfzbVciqoeCpm4H%2FShBPemUCAjFJSjsXM2xLg6oOrSfYoFvTfazcaQp1glGiQ%3D%3D
Chinese leader Xi Jinping and Russian President Vladamir Putin's three-day meeting at the Kremlin earlier this week was aimed at creating a new China-led global order that's powered by the communist regime's ideology and economic system, geopolitical analysts say.
Xi, himself, appeared to have unwittingly divulged this goal in his parting words to Putin as he left the Kremlin on March 22, caught on camera by media outlets waiting outside the complex gates.
"This is exactly, right now, the change which hasn't happened in 100 years. And it is we, together, who are driving these changes forward," Xi told Putin, who replied, "I agree."
In a joint statement released by the Kremlin a day earlier, the two nations pledged to work to "create a more just and democratic multipolar world order.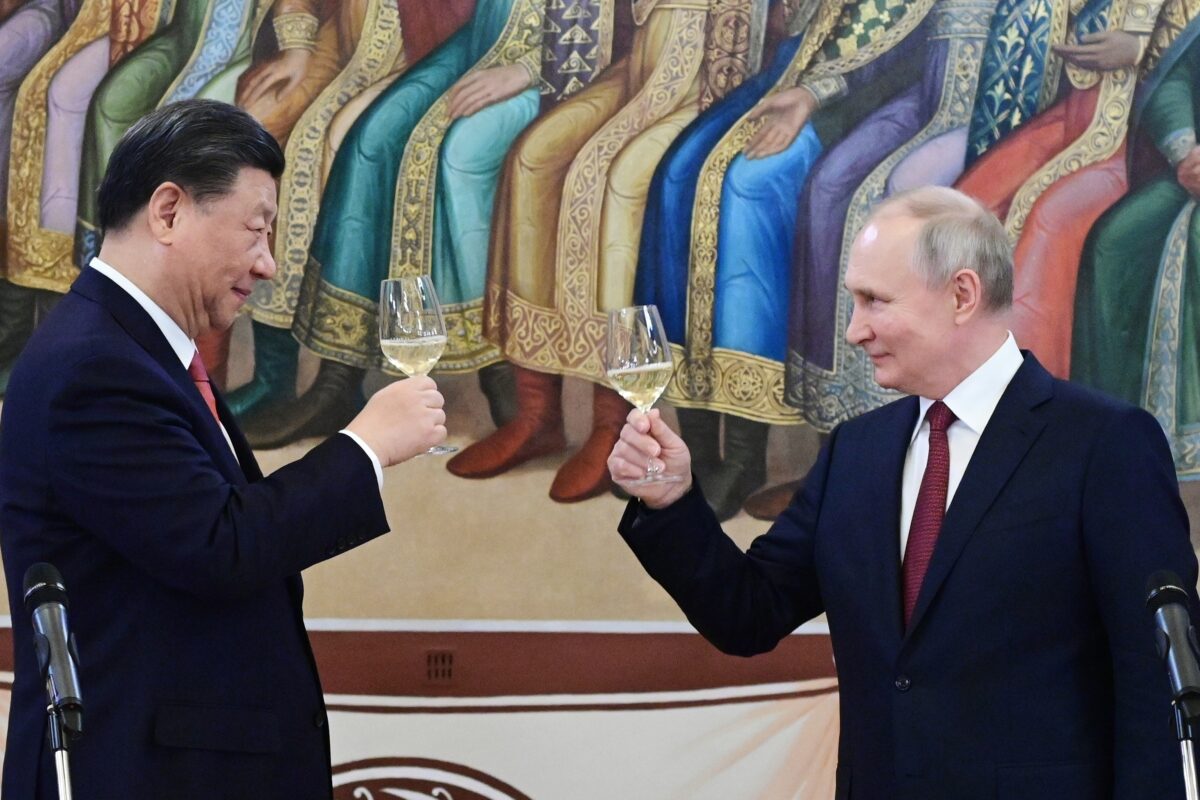 Frank Lehberger, a Germany-based sinologist said Xi's remarks encapsulated China and Russia's malign ambitions.
"Both Xi and Putin want to gradually subvert the organization of the U.N. and replace this time-tested and comparatively fair international rules-based order with a new international totalitarian order," Lehberger told The Epoch Times in an email.
Under this new world order, "[a]ll rogue autocrats from Belarus to North Korea would gain status as 'axis-partners' of Xi and Putin, spreading their negative and corrosive influence over the U.N. and the world at large," he added.
Grant Newsham, a senior fellow with the Center for Security Policy and the author of the new book, "When China Attacks: A Warning to America" echoed this view, saying the trip portends all sorts of trouble for the free world.
"[K]eep in mind that besides the Russia-China 'alliance' we are in fact seeing a coming-together of other dictatorships and like-minded countries, such as Iran, Cuba, and Venezuela—along with a number of other countries that are cozying up to the dictators," Newsham told The Epoch Times in an email.
Economic Integration
During their meeting, Xi and Putin signed several agreements including the "Plan to Promote Key Elements of Chinese-Russian Economic Cooperation until 2030." Chinese State media said this plan aims to improve trade quality and forge a "new type" of industrial chain.
The plan covers eight areas of China-Russia economic cooperation from institutional arrangements, including financial cooperation and steadily increasing the proportion of local currency settlement in bilateral trade, to guidance on cooperation in specific industrial sectors such as energy and agriculture.
The Kremlin said trade and economic cooperation remain a priority for the two allies. Last year amid the war, bilateral trade increased by 30 percent to $180 billion and this year it will likely reach $200 billion.
Lehberger said the agreement will lead to deepening economic linkages between Russia and China, including "financial integration of both economies using [China's renminbi], logistics and exchange of goods, especially food imports from Russia to starving China."
He Qinglian, U.S.-based Chinese author and economist, said that strengthening economic ties with Russia has been a long-term Chinese pursuit, however, Russia had reservations. But circumstances changed after Putin's invasion of Ukraine when Western sanctions forced Russia to become more dependent on China.
"China did not need to make any efforts at all and achieved its goal safely," she said, adding that Moscow's isolation had helped China shift its oil and gas reliance from the threat-prone Middle East to Russia.
The joint statement also shared plans about pipelines in Siberia, including a proposed "Power of Siberia-2" pipeline to deliver Russian gas to China via Mongolia, which could carry 50 billion cubic meters of gas a year
With these energy links, isolated Russia will only become more and more dependent on China going forward, according to Burzine Waghmar, a visiting fellow of Britain's Royal United Services Institute.
"This asymmetric relationship will endure in the medium-term," he told The Epoch Times in an email.
"[T]he Siberian hinterland, with its immense gas and other resources, and [the] Pacific seaboard are practically China's for the taking," he added.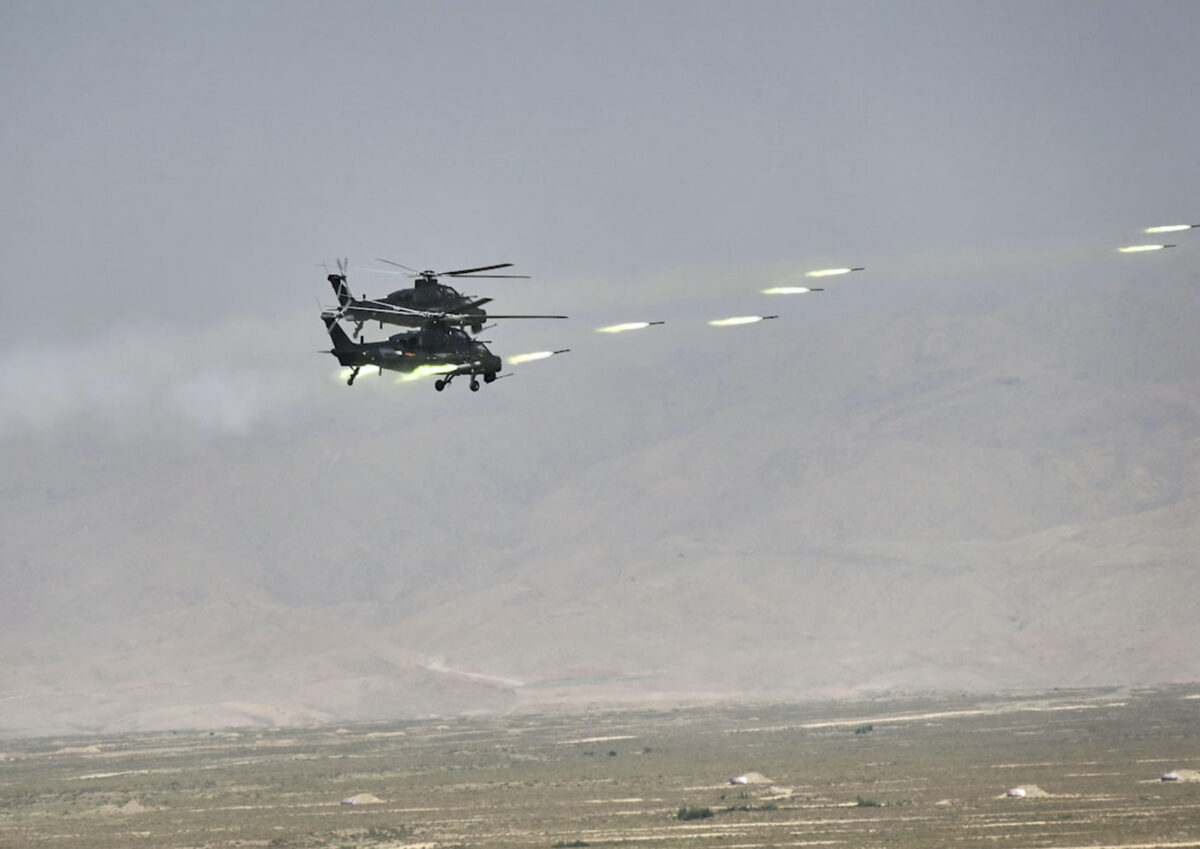 Strategic Cooperation
China and Russia's joint statement claimed their close partnership does not constitute a "military-political alliance" and the "relations do not constitute a bloc, do not have a confrontational nature and are not directed against third countries."
This statement is "make-believe," according to Lehberger, who compared contemporary Russia-China relations with the Axis powers of Nazi Germany, Italy, and Japan in World War II. While these relations are not formally strategic in nature, they are a kind of partnership that's cultivated "eerily" for what they publicly purport not to build.
"Xi and Putin's symbiotic and very personal entente-cordiale is not only anti-Western, anti-American or anti-colonialist, but also directed against India," he said.
Cooperation in science and technology will almost certainly include the covert sale of sophisticated Chinese electronic parts or weapons systems to Russia on a large scale, according to Lehberger.
"Furthermore they also include the sale of some sophisticated Russian high-tech components such as fighter engines, which the Chinese did so far not get from Russia," he said.
"These upgrades of Chinese fighters would concern India and Taiwan directly,"
Satoru Nagao, a visiting fellow with the Washington-based Hudson Institute, said that China can't afford isolation in the international arena and thus needs Russia. Enhanced bilateral trade relations are in fact a disguise for enhanced strategic relations, he noted.
"China's economic support is vital for Putin's continuation of war and for the survival of his regime," Nagao told The Epoch Times in an email. "And now China has started to provide weapons itself under the name of civil purpose products covertly. China is stepping up their effort to support Putin because they need him."
Last year, the People's Liberation Army Air Force (PLAAF) and the Russian Air Force conducted joint drills last year with PLA fighters escorting Russian Long Range Aviation bombers, Newsham pointed out.
"This has occurred multiple times. In the latest exercise Russian planes landed in China and PLAAF planes landed in Russia. This kind of tactical coordination is the result of deep coordination and a level of mutual trust that ought to worry American (and Japanese) commanders," he said.
If China attacks Taiwan, said Newsham, the West should expect supporting moves from Russia, North Korea, Iran, and even Cuba.
"I'll bet U.S. war planners have not seriously considered having to fight a two-front war, or maybe even a three or four-front war against serious enemies," he said, noting that the U.S. military as late as 2016 couldn't even refer to China as an adversary, much less an enemy.