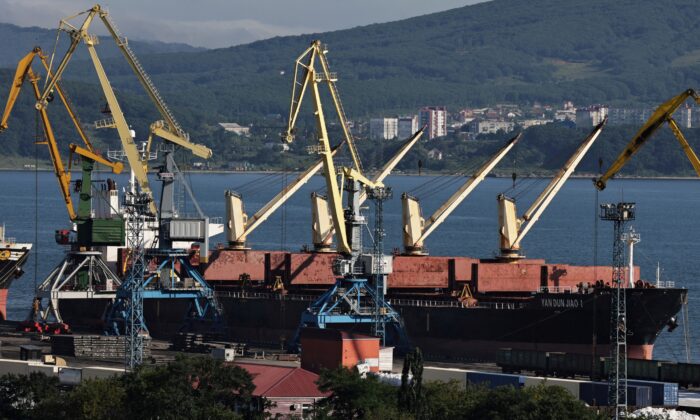 Yan Dun Jiao 1 bulk carrier in the Vostochny container port in the shore of Nakhodka Bay near the port city of Nakhodka, Russia, on Aug. 12, 2022. (Tatiana Meel/Reuters)
https://www.theepochtimes.com/oil-rises-for-2nd-day-as-banking-fears-ease-for-now_5138172.html

LONDON—Oil rose on Tuesday, extending a recovery from a 15-month low hit the previous day, as the rescue of Credit Suisse eased worries about global banking sector risks that could hit economic growth and reduce fuel demand.
Sentiment across financial markets has improved after the UBS takeover of Credit Suisse, announced on Sunday, and after major central banks said they would enhance market liquidity and support the banking system.
Brent crude was up $1.35, or 1.8 percent, at $75.14 a barrel by 1342 GMT. U.S. West Texas Intermediate (WTI) gained $1.11, or 1.6 percent, to $68.75.
"Banking jitters may have taken a breather yesterday but remain in play," said Stephen Brennock of oil broker PVM.
"Although an immediate crisis appears to have been averted, there are still fears of another sell-off."
The next focus for investors is the U.S. Federal Reserve's decision on interest rates after its two-day meeting this week.
Since the banking strife began this month, markets have lowered projections for the next Fed rate hike to 25 basis points, down from previous expectations of a 50 bps increase.
The dollar index slipped on Tuesday after hitting a five-week low in the previous session. A weaker dollar can support oil demand because it makes the commodity cheaper for buyers holding other currencies.
A meeting of ministers from OPEC+, which includes members of the Organization of Petroleum Exporting Countries (OPEC) plus Russia and other allies, is scheduled for April 3.
Also coming into view are the latest U.S. oil inventory reports, which a Reuters survey expects to show lower crude and product inventories. The first report, from the American Petroleum Institute, is due at 2030 GMT on Tuesday.