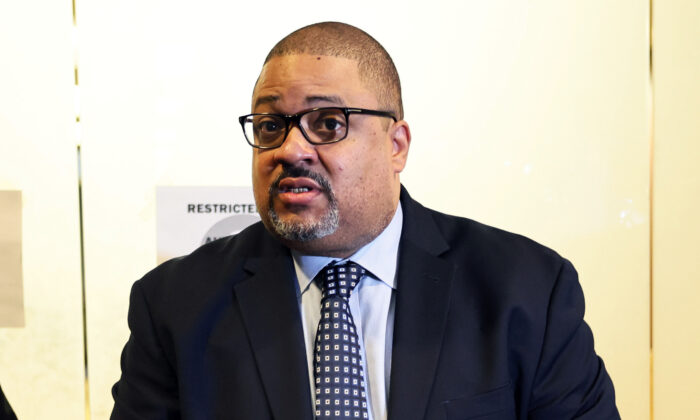 Manhattan District Attorney Alvin Bragg speaks at a press conference after the sentencing hearing of the Trump Organization at the New York Supreme Court in New York on Jan. 13, 2023. (Michael M. Santiago/Getty Images)
https://www.theepochtimes.com/manhattan-da-office-responds-trump-created-false-expectation-he-would-be-arrested_5144419.html
Manhattan District Attorney Alvin Bragg fired back at House Republicans seeking to probe his reported case against former President Donald Trump, offering the first public response to the former president's claim that he would be indicted by Bragg's office soon.
"Your letter dated March 20, 2023 (the 'Letter'), in contrast, is an [unprecedented] inquiry into a pending local prosecution," Bragg's office wrote (pdf) to House Judiciary Republicans in the letter, which was posted online by multiple news outlets. It said that the GOP's letter "only came after Donald Trump created a false expectation that he would be arrested the next day, and his lawyers reportedly urged you to intervene. Neither fact is a legitimate basis for congressional inquiry."
If Bragg's office were to comply with the request, it would "interfere with law enforcement," and the GOP letter represents an "unlawful incursion into New York's sovereignty," according to the letter. It was written by Bragg's general counsel, Leslie B. Dubeck, and dated March 23.
The letter represents the first public comments Bragg made specifically about the investigation into Trump after the former president announced last weekend that he would be indicted on Tuesday, although Tuesday passed without any charges being filed against him. So far, Epoch Times requests for comment to Bragg's office have gone unanswered.
However, the letter provided little insight into the investigation and whether the grand jury will return an indictment against Trump. Several witnesses, including former Trump attorney Michael Cohen and fellow lawyer Robert Castello, testified in front of the grand jury in recent days, triggering even more speculation about the case.
"If a grand jury brings charges against Donald Trump, the DA's Office will have an obligation, as in every case, to provide a significant amount of discovery from its files to the defendant so that he may prepare a defense," the document stated. House Republican assertions that his office is "pursuing a prosecution for political purposes is unfounded, and regardless, the proper forum for such a challenge is the Courts of New York, which are equipped to consider and review such objections."
"In addition, review by the U.S. Supreme Court would be available to the extent any criminal case raises federal issues. That is the mechanism afforded to every defendant in a criminal case. Congress has no role to play in that review, especially as to a pending state criminal proceeding," according to the letter.
Because Congress doesn't have a "legitimate legislative task relating to the oversight of local prosecutors" and state laws, the recent Republican request would threaten the state of New York's "sovereign interest," Bragg's office said.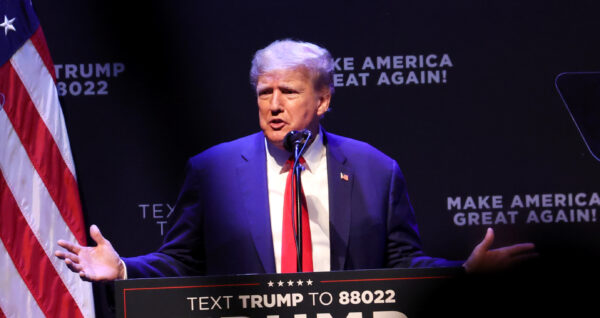 What Was Sought
House Republicans led by Judiciary Chairman Jim Jordan (R-Ohio), Oversight Chairman James Comer (R-Ky.), and Administration Chairman Bryan Steil (R-Wis.), earlier this week requested information and testimony into Bragg's investigation and described the probe as likely politically motivated. They wrote that Bragg's office has frequently reduced felony charges for violent offenders in New York City, but he's reportedly looking to elevate charges against Trump over an incident that occurred in 2016.
"Your decision to pursue such a politically motivated prosecution—while adopting progressive criminal justice policies that allow career 'criminals [to] run the streets' of Manhattan—requires congressional scrutiny about how public safety funds appropriated by Congress are implemented by local law-enforcement agencies," Jordan wrote to the district attorney's office.
Since Trump's post on Truth Social announcing he would be arrested soon, Republicans in Congress have circled their wagons around the former president, accusing Bragg and Democrats of engaging in a politically motivated witch hunt. Some legal scholars, too, have denigrated Bragg's case and have claimed it is a twisted interpretation of the law.
A spokesperson for Trump told The Epoch Times over the past weekend that Trump has received no special information about a possible indictment and suggested the former president was reacting to publicly available reporting that cited anonymous reports. A so-called "court source" told multiple news outlets last Friday that Trump could be indicted soon in connection to the case, which delves into alleged hush money payments that were provided to Stormy Daniels during the 2016 campaign.
If Trump is arrested, it would be a first for a current or former president. Since the founding of the United States, no president has faced criminal charges.
Meanwhile, the former president has said he would continue his 2024 White House campaign if he is indicted. A rally in Waco, Texas, is scheduled for later this month.
The Epoch Times has contacted Bragg's office and a Trump spokesperson for comment.