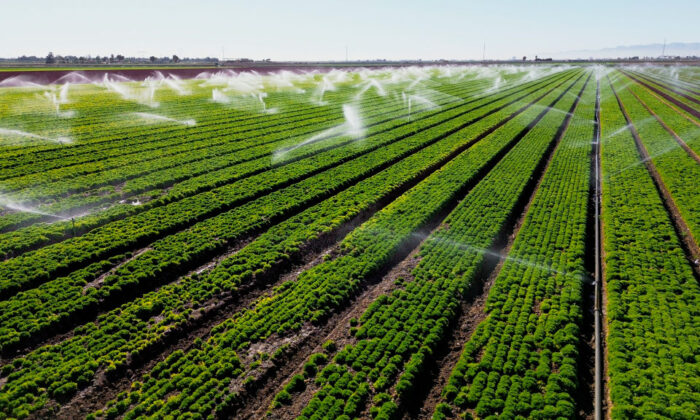 Sprinklers watering a lettuce field in Holtville, Calif., on Feb. 9, 2023. (Sandy Huffaker/AFP via Getty Images)

https://www.theepochtimes.com/bipartisan-senators-push-to-ban-china-from-buying-us-farmland_5143705.html
A bipartisan group of U.S. senators introduced a proposal on March 22 that would ban foreign adversaries, including China-controlled entities, from purchasing U.S. farmland.
Sens. Mike Braun (R-Ind.), John Tester (D-Mont.), Marco Rubio (R-Fla.), and Tommy Tuberville (R-Ala.) say their collective objective for the legislation is to address national security concerns—food security and China's threat to the U.S. military and economic power—related to Chinese farmland ownership in the United States.
If enacted, the ban also would apply to agricultural land leases, regardless of the lease duration. The prohibition covers any person or entity "owned by, controlled by, or subject to the jurisdiction or direction of a foreign adversary," defined as Iran, North Korea, China, or Russia, the senators said in a statement. The ban excludes U.S. citizens and green card holders.
Braun, who filed paperwork in November to run for Indiana governor in 2024, sounded the alarm about the exponential increase in Chinese ownership of U.S. farmland.
"Chinese ownership of American farmland increased more than 20-fold in the past decade," he said in a statement. "We cannot allow our top foreign adversaries to buy up American farmland and compromise our agricultural supply chains."
As of Dec. 31, 2020, China owned 325,686 acres of U.S. agricultural land, according to the Department of Agriculture. While the acreage under Chinese ownership is slightly less than 1 percent of all foreign-held agricultural land, it represents more than a 20-fold leap from 13,720 acres in 2010.
"Foreign adversaries, including the Chinese Communist Party, should never be allowed to control Americans' agricultural lands or our food supply," Rubio said in the same statement. "We cannot allow these regimes to continue exploiting the openness of our system. This bipartisan legislation is an important step to protect our national security interests."
The measure also specifies land for ranching purposes as agricultural land, in addition to land used for "agricultural, forestry, or timber production purposes" as defined by the Agricultural Foreign Investment Disclosure Act of 1978.
Protecting US Farmland
In recent years, China's purchases of U.S. farmland has become a major concern in many states.
In Virginia, a bill that bans foreign adversaries, including China, from buying agricultural land in the commonwealth was approved by both chambers of the state legislature and is ready for the governor's signature by March 27.
In Texas and Florida, state legislators are pushing similar proposals.
The latest U.S. Senate bill would enable the federal government to address deals similar to two recent high-profile cases, both cleared by the Committee on Foreign Investment in the United States (CFIUS), a cross-departmental panel that reviews foreign acquisitions for national security risks.
Fufeng USA, the U.S. subsidiary of China-based Fufeng Group, purchased 370 acres of farmland in the fall of 2021 for a corn mill project in Grand Forks, North Dakota. In December 2022, CFIUS decided that it didn't have jurisdiction to probe the purchase of the site, which is less than 15 miles from the Grand Forks Air Force Base, where sensitive drone, satellite, and surveillance technology is housed. The project had prompted significant pushback from Republican lawmakers and locals who said it threatened both national and economic security.
At the end of January, the U.S. Air Force warned that the project poses a "significant threat to national security." In early February, the Grand Forks City Council voted unanimously to abandon the project approved in July 2022.
In 2016, a Chinese billionaire and former military official bought about 140,000 acres of land in Val Verde County, Texas, with plans to build a wind farm on the property. The purchased land included several ranches within 80 miles of the Laughlin Air Force Base and within some of the base's pilot training zones.
The project was halted by a Texas law that took effect in June 2021. The Lone Star Infrastructure Protection Act bans Texas businesses and governments from doing business with foreign entities from China, Russia, North Korea, and Iran if the transactions would provide the foreign enterprises remote access or control of critical infrastructure.
The lawmakers are but one group out of many federal legislators who want to tackle the China threat over U.S. farmland.
Earlier this month, Sen. Josh Hawley (R-Mo.) introduced a bill that would bar corporations and individuals linked to the Chinese regime from buying or leasing U.S. agricultural land. At the same time, existing owners must divest their interests under the bill or face fines and criminal consequences. Last month, Tester and Sen. Mike Rounds (R-S.D.) introduced a bill to ban China, Russia, Iran, and North Korea from buying or leasing U.S. farmland and agricultural businesses.