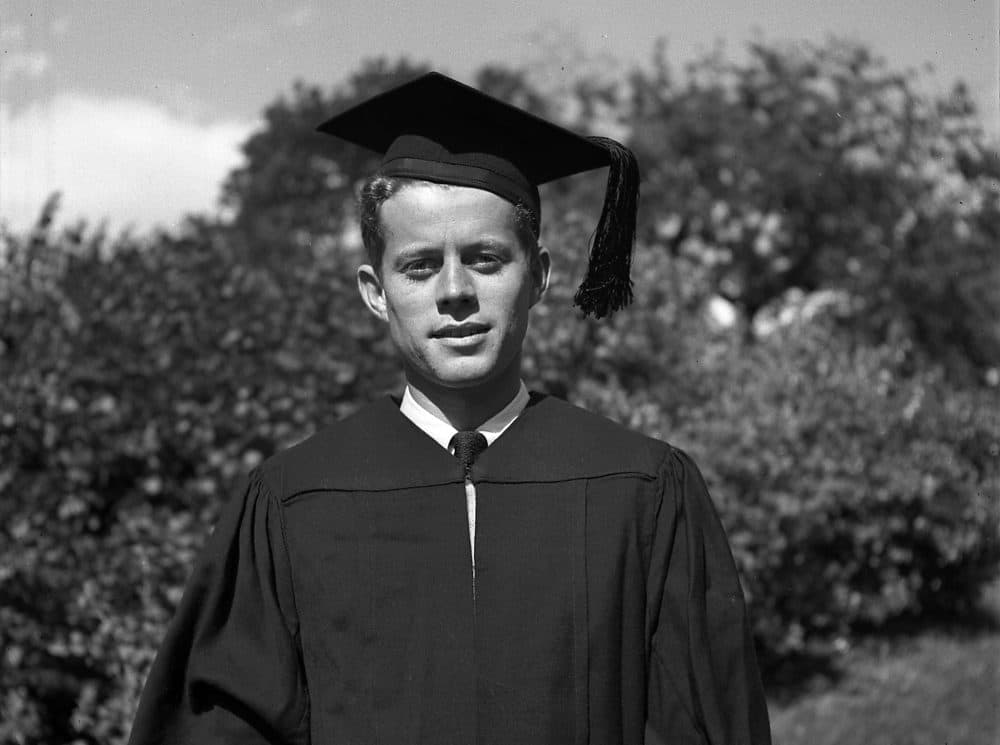 John F. Kennedy is seen during his graduation from Harvard in 1940. (John F. Kennedy Presidential Library)

https://www.mining.com/harvards-42bn-fund-to-end-investment-in-fossil-fuels/?utm_source=Daily_Digest&utm_medium=email&utm_campaign=MNG-DIGESTS&utm_content=harvards-42bn-fund-to-end-investment-in-fossil-fuels
Harvard University has announced it will no longer invest in fossil fuels and will instead use its $42 billion endowment to support the world's transition to green energy, drawing praise from stakeholders that had long pressed the educational institution to exit such holdings.
President Lawrence Bacow, who for years publicly opposed divesting, said in a letter that the university's endowment had no direct investments in fossil fuel exploration or development companies as of June and will not invest in them in the future.
The university does have indirect investments in the fossil fuel industry but, according to Bacow, they are "in runoff mode." These investments, made through private equity funds, make up less than 2% of the endowment, he said.
The move marks a sharp twist in the university's position on the matter in the last ten years, which pitted student activists against administrators and dominated campus politics.
In a September 2019 letter published in Harvard Magazine, Bacow wrote that he believed working with fossil fuel companies was a "sounder and more effective approach" to fossil fuels for Harvard to take.
"We may differ on means," Bacow told students in the letter. "[But we] share the belief that action is required. We just happen to have an honest difference of opinion over what the appropriate action is."
The university had announced last year it would begin working with its investment managers to reach net-zero greenhouse gas emissions by 2050. That wasn't fast enough for its students. A group filed in March a complaint with the Massachusetts attorney general to try forcing Harvard to sell its estimated $838 million fossil fuel holdings, The Harvard Crimson reported.
Butterfly effect?
Divest Harvard, one of the activist groups, described the announcement on Twitter as "a massive victory for our community, the climate movement, and the world — and a strike against the power of the fossil fuel industry."
BREAKING: After a decade of constant pressure by students, faculty, and alums, @HARVARD IS FINALLY DIVESTING FROM FOSSIL FUELS.

It's a massive victory for our community, the climate movement, and the world — and a strike against the power of the fossil fuel industry. (THREAD) pic.twitter.com/56yESznMMY

— Fossil Fuel Divest Harvard 🔶 (@DivestHarvard) September 9, 2021
The Ivy League college, the richest in the US, will be following in the footsteps of other institutions, such as the University of California and the UK's Cambridge University, which have committed to divesting their endowments from the fossil fuel industry.
The decision is expected to motivate other educational institutions to withdraw their support of businesses contributing to man-made climate change.
The university will also be joining a growing group of big institutional investors and governments that are responding to consumer pressure to accelerate de-carbonization efforts.
The United Nation's authoritative Intergovernmental Panel on Climate Change (IPCC) released last month a report deemed as "code red for humanity."
The review of a 2013 report predicts that temperatures on Earth will rise by about 1.5 degrees Celsius in two decades and warns that a near-2m rise in sea levels by the end of this century "cannot be ruled out."