Aramco said to have mulled Feb. sale via Motiva unit to Asia

State-run Saudi firm decided sale was unviable for the month
https://www.bloomberg.com/news/articles/2018-02-22/oil-extends-decline-below-62-as-u-s-inventories-seen-expanding
Even Saudi Arabia wants in on the U.S. oil boom.
The kingdom's state oil firm considered the possibility of sending American crude to Asia in February via a U.S. unit before determining it wasn't economically viable, according to a person with knowledge of the matter. It also asked potential buyers in Asia if they would be interested in U.S. supply, according to officials at two regional refiners. The people asked not to be identified because the information is confidential.
The fact that the Saudis decided against moving a cargo to the world's biggest oil consuming region this month doesn't mean they won't consider it again. Such a sale would be unprecedented, and a potential strategy by the Middle East nation in the face of rising U.S.
production
. American supplies are proving a
threat
to efforts by the OPEC producer and its allies to clear a global glut and prop up prices.
State-run
Saudi Arabian Oil Co.
, known as Aramco, considered shipping the U.S. crude to Asia via its Houston-based Motiva Enterprises unit, which operates North America's largest refinery in Port Arthur, Texas, with a crude capacity of more than 600,000 barrels a day. Aramco didn't respond to an email seeking comment.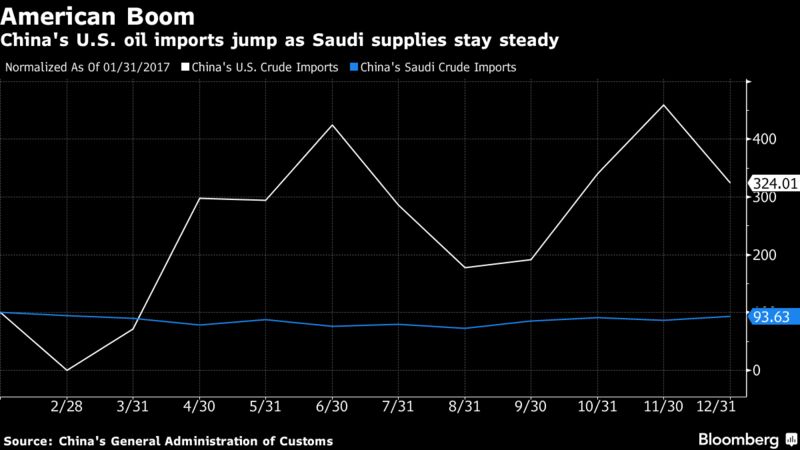 Relatively cheap
U.S. crude
has increasingly been making its way to major consuming nations such as China, India and South Korea over the past year and eating into the market share of traditional suppliers like Saudi Arabia. While American oil is still a fledgling in Asia, Aramco is attempting to take advantage of the opportunities presented by the U.S. shale boom that has transformed the
flow of cargoes
in the global market.
This week, the price of the benchmark U.S. oil went above the Middle East marker Dubai for the
first time
in more than a year. This recent rising strength in West Texas Intermediate may have played a role in scuppering the potential shipment from the Gulf Coast.
"At current levels, the strength in WTI relative to Dubai prices doesn't justify arbitrage flows of U.S. crude into Asia," said Nevyn Nah, an analyst at industry consultant Energy Aspects Ltd.
WTI in New York traded at $61.27 a barrel at 6:50 p.m. Singapore time. Prices have risen more than 40 percent since June.
The Suezmax tanker AST Sunshine, provisionally sought to transport crude from the U.S. to Asia, failed to be finalized for the journey, according to shipping data compiled by Bloomberg. The vessel was meant to transport 130,000 metric tons of crude loading in late February from the U.S. Gulf Coast, bound for Singapore and Ningbo in China.
As Aramco prepares for what could be a record
initial public offering
, it's announced plans to expand its trading business by buying and selling
non-Saudi crude
. The IPO is the centerpiece of the kingdom's plan to wean its economy off oil. The government has estimated the share sale could value the company at $2 trillion, though analysts make lower estimates.