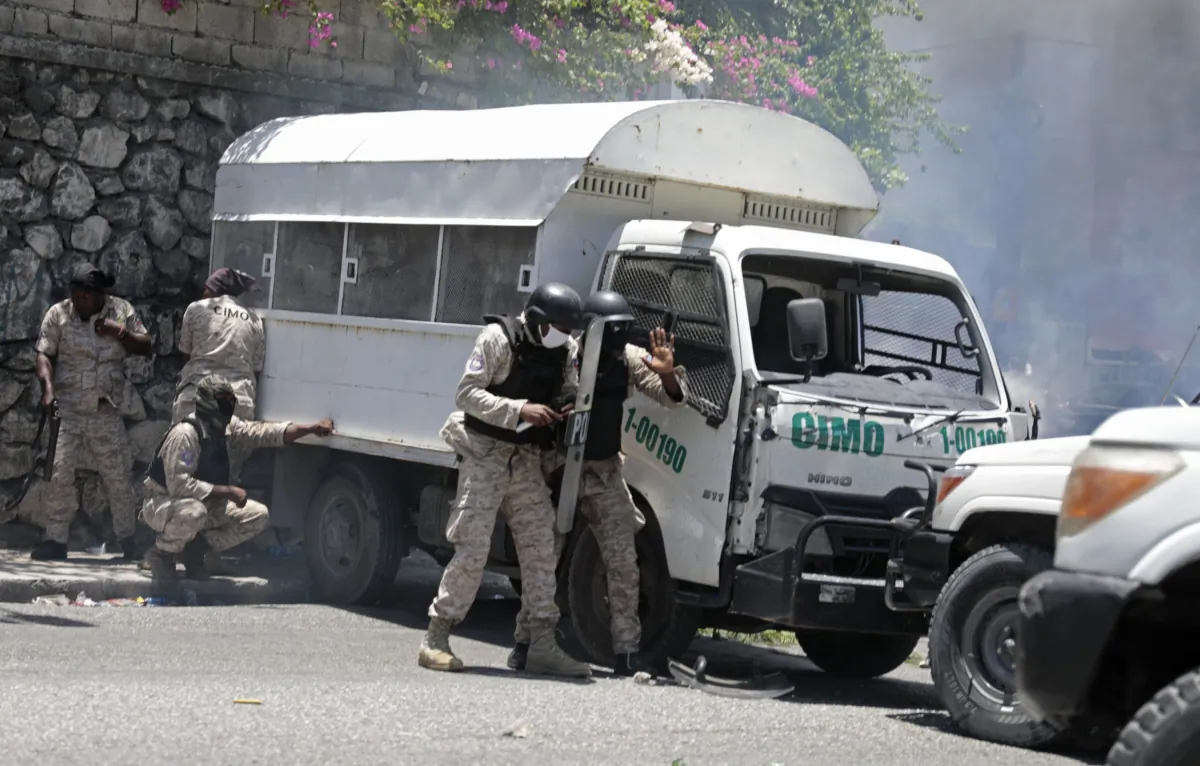 Police take cover from rocks thrown by demonstrators in Port-au-Prince, Haiti, on Aug. 7, 2023. (Odelyn Joseph/AP Photo)
https://www.theepochtimes.com/mkt_app/world/united-states-closes-haiti-embassy-due-to-rapid-gunfire-5451046

The United States closed its embassy in Haiti on Aug. 8 due to people firing weapons nearby.
"The Embassy is closed today. All personnel are restricted to Embassy compounds until further notice due to gunfire in the vicinity of the Embassy," the U.S. State Department said in a statement.
"Travel between the compounds is prohibited. Some routes to the Embassy may be impacted due to continued rapid gunfire," it added.
People were advised to avoid the area around the embassy, which is located in Haiti's capital Port-au-Prince.
Officials also said people should not go near demonstrations or large groups of people and not attempt to drive through roadblocks.
If a roadblock was encountered, people were advised to turn around and seek a safe area.
Gang-related violence has been escalating in Haiti in recent months, with gang members killing, kidnapping, and raping citizens; while citizens have reportedly lynched suspected gang members, according to the United Nations Security Council.
Murders and kidnappings continue to rise, with 2,094 homicides recorded between January and June 2023 and 1,014 kidnappings, including 256 kidnappings of women and 37 abductions of children, the international group said.
"In most instances, children and women are forcefully taken by armed groups and used for financial or tactical gains. The victims who manage to return home grapple with deep physical and psychological scars, possibly for many years," the United Nations Children's Fund said in a statement.
An increase in violence and roadblocks, as well as the number of armed people roaming around, has trapped some people in their homes while making it more difficult to deliver health care and other aid to needy people, the fund said.
Police officers resigning, dying, or retiring have contributed to the chaotic environment, and gangs have gradually taken over more territory, in some cases ousting officers from police stations.
A poor economy and widespread unemployment has made joining gangs more attractive, according to the United Nations. Inflation has soared in Haiti this year, while fewer fields are being farmed and imports have dropped.
The United States previously issued a security alert because of clashes between gangs and police, saying the threat of violent crime and kidnapping throughout Port-au-Prince was high.
U.S. citizens have been among those kidnapped, including nurse Alix Dorsainvil and her child. Witnesses said a group of armed men burst into the clinic where Ms. Dorsainvil was working and seized her before requesting $1 million in ransom.
The State Department in July urged U.S. citizens to leave Haiti as soon as possible.
The U.S. government was limited in providing emergency services to citizens in Haiti, officials said at the time.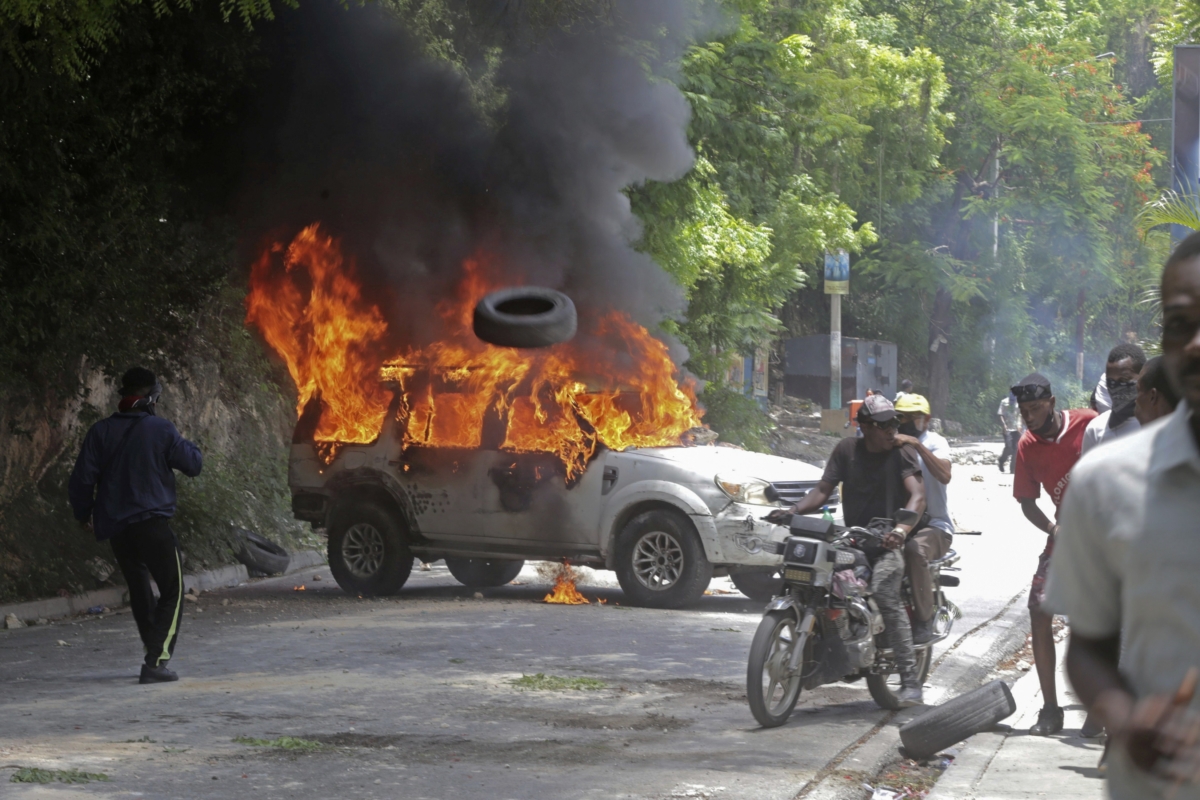 Thousands March
The closure came one day after several thousand people, many with obscured faces, marched through Port-au-Prince demanding protection from violent gangs who are pillaging neighborhoods in the capital and beyond.
Haitians' daily lives have been disrupted by incessant gang violence that has worsened poverty across the country as it awaits a decision from the U.N. Security Council over a potential deployment of an international armed force.
"We want security!" the crowd chanted as it marched for two hours from the troubled community of Carrefour-Feuilles to Champ de Mars in the downtown area and then to the prime minister's official residence, where police broke up the demonstration with tear gas.
"I can't work. I can't go out. I'm like a prisoner in my own home," said Wilene Joseph, a 36-year-old street vendor and mother of two who joined the march out of frustration.
"I worry about my kids being shot because bullets are flying from all directions all the time," Ms. Joseph said of her children, ages 5 and 7. "The situation is unacceptable."
Since the assassination of President Jovenel Moïse in 2021, gangs have seized control of up to 80 percent of Port-au-Prince, killing, raping, and sowing terror in communities already suffering endemic poverty.
Parents of young children are particularly fearful that gangs will snatch them when they go to and from school. Nacheline Nore, 40, said her two boys, ages 10 and 8, have to call her every day as soon as they step inside their school, and she rides back home with them every afternoon: "You don't know who's going to be the next target," she said.
Mario Jenty, a 36-year-old cell phone vendor who joined Monday's march, said the increase in kidnappings is pushing Haitians into even deeper poverty. "They're going to have to sell that home to pay for ransom, and there's a chance they might not be released," he said of the victims.
Mr. Jenty, who lives in Carrefour-Feuilles, said he would not allow gangs to take over his neighborhood. "I'm going to fight this," he said. "I'd rather die than leave my community."
The Associated Press contributed to this report.