https://www.newsweek.com/far-right-activist-ammon-bundy-arrested-after-ignoring-lawsuit-year-1819343?amp=1
Far-right anti-government activist Ammon Bundy was arrested on Friday after ignoring legal proceedings surrounding a defamation lawsuit for over a year.
Bundy's family gained national notoriety in 2014 after staging a standoff with government forces, led by his father Cliven, after refusing to pay grazing fees on federally-owned land. Later in 2016, Bundy himself led a standoff, seizing the headquarters of the Malheur National Wildlife Refuge in Oregon and occupying it in protest of government-owned land.
In 2020, Bundy became heavily involved in efforts to oppose restrictions and regulations introduced to combat the COVID-19 pandemic, participating in numerous protests in Idaho and getting arrested five times. Opposition to medical authority also led to his current predicament, with Idaho's St. Luke's Health System suing the militant activist for defamation after he accused the hospital of kidnapping the infant grandson of an associate, Diego Rodriguez.
The incident involved Rodriguez's 10-month-old grandson, who was taken from his parent's custody after it was determined that he was malnourished. Bundy and Rodriguez countered, falsely accusing St. Luke's of kidnapping the infant and running a "child trafficking ring subsidized by tax dollars," the hospital explained. In March 2022, the hospital filed a defamation lawsuit against Bundy, accusing him of leading a smear campaign against them and engaging in a variety of harassing behaviors.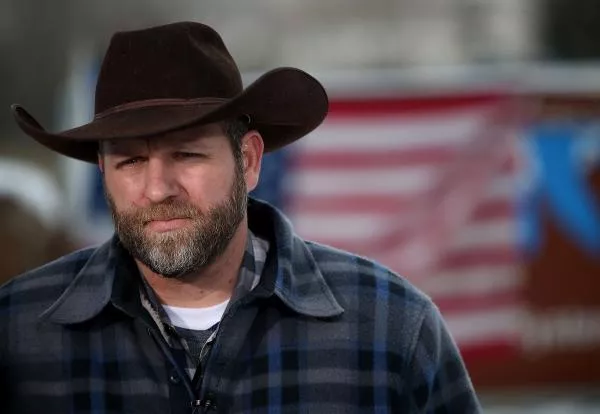 Bundy has denied any wrongdoing and refused to answer any court summons related to the lawsuit. Local law enforcement officials declined to enforce the court orders, citing concerns that Bundy and his associates might injure officers, a risk they did not want to take over a civil matter.
In July, a jury ruled against Bundy by default, ordering him to pay $26 million, part of an overall $52 million ruling against him and other defendants. Prior to that in April, a judge also issued a contempt of court charge against Bundy for his failure to appear in court, local news station CBS2 reported.
On Friday, Bundy was arrested for that contempt charge and booked at the Gem County Jail on a $10,000 bond. According to CBS2, he remained in custody as of Saturday morning.
According to social media posts from Bundy's associates, he was arrested while attending a fundraising banquet for his son's football team at Emmet High School. A video shared by his official X, formerly known as Twitter, account showed the activist being taken away in handcuffs as supporters booed. The post also called on Bundy's supporters to gather outside the Gem County Sheriff's Office to protest.