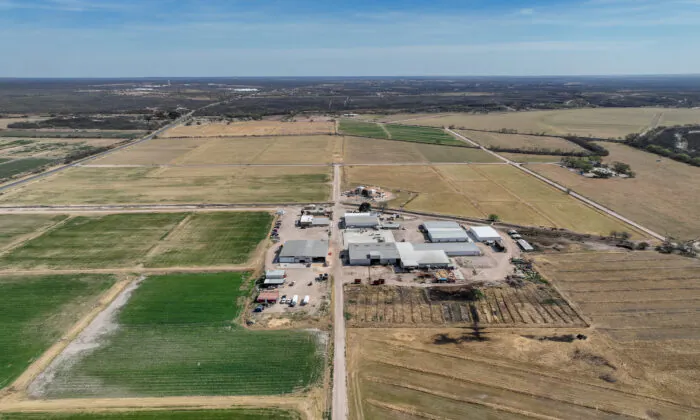 Fields waiting to be irrigated are seen in Quemado, Texas, on Feb. 22, 2023. (Brandon Bell/Getty Images)

https://www.theepochtimes.com/texas-senate-passes-legislation-banning-hostile-nations-from-buying-farmland_5229087.html
The Texas Senate has approved legislation that bans the purchase of farmland by citizens and entities associated with hostile foreign nations—a bill that its author said will provide "sweeping state and national security protections."
Republican Texas Sen. Lois Kolkhorst announced the passing of her legislation on Facebook on April 26, following a 19-12 vote in the state Senate earlier in the day, where one Democrat joined 18 Republicans in passing the measure.
"This bill protects Texas farmland, oil and gas, rare earth materials and timber from being owned by foreign entities classified as hostile by the Director of U.S. National Intelligence for three consecutive reports. These nations currently include China, Russia, North Korea, and Iran," Kolkhorst wrote.
Communist China is the greatest threat to U.S. national security, followed by Russia, Iran, and North Korea, according to the 2022 threat assessment report (pdf) issued by the Office of the Director of National Intelligence (ODNI). The report called out the Chinese regime as presenting "the broadest, most active, and persistent cyber espionage threat to the U.S. Government and private sector networks."
SB 147
Kolkhorst introduced the legislation, SB 147, in November last year and was supported by Texas Gov. Greg Abbott. The original version of the legislation (pdf) named the four nations, but the final draft (pdf) was amended to allow a country to be added or removed from the list.
The original bill was softened amid criticism from some Democrats and locals. Initially, the bill banned the purchase of property by any individual who is "a citizen of China, Iran, North Korea, or Russia." However, the final draft specifically points out that the ban does not apply to lawful permanent residents, U.S. citizens, and dual citizens.
The property includes agricultural land, improvements, mines and quarries, mineral deposits, and standing timber, according to the legislation.
The Texas attorney general is also granted the authority to investigate possible violations if "a reasonable suspicion" arises that an entity or individual buying property is associated with one of the countries designated by the ODNI reports, according to the legislation. The state's top law enforcement officer could then bring cases to district courts for divestment proceedings.
"Texas is rich in its natural resources and is home to invaluable strategic military bases and installations. With SB 147, we can protect our Texas food supply and energy resources as well," Kolkhorst wrote.
Kolkhorst's legislation builds on SB 2116, known as the Lone Star Infrastructure Protection Act, which prohibits Texas governments and businesses from making critical infrastructure deals with entities from China, Iran, North Korea, and Russia. The legislation went into effect in June 2021.
SB 147 has now been moved to the Texas House for consideration.
Discussions
Democrat Texas Rep. Gene Wu, an outspoken critic of Kolkhorst's legislation, issued a statement on April 26, saying he was "frustrated by the Senate's passage of SB 147 in its current form."
"Even with the amendments offered, this legislation still takes away the rights of an entire class of people without due process and solely on the basis of their national origin," Wu wrote.
"National security is a serious issue, but if we are concerned about the actions of foreign governments, then legislation should only affect foreign governments and their agents," he added. "Our community will continue to work, in the Texas House, to eliminate the unnecessarily discriminatory aspects of this bill."
However, state Sen. Juan "Chuy" Hinojosa, one of the co-authors of SB 147 and the lone Democrat who voted in favor of it on Wednesday, dismissed critics' concerns about the bill during a Senate floor discussion on April 25.
"We're not trying to target people. We're trying to target nations that pose a security risk to this great nation of ours," Hinojosa said. "It's incorrect to say that this bill is discriminatory."
"We should not overlook the point that many of these nations are a threat to our security," Hinojosa added, saying these countries "have made it very clear that they want to destroy our country, destroy our democracy, destroy our way of life."
Hinojosa said anyone who has doubts about the Chinese regime posing as a security threat to the United States should look no further than the regime's police station in New York City.
On April 17, the FBI arrested two people on charges of operating a secret police station. They conspired to work as agents of the Chinese Communist Party (CCP) and took orders from Beijing to track down and silence Chinese dissidents living in the United States, prosecutors said.