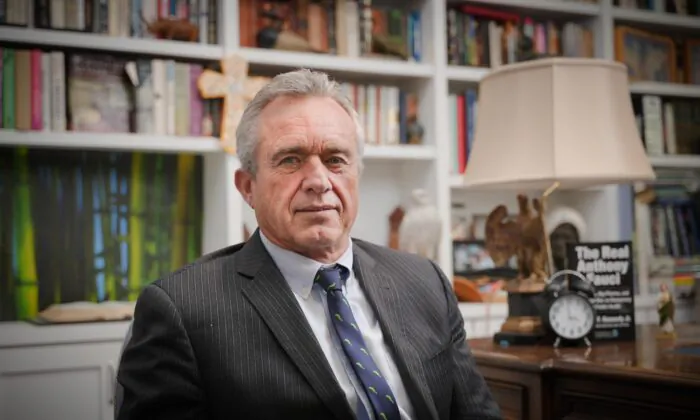 Robert F. Kennedy, Jr., founder of the non-profit Children's Health Defense, in Los Angeles, Calif. on Feb. 6, 2023. (York Du/The Epoch Times)
https://www.theepochtimes.com/rfk-jr-says-climate-change-being-exploited-to-push-totalitarian-controls_5236590.html
Democratic presidential candidate Robert F. Kennedy, Jr. said that climate-related issues are being "exploited" by wealthy individuals in a bid to enact "totalitarian controls" over society.
"Climate issues and pollution issues are being exploited by … mega billionaires" like Microsoft co-founder Bill Gates, Kennedy told radio host Kim Iversen over the past weekend. "The same way that COVID was exploited to use it as an excuse to clamp down top-down totalitarian controls on society and then to give us engineering solutions."
"And if you look closely, as it turns out, the guys who are promoting those engineering solutions are the people who own … the patents for those solutions," Kennedy said during Iversen's show. "It's a way they've given climate chaos a bad name because people now see that it's just another crisis that's being used to strip mine the wealth of the poor and to enrich billionaires."
"I, for 40 years, have had the same policy on climate and engineering," said Kennedy, the scion of former Attorney General and New York Sen. Robert F. Kennedy. "You can go check my speeches from the 1980s, and I've said the most important solution for environmental issues [is] not top-down controls, it's free market capitalism."
Kennedy—a longtime environmental activist and lawyer—wrote in a 2014 blog post for corporations and other groups that "sponsor climate lies" should face punishment. But he wrote that he "support[s] the First Amendment which makes room for any citizen to, even knowingly, spew far more vile lies without legal consequence" before adding at the time: "I do, however, believe that corporations which deliberately, purposefully, maliciously, and systematically sponsor climate lies should be given the death penalty," Kennedy wrote for EcoWatch.
Kennedy's comments about climate change years ago were highlighted by Fox News and other right-leaning publications after he declared his candidacy for president last month. Although he's better known for his comments about childhood vaccines, Kennedy worked as an environmental lawyer for New York City and also for the Natural Resources Defense Council (NRDC).
Also in the Iversen interview, Kennedy suggested that other than Gates, the World Economic Forum is also exploiting climate-related policies to produce a totalitarian society. The Davos, Switzerland-based group hosts annual meetings each year that include world leaders and top business executives, while in January, speakers at the forum said that governments and businesses should pursue a "net-zero" policy around carbon emissions and that people don't need cars.
"What we have in this country now is not free market capitalism—it's corporate crony capitalism. It's … a cushy kind of socialism for the rich and a brutal, barbaric, merciless capitalism for the poor," Kennedy also stated in the interview.
Kennedy filed paperwork with the Federal Election Commission to launch his 2024 bid on April 5. He's joining self-help writer Marianne Williamson as well as President Joe Biden, who announced his reelection bid last week via campaign video.
When he announced his 2024 candidacy, Kennedy said that he has a desire to work with "rural and working-class Americans, and particularly hunters and fishermen." Those individuals, he said, have been "alienated from the mainstream environmental community."
He's also said that he's running because he believes Democrats have gone astray, becoming the "party of war," corporate interests, and "censorship."
While Biden remains the favorite to win the Democratic nomination for president, a Fox News poll recently showed Kennedy has around 20 percent support among Democrat voters. He also recently drew headlines after being interviewed by ABC News and accused the Disney-owned broadcaster of censoring his comments about vaccines.
"We should note that during our conversation, Kennedy made false claims about the COVID-19 vaccines," ABC News Live anchor Linsey Davis said last week after his presidential announcement. "We've used our editorial judgment in not including portions of that exchange in our interview."
On social media, however, Kennedy accused the network of violating federal election laws by editing out his remarks about vaccines. "ABC showed its contempt for the law, democracy, and its audience by cutting most of the content of my interview with host Linsey Davis leaving only cherry-picked snippets and a defamatory disclaimer," Kennedy said.
"I'm happy to supply citations to support every statement I made during that exchange. I'm certain that ABC's decision to censor came as a shock to Linsey as well. Instead of journalism, the public saw a hatchet job," he added.