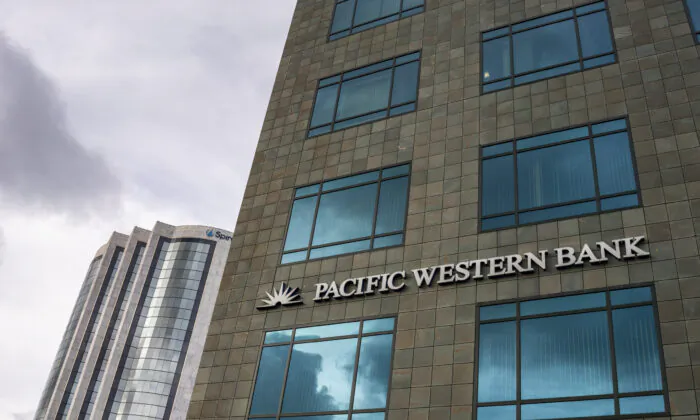 A Pacific Western Bank location in Irvine, Calif., on May 3, 2023. (John Fredricks/The Epoch Times)
https://www.theepochtimes.com/new-york-becomes-first-state-to-ban-gas-stoves_5238859.html
Pacific Western Bank has confirmed that it's exploring its "strategic options," which is Wall Street code for the possibility of a sale to a white knight, with the bank saying it has been approached by potential investors.
PacWest Bancorp, the California-based holding company that owns Pacific Western Bank, said in a statement on May 4 that it was in talks with potential partners and investors after shares of the California-based lender—and some other regional banks—tumbled amid fears of a worsening banking crisis.
"Recently, the company has been approached by several potential partners and investors—discussions are ongoing. The company will continue to evaluate all options to maximize shareholder value," PacWest stated.
"In accordance with normal practices the company and its board of directors continuously review strategic options," it noted.
Amid media speculation a day prior—and subsequent confirmation on Thursday—that the bank was looking at various options including capital raising or a potential sale, shares of PacWest Bancorp (PACW) fell 48.44 percent as of 6:43 a.m. EST.
News that PacWest was mulling "strategic options" and that it had been approached by potential partners and investors sent shares of regional banks tumbling premarket Thursday. Zion Bancorporation, KeyCorp, Valley National Bancorp, Comerica, and First Horizon dropped between 2 percent and 6 percent. The SPDR S&P Regional Banking ETF shed 2.8 percent.
On Wednesday, PacWest shares plunged 52 percent.
"Investors are worried that it [PacWest] will be the next domino to fall as worries swirl about deposit flight and the lack of asset diversification among smaller lenders," said Susannah Streeter, head of money and markets at Hargreaves Lansdown.
Deposits 'Stabilized'
PacWest said in the Thursday morning update that it had not experienced any unusual deposit outflows since First Republic Bank was placed into resolution by regulators, facilitating its sale to JPMorgan Chase.
Paul Taylor, PacWest president and CEO, said in an April 25 statement that the bank had managed to weather the turmoil sparked by the failure in early March of Silicon Valley Bank and Signature Bank, a period he called "one of the most challenging" in recent memory for the U.S. banking sector.
"Our deposits have stabilized with total insured deposits increasing from 48% of total deposits at year-end to 71% of total deposits at March 31, 2023. Importantly, deposits stabilized in the latter part of March and rebounded nicely in April, increasing approximately $700 million subsequent to quarter-end," he said.
The Los Angeles-based lender saw its total deposits drop in the first quarter of this year by 16.9 percent, or $5.7 billion, to $28.2 billion as of March 31, PacWest said in its latest earnings report.
In its Thursday update, PacWest said its total deposits remained at around the $28 billion mark as of May 2, with insured deposits amounting to 75 percent of total deposits.
PacWest reported a $1.1 billion net loss to stockholders over the first quarter, with the bank noting in its earnings report that the period was "marked by enhanced liquidity following market volatility."
The bank had unrealized losses on its investment portfolio amounting to $736 million as of the end of the quarter.
PacWest was the nation's 53rd biggest commercial bank by asset size as of the end of 2022, with $41 billion in total assets, according to Federal Reserve data.
The bank's CEO said that, after PacWest completes certain asset sales, he expects that total assets will be closer to $35 billion within the next few months.
"We are also expediting our operational efficiency strategy to reduce facilities and vendors, optimize business processes, and execute on other cost savings across the business to improve our profitability," Taylor said in a statement.
The drop in shares of PacWest and its peers points to heightened uncertainty around the health of regional banks despite statements by U.S. financial authorities that the banking sector remains in good health, regardless of a recent spate of failures.
Federal Reserve Chairman Jerome Powell on Wednesday said that the U.S. banking system remains "sound and resilient" despite experiencing some earlier "strains."
Powell said that the worst of the banking crisis appears to be over but that Fed economists would be closely monitoring the economic effects of the turmoil.
There's been concern about the knock-on effects of the banking crisis, including a credit crunch that could weigh on economic activity and hiring.