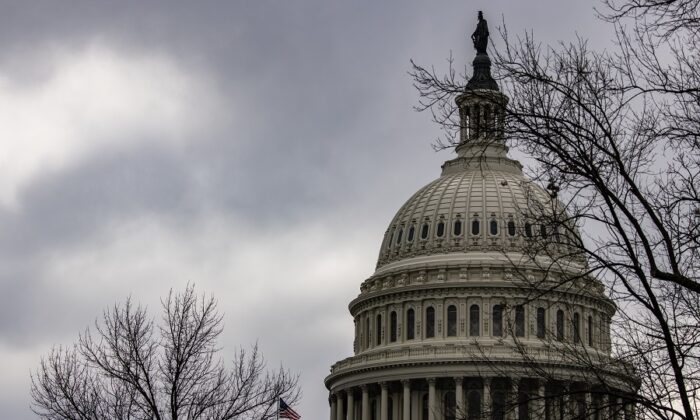 The U.S. Capitol building in Washington on Dec. 20, 2020. (Samuel Corum/Getty Images)

https://www.theepochtimes.com/mkt_app/senate-passes-military-spending-bill-repealing-vaccine-mandate_4927617.html
The U.S. Senate on Dec. 15 passed a military spending bill with a top-line price to taxpayers of $858 billion.
The defense package, dubbed the National Defense Authorization Act (NDAA), passed the upper chamber by an 83–11 vote.
The NDAA was passed by the House of Representatives on Dec. 8 in a 350–80 vote. A total of 176 Republicans in the lower chamber voted for the bill, 35 voted against it, and two didn't vote. A total of 174 Democrats voted for the bill, while 45 voted against it.
One of the most noteworthy aspects of the package, and an early victory for Republicans as they prepare to take the House next year, was a repeal of President Joe Biden's controversial COVID-19 vaccine mandate for military service members. Despite historically supporting Biden's COVID-19 policies, Democrats yielded on the issue.
However, in an interview with NTD, Cesar Ybarra, vice president of policy at FreedomWorks, warned that this may not be the victory for Republicans that it seems to be.
"The legislation simply said that the Department of Defense is required to rescind the memo that authorizes the vaccine mandate on servicemembers," Ybarra explained. "However … it gives us no assurances that DOD will not do that again, right."
He added, "So it simply says get rid of it, but nothing that says you cannot do this again. And we've known from the COVID hysteria that these federal politicians always flip-flop on when or when we don't need these vaccine mandates."
Before passing the bill, the Senate rejected an amendment proposed by Sens. Ron Johnson (R-Wis.) and Ted Cruz (R-Texas), which would have reinstated servicemembers removed exclusively for refusing the vaccine, as well as compensation for any salary and benefits lost due to the separation.
The amendment failed, with 40 senators supporting it and 54 opposing it.
"People serving our military are the finest among us. Over 8,000 were terminated because they refused to get this experimental vaccine, and so I'm urging all of my colleagues to support Senator Cruz's and my amendment," Johnson said.
House Minority Leader Kevin McCarthy (R-Calif.), the frontrunner in the race for speaker, has said that this will be a GOP priority when they take control of the lower chamber.
Opponents were concerned about the precedent of rewarding military personnel who defied an order.
The bill will also grant another $800 million in taxpayer funds to the Ukraine Security Assistance Initiative as part of the U.S. effort to help Ukraine defend itself against an ongoing Russian invasion.
The United States has already sent around $68 billion in humanitarian and military assistance to Ukraine in three major packages.
The first aid package, passed as part of the $1.5 trillion omnibus spending bill for fiscal year 2022, sent Ukraine $13.6 billion. In May, Congress passed another standalone bill granting Ukraine $40 billion. Again in September, an additional $13.7 billion was sent to Ukraine.
Opposition
The bill has faced opposition from members of both parties.
The 80 lawmakers who expressed opposition to the bill included 35 Republicans and 45 Democrats.
In a video posted on Twitter, Rep. Andy Biggs (R-Ariz.) explained why he was among the 80 members who voted against the package.
"The 2023 NDAA is bloated and contains woke elements that do not enhance military readiness," Biggs said in a caption attached to the video.
In part, he tied his opposition to the haste with which the bill was brought to the floor and pushed through the lower chamber.
"The 4,000-plus page legislation was released to the public just hours before its vote," Biggs said. "I voted against this monstrosity."
Others tied their opposition to the inclusion of additional funding for Ukraine.
"Our country is over $31 TRILLION in debt," Rep. Marjorie Taylor Greene said in a Twitter post. "The NDAA requires the Secretary of Treasury to seek to provide economic support and debt relief for Ukraine.
"You can't even make this up," she added.
Many of the Democrats who opposed the measure were left-wing progressives, who have often railed against the nearly $1 trillion annually dedicated to defense spending.
"Just think of the progress we could make if we invested $847 billion in the people rather than the Pentagon," Rep. Barbara Lee (D-Calif.) wrote in a tweet explaining her "no" vote.
She said that the bill continued a "legacy of wasteful military spending."
Lee also expressed disappointment at the exclusion of a bill she proposed that would rescind the 2002 Authorization for Use of Military Force, which allowed President George W. Bush to mount an invasion of Iraq on a since-debunked claim that Saddam Hussein was housing weapons of mass destruction in the country.
In his interview with NTD, Ybarra said, "Obviously, we want a strong military, we want to employ a policy of peace through strength," an echo of the defense policy of President Ronald Reagan.
However, Ybarra warned that the massive bill would effectively install "Green New Deal" policies in the Department of Defense through the deployment of proposals like electric military vehicles.
Though electric vehicle technology has come a long way in recent years, concerns remain about the feasibility of such vehicles, which require intensive, pollution-ridden labor to create. In addition, such vehicles often have a limited range compared to traditional gasoline-powered vehicles.
The full list of how each member voted can be found here on the website of the Clerk of the House of Representatives.
'Congress at Its Worst'
As is common with the NDAA, which is considered one of two "must-pass" spending bills, several attempts to attach unrelated bill riders failed.
"This is Congress at its worst," Ybarra said of these annual efforts to attach non-defense bills to the defense package. "What these politicians try to do is they try to tack their pet projects into these bills … That's why they're called riders, right? Because they ride on the coattails of these must-pass bills."
For example, Sen. Amy Klobuchar's (D-Minn.) effort to attach the Journalism Competition and Protection Act (JCPA) to the package—a bill which critics have warned would allow Big Tech and legacy media outlets to collude to the detriment of smaller, independent publications—was unsuccessful.
Ybarra was critical of this effort: "The JCPA was … not germane to the legislation that dealt with journalism and sort of how that industry operates, right? But … what [do] journalism and competition … have to do with our national defense? It has nothing to do with it.
"This is another prime example of everything that is wrong with the current congress," Ybarra added.
Another effort by Sen. Joe Manchin (D-W.Va.) to attach fossil fuel permitting reform to the bill also failed.
Manchin's proposal would make it easier for new fossil fuel ventures to receive a federal green light. Currently, these ventures can take years to kick off due to federal red tape and stringent environmental regulations.
Manchin has long pushed for changes to streamline this process—a push he has ramped up as energy prices have continued to soar over the past two years.
But he has received unexpected pushback not only from the left wing of his own party, but also from Republicans.
As part of a private deal to win Manchin's support for the $740 billion Inflation Reduction Act, Senate Majority Leader Chuck Schumer (D-N.Y.) promised Manchin that permitting reform would be taken up before the end of the year.
However, time is running out for Schumer to keep that promise.
The NDAA is one of two "must-pass" bills left to be considered by Congress before its term expires.
The other, a general spending bill for fiscal year 2023, faces opposition as House Republicans seek to ensure that they will craft the legislation rather than the outgoing Democrat majority. The party has demanded that Congress only pass a short-term continuing resolution that expires sometime after the first sitting of the 118th Congress.
What's Next for the Bill
With its passage by the House, the bill will now head to Biden's desk.
A question mark remains over whether Biden will sign the bill, as it would undo his August 2021 vaccine mandate.
Still, this is a must-pass piece of legislation for the lame-duck Congress, and the White House has left open the prospect that Biden will sign it despite the vaccine mandate provisions.