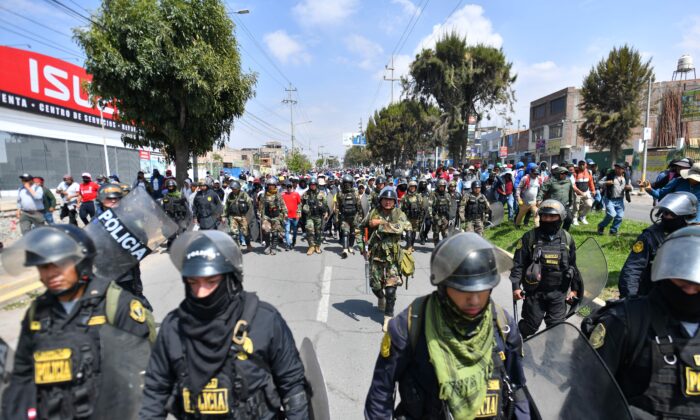 Members of the police escort supporters of former President Pedro Castillo while they march to the center of the city of Arequipa, Peru, demanding the closure of Congress and the release of Castillo, on Dec. 14, 2022. (Diego Ramos/AFP via Getty Images)
https://www.theepochtimes.com/mkt_app/as-this-latin-american-country-falls-apart-china-looks-on-anxiously_4927519.html
On first inspection, Peru and China, 11,000 miles apart, appear to have very little in common. However, the two countries share a very close history.
As the academic Justina Hwang has noted, in the space of 25 years, between 1849 and 1874, more than 100,000 unskilled workers, many of them from China, arrived in Peru. Having recently abolished slavery, Peru was amid a worker shortage. This allowed "the importation of an indentured workforce of Chinese laborers in order to meet Peruvian need for labor," wrote Hwang.
Fast forward to 2022, and Peru is home to around 60,000 Chinese people. Some researchers suggest that the Chinese community is much higher, possibly exceeding 1 million. If accurate, this means for every 33 people, there is one of Chinese descent. Besides sharing strong historical and demographic ties, China and Peru also share an incredibly close economic bond. However, as Peru falls deeper into crisis, its relationship with China is sure to be tested.
On Dec. 14, the South American country announced a nationwide state of emergency. The announcement, which granted police officers special powers and largely prevented people from assembling on the streets, came after a week of violent protests that, as Reuters reported, have resulted in at least eight deaths.
The protests came shortly after the former president, Pedro Castillo, was ousted from office and arrested after illegally trying to dissolve the country's Congress. As tensions continue to flare, the world watches on with bated breath. One imagines that the Chinese Communist Party (CCP) is particularly perturbed by the goings on in the Andean state.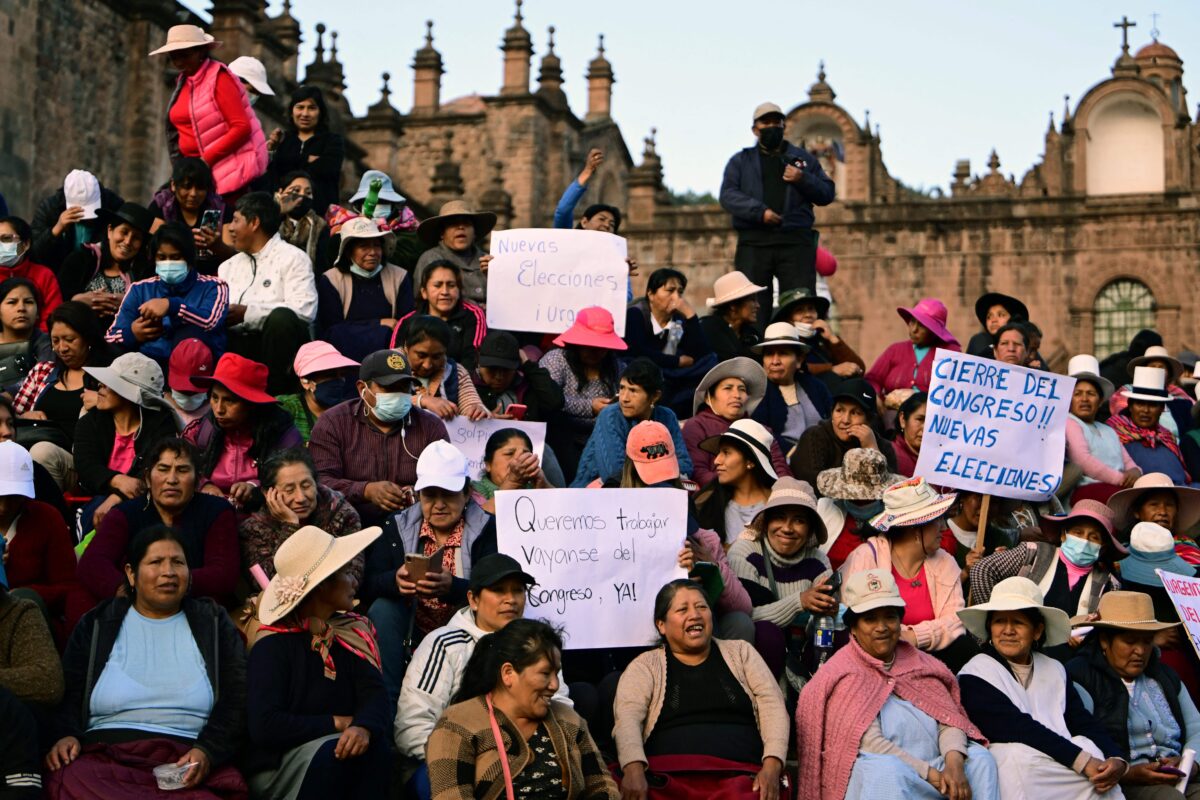 In July 2021, during his first week in office, Castillo wasted no time in reaching out to China, a crucial commercial partner of Peru. Home to some of the largest copper mines in the world, Peru exports large quantities of this mineral, arguably the world's most important, to China. In fact, China is now the largest purchaser of Peruvian copper, by far. The CCP doesn't just purchase inordinate amounts of copper from Peru but also sends miners there to extract the valuable metal. This has been the case for years.
A number of Chinese-backed consortiums now own Peruvian copper mines. Worryingly, aided by a compliant Peruvian regime, they appear to have benefited from the use of exploitative practices. Over the past year and a half, China has undoubtedly benefited from Castillo's presidency. Castillo and Chinese leader Xi Jinping appear to have positive feelings for each other. After being sworn into office, Castillo chose Beijing as his first embassy to visit. He was welcomed with open arms by Xi.
Some 18 months on, however, the friendship is being tested. Castillo is no longer in power. There is a new sheriff in town. Her name is Dina Boluarte, Peru's first female president. The 60-year-old announced that her first task would be "to take action against corruption. This cancer has to be extirpated from the country."
If the CCP isn't concerned with Boularte's promise, it should be.
After all, CCP-backed loggers play a key role in Peru's illegal timber market. In exchange for secret payments, as InSight Crime's Mark Wilson has discussed in great detail, Peruvian officials have granted Chinese timber firms logging concessions and generous transport permits. One of the beneficiaries of the bribes is a man named Xiadong Ji Wu, a Chinese owner of at least five logging companies based in Peru. As Wilson noted, certain "fraudulent Chinese companies" appear to be "directly corrupting officials in Peru to facilitate the illegal timber trade."
A member of China's infamous Belt and Road Initiative (BRI) since 2019, Peru has witnessed a string of multi-billion-dollar investments from China, mostly in the mining and energy sectors. In Peru's mining sector alone, it is estimated that Chinese firms have invested at least $10.4 billion.
China is also heavily invested in other aspects of Peruvian society. A recent Freedom House report highlights how Beijing controls Peru's media, greatly influencing what stories are and aren't covered and what narratives are and aren't permitted. Furthermore, the Chinese embassy, situated in Lima, the capital city of Peru, stands accused of acting "aggressively" and intimidating Peruvian citizens who dare to speak about Taiwan respectfully.
Does Boularte have what it takes to address the many ways in which the CCP has infiltrated her home country? In truth, only time will tell. It is clear that communist China has significantly benefited from weak leadership in Peru.
Views expressed in this article are the opinions of the author and do not necessarily reflect the views of The Epoch Times.