Saudi oil giant cuts capex target by as much as 24% vs 2019

Profit slumped 21% in 2019 on lower oil prices and production
Saudi Aramco is slashing planned spending this year in the first sign that plunging demand and the oil-price war the kingdom unleashed are hitting home.
Capital expenditure will be between
$25 billion
and
$30 billion
in 2020 and spending plans for next year and beyond are being reviewed, Aramco said. The oil giant is lowering that range from the planned
$35 billion
to
$40 billion
announced in its IPO prospectus, and compares with
$32.8 billion
in 2019.
"That was the surprise," Ahmed Hazem Maher, an analyst at EFG Hermes in Cairo, said of the spending cut. "They're adding production in a low price environment so their cash flows could be impacted." Cutting investment could help absorb some of the impact of the drop in oil prices, he said.
The oil-price war led by Saudi Arabia and Russia means more pain for Aramco as producing nations prepare to boost supply. Discounted pricing to markets already reeling from weak demand and crude that lost roughly half its value since the beginning of the year is likely to hit revenue further.
Aramco shares fell as much as 1% on Sunday, extending the decline this year to about 19%. Aramco's market value has slumped from a peak of over
$2 trillion
in December to about
$1.5 trillion
. Aramco executives are set to brief financial analysts of the results at 3 p.m. Saudi time on Monday.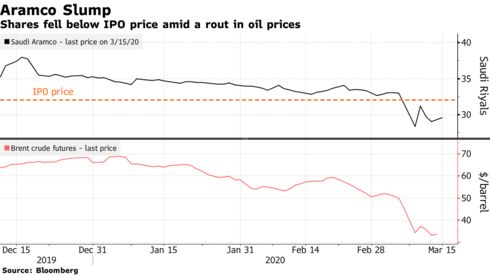 The coronavirus' blow to oil use has overwhelmed OPEC's initial optimism for demand this year, with analysts now expecting a drop in consumption. The OPEC+ group's failure on March 6 to agree on further cuts is only exacerbating a glut as buyers search for storage tanks and vessels.
"We have already taken steps to rationalize our planned 2020 capital spending," Chief Executive Officer Amin Nasser said. Given the impact of the coronavirus pandemic on economic growth and demand, Aramco is adopting "a flexible approach to capital allocation," he said.
Saudi Arabia, Russia and others intend to boost production once the current accord to lower output expires in March. The kingdom pledged to supply 25% more oil in April than it produced last month, and Wednesday ordered Aramco
to boost output capacity
by 1 million barrels a day.
Key 2019 numbers
Net income including minority interests: 331 billion riyals ($88 billion)

vs

417 billion in 2018
Revenue: 1.11 trillion riyals

vs

1.19 trillion riyals
Operating profit: 675 billion riyals

vs

798 billion riyals
Oil prices fell last year even as Saudi Arabia trimmed output as part of efforts between OPEC and other producers to rein in production. Drone and missile attacks on two of its biggest facilities in September temporarily slashed production by more than half, but didn't cause a big surge in prices.
Aramco reiterated its plan to pay
$75 billion
in dividends this year. The company needs to balance its pledge to pay investors with spending on its upstream projects -- maintaining oil production and expanding fields -- and boosting its global refining and chemical operations -- the downstream segment of the business.
"Aramco can restructure the strategy to concentrate more on the upstream expansion rather than downstream," said Mazen Al-Sudairi, head of research at Al Rajhi Capital. "They can do it easily from their cash flow. But it might affect the money transfer to the government for one or two quarters."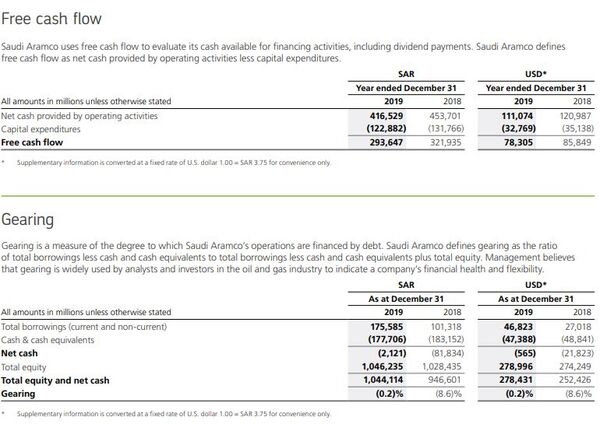 Brent crude averaged
$64.12
a barrel in 2019 compared with
$71.67
the previous year. Saudi production slipped to an average of 9.83 million barrels a day from 10.65 million in 2018, according to data compiled by Bloomberg. Aramco restored output to pre-attack levels by early October.
Aramco's 2018 net of
$111 billion
made it by far the world's most profitable company, exceeding the combined incomes of some of the world's biggest companies including Apple Inc., Samsung Electronics Co. and Alphabet Inc.
— With assistance by Verity Ratcliffe