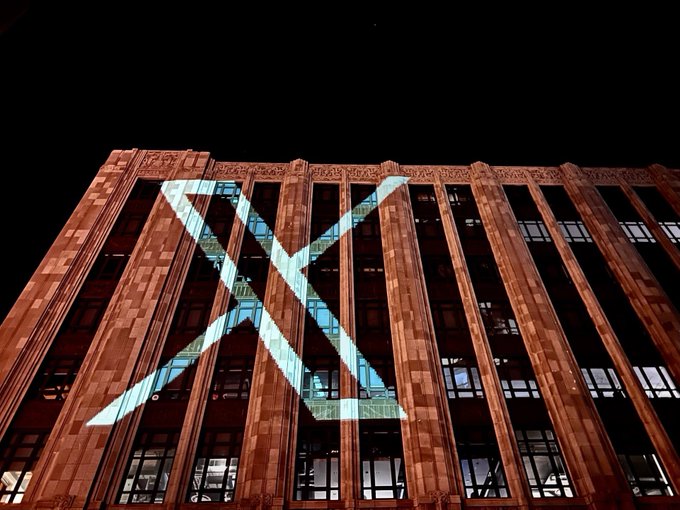 https://finance.yahoo.com/news/why-elon-musk-rebranded-twitter-as-x-214000380.html
Elon Musk retired the iconic "Larry Bird" Twitter branding as he moved forward with plans for X, the "everything app."
Twitter has a new look: The iconic Twitter bird logo — known as "Larry" — has been replaced by an illustration of the letter X.
Elon Musk teased the rebranding on Sunday, and the new logo, which Musk crowdsourced from his Twitter followers, went live on the app on Monday morning.
"It's an exceptionally rare thing — in life or in business — that you get a second chance to make another big impression," X Corp. CEO Linda Yaccarino shared in a thread on X, formerly Twitter. "Twitter made one massive impression and changed the way we communicate. Now, X will go further, transforming the global town square."
Twitter's makeover comes less than a year after Musk completed his $44 billion acquisition of the social media company last fall, which placed the business in one of Musk's holding companies, X Holdings II, Inc., where he is the president, treasurer, and secretary.
The use of the letter X is a recurring theme in Elon Musk's companies. Before there was PayPal, there was X.com — a domain that now redirects to Twitter.com. Additionally, Tesla's first electric luxury crossover SUV was named the Model X. And Musk's aerospace company, SpaceX, also features the letter.
Meanwhile, Twitter faces more competition for users' screen time from new offerings such as Spill and Meta's Threads, which are growing at a rapid pace.
"I think it's a sign of desperation," Marcus Collins, a marketing professor at the University of Michigan's Ross School of Business, told Yahoo Finance Live. "There's not a lot to talk about other than things aren't going so well, be it the launch of Threads, the launch of Spill ... So if you don't like what's being said, change the channel."
However, there are some business reasons why the change may make sense for the company, such as moving closer to Musk's goal of creating a super app and marking a shift for the company after a volatile year of layoffs, unpopular changes to the platform, and users and advertisers leaving the platform.
A move toward X, 'the everything app'
Elon Musk has been consistently vocal about creating an app experience that features multiple services, such as those offered by mega businesses like Alibaba and Tencent, the owner of WeChat, a super app for messaging, gaming, payments, and more. It also may be inspired by Apple's ecosystem.
According to Musk, rebranding Twitter to X initiates the next step toward creating X, "the everything app."
Elon Musk has assembled a new regime at the social media company to bring his vision to life while also balancing the demands of advertisers and active users.
"X is the future state of unlimited interactivity — centered in audio, video, messaging, payments/banking — creating a global marketplace for ideas, goods, services, and opportunities. Powered by AI, X will connect us all in ways we're just beginning to imagine," Yaccarino posted on X.
Twitter isn't the only social media company to pivot its brand at a timely moment.
In 2021, Facebook rebranded to Meta Platforms in order to communicate its focus on the metaverse and distance itself from controversies. Years prior, the Facebook name found itself embroiled in "Stop Hate for Profit" boycott campaigns in 2020 and a Cambridge Analytica data scandal in 2016 that rocked its stock price in the aftermath.
Similarly, Twitter's change to X may highlight another priority — to distance the new company and its goals from the company's recent challenges.
The rebranding comes roughly 16 months ahead of what executives believe will be a "vitriolic" 2024 presidential election in the United States, and social media companies have yet to determine what will be their policy on political ads.
If successful, X may be able to shed some of Twitter's baggage and retain advertisers with an app experience that provides a deeper reach with a family of services.
But the success of such a super app hinges on whether users trust Musk, especially with the uncertainty of surrendering personal data.
"It's a compelling proposition, but I don't think that the temperament of the United States will welcome a company to have that much of an aggregation of our information, of our stuff in our daily lives," Collins said. "There's too much cynicism in the disposition of the United States for us to trust one company to have all of those things."
Brad Smith is an anchor at Yahoo Finance. Follow him on Twitter @thebradsmith.