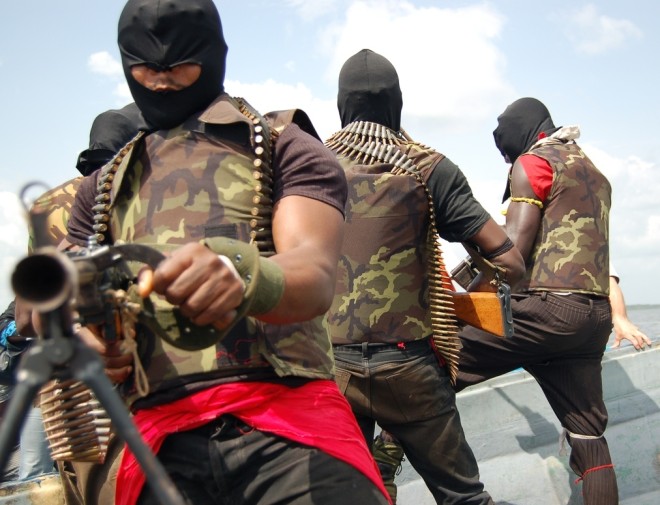 Nigerian pirates have kidnapped 35 seafarers from vessels in the Gulf of Guinea (GoG) so far this year, according to security firm EOS Risk Group in a report.
This was disclosed in the group's half yearly review of Nigerian piracy activity in the GoG.
Nigeria continues to be the world's epicentre for piracy activity. From January through June 2018, EOS recorded 34 Nigerian pirate attacks on merchant and fishing vessels in the GoG. These attacks resulted in the kidnap of 35 seafarers for ransom and the hijacking of several vessels.
"Most concerning this year has been the resurgence of 'petro-piracy', involving the hijacking of tankers for oil theft," said Jake Longworth, EOS Risk senior intelligence analys. "The return of petro-piracy has been accompanied by an associated increase in the geographical reach of Nigerian pirate gangs, leading to attacks in the waters of Benin and Ghana."
Following a lull in piracy activity off Benin since 2012, EOS recorded seven pirate attacks in the waters of Nigeria's western neighbour in the first half of 2018. The attacks involved several successful tanker hijackings, one of which resulted in the loss of 2,000 tonnes of product.
Nigerian pirates also operated in Ghanaian waters in April, kidnapping five seafarers from two vessels.
Longworth said that the main threat is still found off the restive Niger Delta, specifically on the approaches to ports and oil terminals in the vicinity of Port Harcourt. "95% of attacks we recorded in Nigerian waters occurred near Bonny Island, within 60 nautical miles of the shore. Pirates operating in these waters are focussed on the kidnap of seafarers for ransom."
It was in this area that heavily armed Nigerian pirates kidnapped 11 seafarers from a Dutch general cargo vessel in April. According to EOS, it was the highest number of hostages taken by a Nigerian pirate group in a single attack.
Steven Harwood, EOS head of special risks, which covers kidnap for ransom response, said there were two main pirate gangs in Nigeria, both employing around 16 full time pirates. "One is located in the creeks near Yenagoa, Bayelsa State and the other around Abonnema, Rivers State. Both gangs are in communication and sometimes sub-contract the physical hostage taking to other criminal groups."
EOS warned that instability in the Niger Delta is likely to increase in the run up to Nigeria's 2019 general elections, which could result in a spike in piracy activity. "Since the turn of the century, this pattern has been visible in Nigeria ahead of major election periods, evidence of the complex links between piracy and political conflict in the Niger Delta."
To mitigate the risk, EOS recommended that Masters implement Global Counter Piracy Guidance (GCPG) measures and familiarise themselves with the 'Guidelines for Owners, Operators and Masters for protection against piracy in the Gulf of Guinea region – version 3, June, 2018'.
Where additional protection is required, shipping companies may require armed escort vessels and embarked guards where domestic law permits, EOS said.