Euronav-owned VLCC (Photo: Euronav)
https://seekingalpha.com/article/4373293-tanker-rates-plummeted-and-likely-to-remain-depressed-through-2021
Summary
VLCC rates are highly sensitive to oil flow volumes.
VLCC fixtures have plummeted due to lower OPEC+ production and low oil demand.
Transportation uses of oil have collapsed because of the pandemic.
OPEC+ has agreed to keep production down through 1Q2022.
An oversupply of tankers v. demand is therefore likely to keep rates down for an extended period of time.
Looking for more investing ideas like this one? Get them exclusively at Boslego Risk Services. Get started today »
Tanker rates for Very Large Crude Carriers (VLCCs) are highly sensitive to oil transportation volumes, which in turn, are a function of global oil production and consumption. And so it follows that the lower the demand for oil, the lower the demand for tankers.
However, a special case developed in the spring when oil demand plummeted as economies worldwide were shut down to control the spread of COVID-19. The resulting oil price collapse created a demand for tankers as temporary floating storage facilities, and tanker rates spiked. That was an unexpected boon for tanker owners, who, at the beginning of the year, were focused on impacts of the IMO-2020 regulations.
With oil futures prices rebounding, the financial incentive to store oil at sea has dissipated, and so tankers that were taken off trade have returned to market. Port congestion has also eased at Asian ports that were coping with the pandemic. Middle distillate inventories at Asia's Singapore oil hub have surpassed a nine-year high, according to official data.
As a result these dynamics, VLCC availability has been rising and tanker rates have plummeted. As of September 4th, Poten & Partners quoted the dirty tanker rate for VLCC, 270 at just $6,000 Spot TCE Earnings. That's off from an average of $68,300 per day for 2020 year-to-date.

Global oil demand could be 9 to 10 million barrels per day lower this year due to the pandemic, Russian Energy Minister Alexander Novak was quoted. Transportation fuels, which account for the bulk of global oil demand, continue to be depressed due to travel restrictions and fears by would-be travelers of contracting the disease.
U.S. airport travel data show that throughput is still more than 60 percent lower than last year, as of September 5th.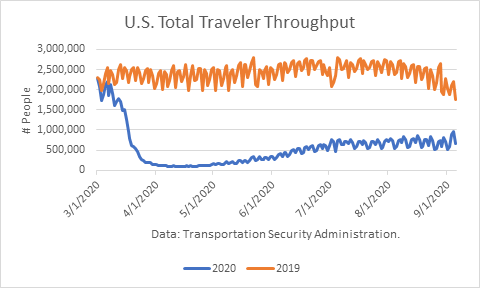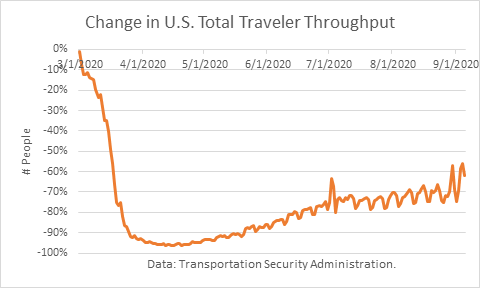 U.S. demand for jet fuel was down 47% over the past 4 weeks from a year ago. Jet fuel consumption is a little less sensitive to the number of persons on board compared to the number of flights.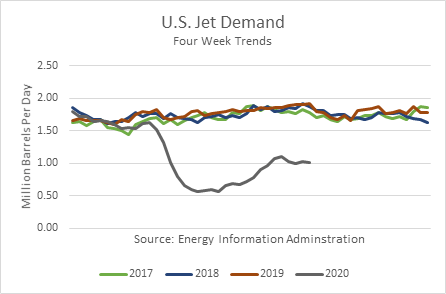 And this is about three months after travel restrictions have eased in the States. Infection rates did not ease during the warm summer months as many had expected. And the death toll has reached 188,000 in the U.S.. According to Dr. Anthony Fauci, the death toll could reach 410,000 by January.
The US Centers for Disease Control and Prevention sent guidance last week that vaccines could be distributed as early as the end of October in what they have called Phase 1.
Availability for Vaccine A will be approximately 2 million doses by late October; 10-20 million by late November; and 20-30 million doses by the end of December. Availability for Vaccine B will be approximately 1 million doses by late October; 10 million by late November; and 15 million doses by the end of December."
It should be noted that the initial trials of vaccines are given to people meeting very high health standards, but that 8 out of 10 people who have died have been 65 or older and many suffering from underlying conditions. And so it may be unclear for an extended period of time before there is data on how safe and effective the vaccines may be for the high risk group, and according to Bill Gates, whose foundation is heavily involved in the vaccine effort, 40+ percent of the population may not want to take a vaccine when one becomes available—at least not until the vaccine's effectiveness and the safety statistics are well established.
Furthermore, work-at-home and online Zoom meetings may have a long-term impact on travel demand for fuels. The cost and time effectiveness of meeting online instead of in-person is profound and may be disruptive to physical travel.
All three of the primary oil forecasting agencies, the International Energy Agency, the U.S. Energy Information Administration, and the Organization of Petroleum Exporting Countries, have published forecasts through 2021, and none foresee global demand returning to pre-COVID levels prior to 2022.
OPEC+ made an agreement to cut their combined crude production by 7.7 million barrels a day from baselines from May to July for the balance of 2020 and then to 5.8 million barrels during 2021 and the first quarter of 2022 to drawdown global inventories from glutted levels. Saudi Aramco (ARMCO) oil shipments to the USA have averaged 310,000 b/d in the 4 weeks ending August 28th, down 31% from a year ago.
The rebound in U.S. petroleum product demand has stalled with demand off 15.9 % v. last year. A recent report showed U.S. job growth slowed further in August, as financial assistance from the government ran out.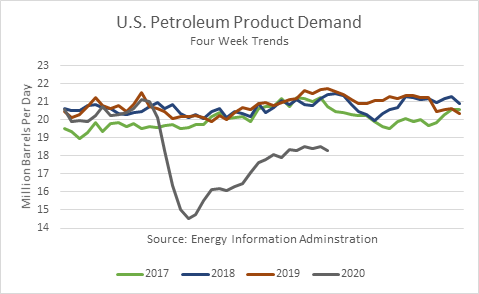 Conclusions
Tanker rates have crashed and the share prices of tanker owners such as Nordic American Tankers (NYSE:NAT) have recently dropped. I expect to see further downside as the drop in oil demand extends into the months ahead.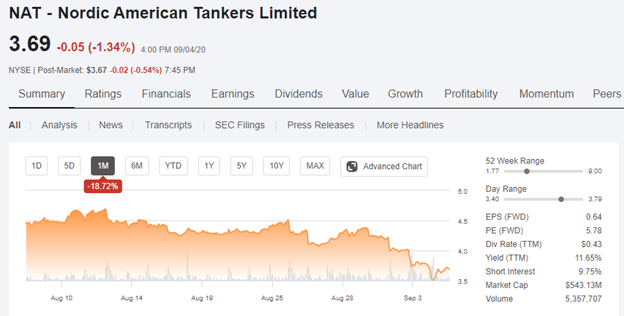 To guide investors who are interested in profiting from outstanding opportunities in the energy sector, I provide a service on Seeking Alpha's Marketplace oriented toward individual investors, Boslego Risk Services. A long/short Model portfolio is continuously updated, along with on-going analysis of the oil market.
I am now accepting new members to Boslego Risk Services and invite you to sign-up. There are monthly and annual pricing options as described here. You may also read reviews posted by members here.
Disclosure: I am/we are short NAT. I wrote this article myself, and it expresses my own opinions. I am not receiving compensation for it (other than from Seeking Alpha). I have no business relationship with any company whose stock is mentioned in this article.