Charlie Fairbank pumps crude where the Petroleum Era began
Low costs, established infrastructure keeps wells churning
http://www.bloomberg.com/news/articles/2016-03-08/old-school-ways-beating-oil-rout-in-birthplace-of-petroleum-age
Charlie Fairbank, the great grandson of one of the world's first oilmen, has turned to a century-old technology to keep his 350 Ontario oil wells competitive in a world of $35 crude.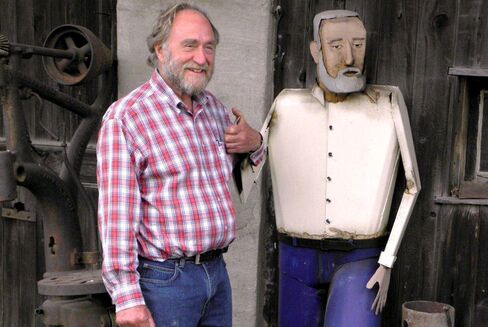 Using a single engine and wooden jerkers -- rods that connect to multiple pumps --
Fairbank
is producing the same 65 barrels a day his family has been extracting since the 19th century in
Oil Springs
, birthplace of the Petroleum Age. It's there that asphalt seller James Miller Williams struck oil in 1858, a year
before
Edwin Drake drilled his famous well in Titusville, Pennsylvania.
"If careful, we got another 100 years," Fairbank, 74, said in a phone interview from Oil Springs, about 145 kilometers (90 miles) from Detroit. "We use old wooden jerkers that bring down maintenance costs considerably."
While Ontario fortunes as a world oil center have long faded, small producers such as Fairbank are demonstrating a rare resilience amid the lowest prices in a decade. Crude production in Canada's most-populous province will rise about 14 percent this year, albeit to just 1,214 barrels a day, according to the
National Energy Board
. That's expected to be the biggest increase of any province as wells are
shuttered
from Alberta to Saskatchewan.
Lake Erie
Oil and gas in Ontario is pumped from about 2,500 wells dotted along the coast of Lake Erie, many producing less than a barrel a day, Frank Kuri, president of
Ontario Petroleum Institute
, said. Some wells have been producing for more than a century and oil can be pulled from the ground for as little as $10 a barrel, he said.
While many Ontario producers are small private companies such as Fairbank Oil Fields, there's a few publicly listed firms producing there, including Toronto-based Dundee Energy Ltd, Simcoe-based Metalore Resources Ltd. and the Abu Dhabi National Energy Co.'s TAQA North.
Close-to-the-surface crude, low royalty rates and well-developed infrastructure helps keep costs in the province low, according to Kuri. Royalty rates are about 13 percent versus as high as 40 percent in Alberta, and unlike in other parts of Canada, a large portion of onshore mineral rights are privately held.
As Alberta producers struggle to get pipelines built to deliver their crude to markets, Ontario oil companies are close to major fuel markets. Producers ship most of their crude by truck to the nearby Imperial Oil Ltd. refinery in Sarnia with some going to the American Refining Group Inc.'s plant in Bradford, Pennsylvania, Kuri said.
Profitable Oil
Low oil prices may even help stimulate interest as companies look toward regions where oil can be produced profitably, even at lower volumes, said Hugh Moran, executive director of OPI.
"When prices started to drop, I got calls from industry folks indicating that this could be good for Ontario," Moran said in a phone interview. "When you look at the Bakken, the costs are immensely higher than here," he said, in reference to the large producing region in North Dakota and Saskatchewan, where break-even prices range from $30 to $65 a barrel.
While $30 may not be high enough to stimulate exploration, $45 is adequate, Moran said. Kuri estimated that crude output could be boosted back to 5,000 barrels a day, the peak reached in 1995. The Utica shale, which extends under parts of Ontario, is untested but may prove lucrative further into the future, he said.
Four Days
Brent crude has advanced more than 40 percent since slumping to a 12-year low in January. The global benchmark closed above $40 a barrel for the first time since December on Monday, capping the longest run of gains in three months, and settled at $39.65 on the London-based ICE Futures Europe exchange on Tuesday.
Drillers would have to be hungry. The province has established and potential oil reserves of only about 40 million barrels, according to data from the Ontario Oil, Gas & Salt Resources Library. That's roughly equal to four days of Saudi production and compares with as much as 166 billion barrels of reserves in Alberta's oil sands, government data show.
Fairbank is ever optimistic. "I do believe there is a lot of oil to be discovered in Ontario," he said. But making money isn't all that matters, he said. "We are very ancient and historic," he said. "We are trying to pay homage to what has gone before and created this industry."