CARBOB 84 Los Angeles CA pipeline, July 2 - Oct. 17, 2012, plus market highlight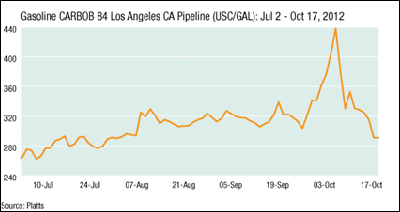 LA CARBOB differential down 22.75 cents/gal; $1.38/gal off record high
The Los Angeles CARBOB cash differential fell 22.75 cents on October 16 into single digits from its October 4 record of NYMEX November RBOB futures plus $1.45/gal.
Platts asssessed the main grade of California-specific gasoline at plus 7 cents/gal, where it was heard traded at its lowest mark since September 12, Platts data showed.
"Plus $1.45 all the way to 7 (cents) -- crazy," said one gasoline trader, who noted severe backwardation in the market has hurt demand. October 16 also marked the first day of the last shipping cycle before winter grade gasoline officially starts, which traders said caused some schedule easing. Supply also has been stable as ExxonMobil's Los Angeles refinery returned to normal a week after an October 1 power outage triggered the sudden rise.
"It seems like there's plenty of gasoline everywhere," said Carl Larry, president of Oil Outlooks and Opinions.

The American Petroleum Institute late on October 16 released data showing virtually no week-over-week change in US West Coast gasoline stocks at 26.9 million barrels for the week ended October 12, although it was lower than the 28.46 million barrels for the same week last year.
"There hasn't been much demand," a market source said. "Buyers are pulling back."

NYMEX November RBOB settled 50 points lower at $2.8453/gal, and Platts assessed it at 3:15 p.m. EDT at $2.8407/gal.

That put the outright price for Los Angeles CARBOB at $2.9107/gal, its lowest since July 31. It was also well off the record of $4.3851/gal on October 4.

"I was kind of shocked after seeing plus 36 (cents) done yesterday and now 8 (cents). Wow," a second trader said of midday trades. "I'm still waiting for retail to drop. "It's only down 10 to 20 cents per gallon depending on the location."

The Energy Information Administration said the West Coast regular unleaded average dropped just 1.8 cents/gal to $4.391/gal in the survey week ended October 15.