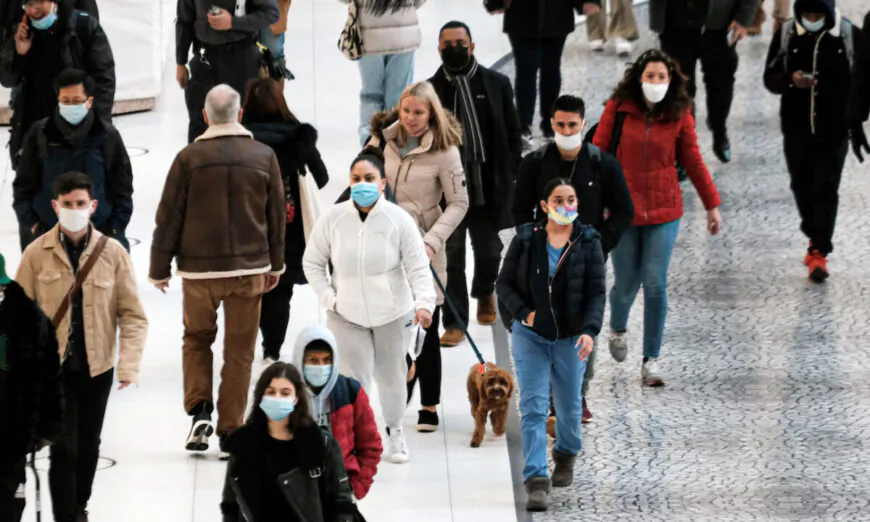 People wear masks at an indoor mall in The Oculus in lower Manhattan on the day that a mask mandate went into effect in New York, on Dec. 13, 2021. (Spencer Platt/Getty Images)

https://www.theepochtimes.com/mkt_app/article/covid-19-mask-mandates-on-the-rise-again-5478388
There are reports circulating that colleges, hospitals, and some officials have started to re-implement COVID-19 mask mandates, although hospitalizations still remain relatively low.
Atlanta's Morris Brown College announced on social media this week that it is re-implementing its mask mandate over what it said was an increase in positive COVID-19 cases among students at the Atlanta University Center. The college also said it would mandate isolation and quarantine regimens under Centers for Disease Control and Prevention (CDC) guidelines as well as contact tracing.
"All students and employees are required to wear face masks (staff may remove in their offices while alone)," the announcement said.
The college also told students to maintain "physical distancing" and said there will be no large student gatherings or parties for the next two weeks. It will also mandate students and employees to get their temperatures checked when they arrive at the campus.
Morris Brown President Kevin James told The Atlanta Journal-Constitution that the college received no reports of COVID-19 cases on its own campus and described the steps as "precautionary measures." The Atlanta University Center has several black colleges, including Morehouse and Spelman Colleges and Clark Atlanta University.
Hundreds of miles to the north, Auburn Community Hospital in Upstate New York re-implemented its mask mandate, coming about a month after the policy was officially ended, according to local reports. The hospital said that all staff, visitors, and patients have to wear masks in clinical areas.
In the Syracuse area, Upstate Medical's two hospitals, University and Community General, also reimposed masking last week after reporting what it said was an increase in COVID-19 cases. COVID-19 testing will also be mandated for patients being admitted to hospitals.
"Effective immediately, mandatory masking is required by all staff, visitors, and patients in clinical areas of Upstate University Hospital, Upstate Community Hospital, and ambulatory clinical spaces," the company said. "Clinical areas are defined as any location patients gather, wait, transport through, or receive care. Masking is strongly recommended in all non-clinical areas."
According to CDC data, New York has seen a 3 percent increase in COVID-19 hospitalizations in the end ending Aug. 5.
In Southern California, there were reports that major Hollywood studio Lionsgate brought back its mask mandate. A memo that was obtained by Deadline Hollywood, written by a Lionsgate manager, announced the policy after several of its employees tested positive.
"Employees must wear a medical grade face covering (surgical mask, KN95 or N95) when indoors except when alone in an office with the door closed, actively eating, actively drinking at their desk or workstation, or if they are the only individual present in a large open workspace," Sommer McElroy, of Lionsgate, wrote in the memo.
The memo stipulates that only certain floors of Lionsgate's office in Santa Monica will be under the mandate. It will be effect until further notice for only the third and fifth floors of the five-story building, according to the memo. It's not clear why the other floors won't be mandated to wear masks.
The studio said it would provide at-home testing kits to staff in the Lionsgate Santa Monica office. It also said that masks and KN95s will be available at the front desk.
The Los Angeles County Department of Public Health recently said that there have been "small increases in COVID-19 indicators over the past four weeks indicating increased transmission." However, the department said that the "overall metrics remain at a low level of concern."
The Epoch Times has contacted Lionsgate for comment on the memo.
In New Jersey, Rutgers University said it would implement both vaccine and mask mandates for students attending class during the fall semester.
Mask Mandates Coming Back?
In response to the reports of mandates coming back in some locations, speculation has arisen over there may be another widespread push to reimplement masks across the country—namely at the federal level. The Biden administration's nationwide mask order for public transit, commercial flights, and airports and train stations formally expired after the federal public health emergency ended on May 11, although it hadn't been enforced for a year due to a court order in 2022.
The COVID-19 pandemic state of emergency was lifted by both the World Health Organization and the U.S. Centers for Disease Control and Prevention earlier this year.
On X, the website formerly known as Twitter, some prominent users called on others to not comply with the mandates.
"Mask mandates are returning. These are unsupported by scientific evidence. They are motivated by superstition and power. This is a battle for freedom and truth," wrote Dr. Kevin Bass.
"If they will go back to the utterly failed practice of forced masking at the mere hint of new cases, it means, among other things, they have utter disregard for the human right to contact with other humans. Faces matters. And the freedom to show yours shall not be abridged," wrote Dr. David McCune.
"Americans have had enough COVID hysteria. WE WILL NOT COMPLY," wrote Rep. Marjorie Taylor Greene (R-Ga.) in response to the Lionsgate memo.