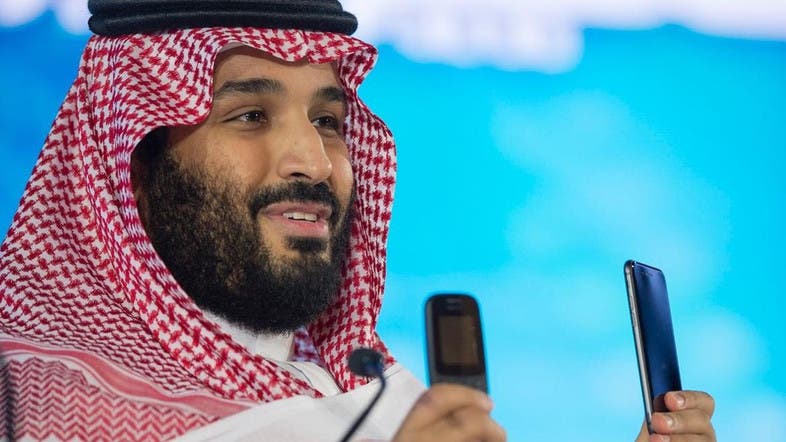 https://www.bloomberg.com/news/articles/2018-03-27/saudi-prince-is-said-to-push-for-technology-deals-on-u-s-tour
Google signs Aramco deal to establish national cloud provider

Prince plans to meet Amazon, Apple, Google and Uber executives

Saudi Arabia
Crown Prince Mohammed bin Salman will meet with technology titans in the U.S. this week in search of deals that would diversify his country's oil-dependent economy.
On Friday, Saudi Arabia's de facto ruler will be in Seattle, with plans to meet
Amazon.com Inc.
Chief Executive Officer Jeff Bezos and Microsoft Corp. CEO Satya Nadella, as well as executives from
Boeing Co.
, said people familiar with the matter. Microsoft co-founder Bill Gates will host the 32-year-old prince at his home.
Over the weekend, Prince Mohammed will jet to Los Angeles for potential meetings with representatives of Hollywood studios,
Snap Inc.
and Virgin Hyperloop One, a transportation startup backed by Dubai-owned conglomerate
DP World Ltd.
He'll be in Silicon Valley late next week,
looking to meet
with executives from
Alphabet Inc.
's Google,
Uber Technologies Inc.
and
Apple Inc.
, said the people, who asked not to be identified because the plans are private.
The prince's agenda includes a push for Amazon to consider working with Saudi Arabia's Ministry of Energy on building a data center in the country, which would be the first in the Middle East for the world's largest cloud provider, said one of the people. He wants to explore a plan that would have Alphabet open new offices in Saudi Arabia and provide the state-owned oil giant,
Saudi Arabian Oil Co.
, known as Aramco, with cloud services, one of the people said. On Tuesday afternoon in New York, the head of Google's cloud business signed an agreement with Aramco to establish a national cloud service provider.
The flurry of meetings is part of Prince Mohammed's first official visit to the U.S. since becoming heir to the throne last year. He has aggressively pushed for investments in tech, including a $3.5 billion
deal
with Uber in 2016 and the creation of a massive tech fund with
SoftBank Group Corp.
that's reshaping the global startup market.
In addition to scouting tech deals on the trip, the prince and his delegation of more than a hundred officials are seeking to burnish the kingdom's image abroad. The country has faced criticism over the Saudi-led bombing campaign in Yemen and a controversial crackdown on corruption that snared the nation's top businessmen in a temporary jail at the Ritz-Carlton in Riyadh. The prince's three-week tour of Washington, New York, Seattle, San Francisco, Los Angeles and Houston is focused more on business than politics.
Associating with Saudi Arabia can lead to conflict within the walls of tech companies. The country's treatment of women is a major point of contention. After Uber took the money from Saudi Arabia and added an official to its board, customers objected to the company for cozying up to a country where women weren't allowed to drive. Last year, the government agreed to change its stance on that issue.
Developing industries, including technology, is a key part of the prince's plan to diversify the Saudi economy beyond oil and create jobs for its young population. Part of that plan involves loosening more of the kingdom's social restrictions, including some of those on women. Representatives from the companies on the prince's agenda all declined to comment.
A major goal is to lure more businesses to Saudi Arabia. Officials have put together proposals for Apple, Snap and others to open offices in the capital city, Riyadh, one of the people said.
— With assistance by Dina Bass, Spencer Soper, Mark Gurman, Sarah Frier, Eric Newcomer, Sarah McBride, Mark Bergen, and Julie Johnsson