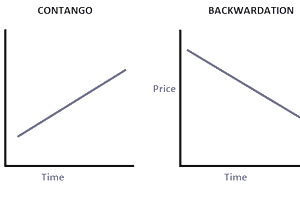 https://www.platts.com/latest-news/oil/singapore/dubai-crude-structure-dips-into-contango-in-well-27920938
The Middle East oil complex saw no letup in a multimonth downward trend as cash Dubai to swap spread slipped into a contango market structure Monday, on the back of a well supplied Asian crude market and softer buying interest from refiners here, according to market sources who spoke with S&P Global Platts.
The spread between May cash Dubai and same-month Dubai swaps flipped into a contango of 5.5 cents/b Monday, from a backwardation of 11 cents/b last Friday, Platts data showed. The spread was last lower at minus 16 cents/b on September 29, 2017.
Market sources attributed the steady downturn of the structure to both buy and sell side factors.
Despite difficult arbitrage economics on paper, Asia remains well supplied with western barrels of both sweet and sour crudes, traders said.
"The [Asian] market is a little over supplied on the medium [sour crude] side," a Chinese crude oil trader said.
The Brent/Dubai Exchange of Futures for Swaps, a key indicator of ICE Brent's premium to benchmark cash Dubai, averaged $3.44/b in February, down 2 cents/b compared with January, according to Platts data.
The wider EFS typically limits opportunities for the arbitrage of crude barrels from the West to Asia as it raises the value of Brent-linked crudes against Dubai.
However, Brent-based arbitrage barrels from the North Sea and West Africa have been making their way to Asia in spite of the seemingly unworkable EFS, crude oil traders told Platts.
Lower freight rates could be one possible reason some traders were able to make arbitrage economics work, they added.
On the buy side, refinery maintenance in the first two quarters of the year has somewhat suppressed spot market buying activity, traders said.
"Now its maintenance season, [since] demand is not that [high], [refiners] can get enough from term suppliers and don't have to enter the spot market," the Chinese crude oil trader said.
"All quiet [on the buy side]," a trader based in Singapore said.
"Whether demand re-surfaces next month is another thing," he added.
Additionally, a new consumption tax enforced by the Chinese government has led to a wait-and-see approach from Chinese teapot refiners, which typically pay generous premiums for staple and proximal grades such as Russia's ESPO, which is also priced against Dubai crude.
"Buyers are not that eager to buy. Demand for China is very slow," the China-based trader said.
--Eesha Muneeb,
eesha.muneeb@spglobal.com
--Edited by Norazlina Juma'at,
norazlina.jumaat@spglobal.com