https://www.bloomberg.com/news/articles/2017-11-02/oil-ministers-wanting-to-extend-cuts-haven-t-decided-on-how-long
"Mission is not accomplished": Al-Falih on output deal aim

Producers discussing timing of potential extension: Kuwait
While OPEC and its allies agree their output-cut deal needs to be prolonged as bloated inventories won't shrink to normal levels by March, they're yet to reach consensus on how long the pact must be extended, according to ministers from three of the top producers.
Global stockpiles are declining and demand is increasing, but there's still a significant inventory overhang in the market, Khalid Al-Falih, Saudi Arabia's oil minister, said at the Asian Ministerial Energy Roundtable in Bangkok on Thursday. Issam Almarzooq, his Kuwaiti counterpart, said producers are in the process of discussing and finalizing a decision on the extension of output curbs by the Organization of Petroleum Exporting Countries and partners such as Russia.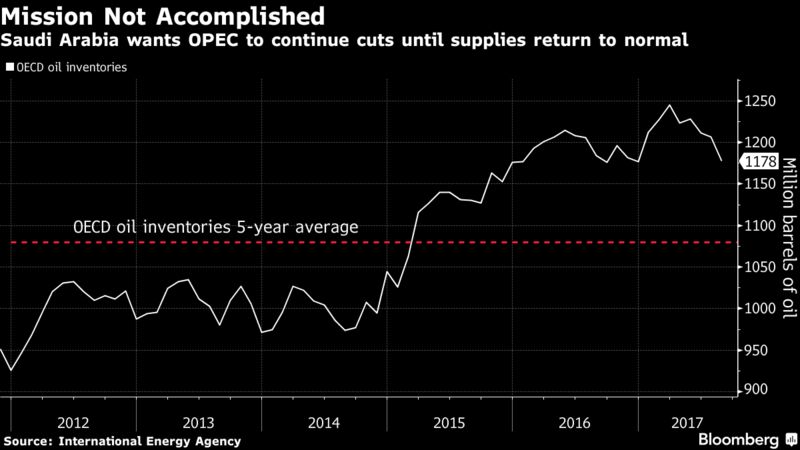 "We are looking now for the mechanism for the time, how long that would be and what would be more suitable to achieve the rebalancing of the market," Almarzooq said in an interview with Bloomberg in Bangkok. While he expects an extension of the output curbs to be announced at the Nov. 30 meeting, details about the length or any changes in conditions may come only in February or March when more information is available, he said.
Almarzooq's comments echo those from the United Arab Emirates' Energy Minister Suhail Al Mazrouei in Bangkok on Wednesday. Since the agreement began getting implemented in January this year, the producers have moved toward their goal of balancing the oil market, but "aren't there yet," he said on Thursday in an interview with Bloomberg.
Crude prices have surged into a bull market amid speculation that OPEC and its allies will prolong their deal as well as a revival in demand. Saudi Arabian Crown Prince Mohammed bin Salman said last month that he backed the extension of the curbs beyond March 2018. Russian President Vladimir Putin also gave provisional backing to lengthening the restrictions, a signal that Riyadh and Moscow are ready to prolong their collaboration to lift energy prices.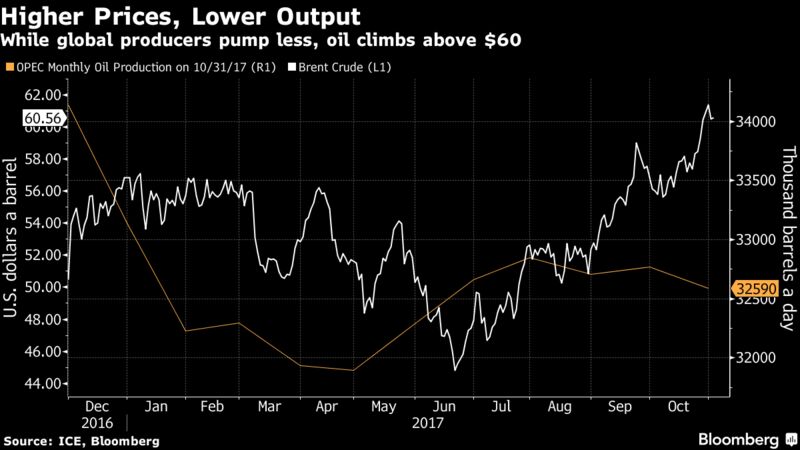 Growth in global oil demand has reached 1.6 million barrels a day, up from 1.3 million at the start of the year, Saudi Arabia's Al-Falih said Thursday at the Bangkok event organized by the International Energy Forum. And in October, there was a significant decline in inventories. "Despite that, unfortunately, the mission is not accomplished yet," he said.
"We are discussing with all countries, and I haven't been able to reach each and every one of them," he said. "But what we want to do is reach a full consensus."