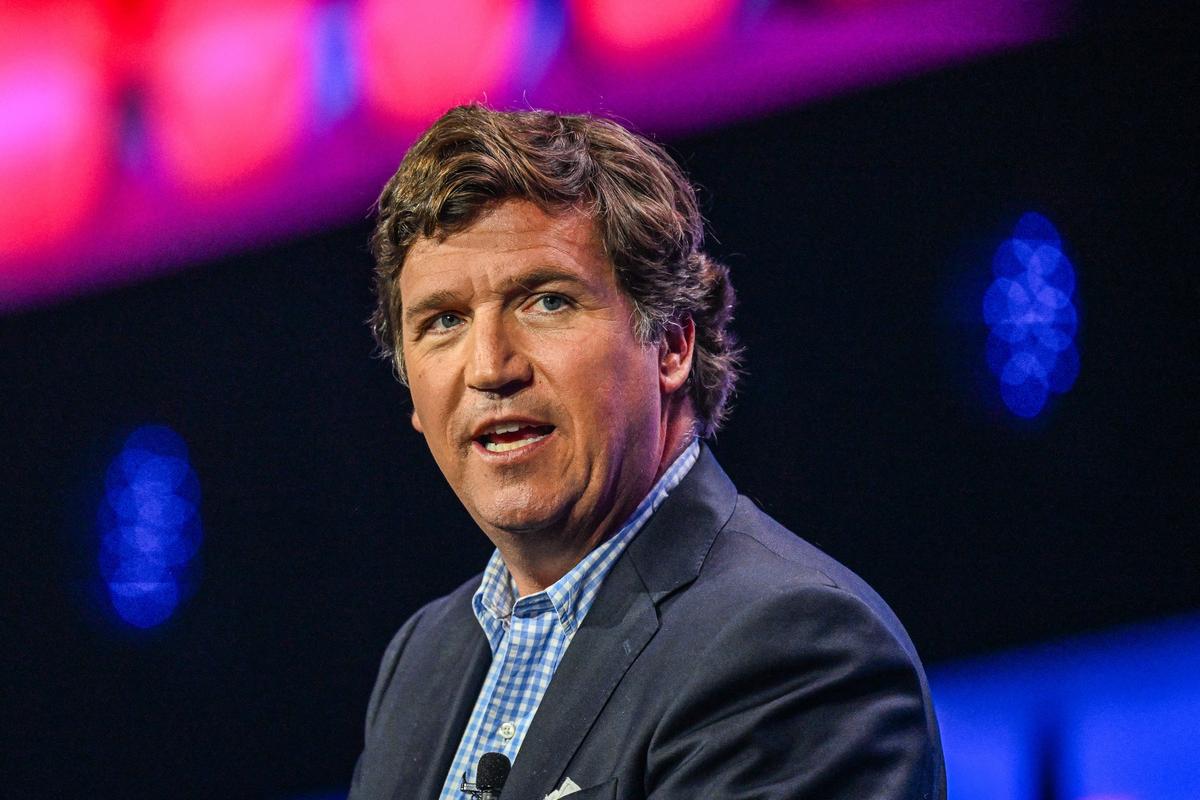 https://www.theepochtimes.com/article/tucker-carlsons-media-startup-gets-big-boost-from-anti-woke-investment-firm-report-5511657
Former Fox News primetime host Tucker Carlson scored a win Monday as an "anti-woke" venture capital firm has agreed to invest millions of dollars in his budding media startup, according to reports.
Mr. Buskirk and Mr. Malik told the Journal that 1789 Capital sees investment opportunities in three key areas, including in what they described as the "parallel economy," where companies like Mr. Carlson's use existing business models to reach conservative-leaning consumers.
Another area of focus for 1789 is investing in companies that are bringing jobs back to the United States as part of the broader trend of deglobalization and reordering of supply chains.
The third is what Mr. Malik described as capital-seeking companies left out in the cold due to politicized investment decisions on the part of the collective "ESG cult."
ESG refers to the "Environmental, Social, and Governance" (ESG) framework that started out as soft guidelines but
some experts say
has turned into heavy-handed mandates that push controversial "social justice" ideologies and refuse to invest in startups that don't toe the "woke" line.
A near-obsession on the part of some ESG advocates to put left-leaning ideologies ahead of business imperatives in investment decisions is presumably what Mr. Malik meant by calling the movement a "cult."
"What we are focused on is opportunities that we think have developed in the market because other forms of institutional capital have become politicized," Mr. Buskirk told the Journal.
Mr. Malik told the outlet that he sees the total addressable market for Mr. Carlson's content as at least the 74 million or so Americans who voted for President Donald Trump.
Advertisement - Story continues below
He added that he believes 1789 Capital could be a beneficiary of the broader backlash against woke companies pushing leftist agendas, such as the Bud Light boycott driven by the beer brand's marketing partnership with transgender social media influencer Dylan Mulvaney.
"Where's the money going to go?" Mr. Malik said. "I want us to be the beneficiary of it."
Mr. Carlson has not publicly commented on reports of the $15 million investment by 1789 Capital.
Tucker Carlson's Media Startup
After Mr. Carlson was ousted from his top-rated program on Fox News earlier this year, he began posting free video content on X.

His first episode,

released on June 6

, has garnered 121.5 million views, with subsequent episodes routinely drawing tens of millions of views. In some cases—like his presidential

debate night interview

with President Trump—views have run into the hundreds of millions.

As Mr. Carlson's content took off on X,

reports emerged

in July that he had teamed up with former White House adviser Neil Patel to raise funds for a new media company, with speculation that the business model would be driven by subscriptions.

Mr. Carlson and Mr. Patel are no strangers to joint business ventures as the two—who were roommates at Trinity College in Connecticut—founded The Daily Caller together in 2010.

And now, the Journal has

reported that

the pair have made their first major funding breakthrough with the $15 million investment by 1789 Capital.

Citing "people familiar with the matter," the outlet reported that the goal of the seed investment round is to get Mr. Carlson's and Mr. Patel's media company to a point where they can show a proof of concept for their business model—and so open the door to further rounds of funding.

Before being fired by Fox News in April, Mr. Carlson was the host of "Tucker Carlson Tonight," one of cable's most popular programs. It was the

second

most-watched cable news program in 2022, drawing an average of 3.3 million viewers per night.
ESG In The Crosshairs
Mr. Malik's remarks about 1789 Capital's focus on supporting budding businesses snubbed by the "ESG cult" comes amid broader criticism of ESG and corporate wokeism.
Recently, a trade group representing some 14,000 small and large manufacturers
issued a scorching criticism
of recent regulatory moves tightening ESG rules.
In early July, as the House Financial Services Committee
prepared to conduct
a series of hearings on ESG and issues relating to the proxy process, the National Association of Manufacturers penned a letter to the committee's leaders urging them to take action to protect businesses from ESG activists.
Specifically, the trade group criticized the Securities and Exchange Commission for giving special privileges to ESG activists and proposing rigid ESG mandates that burden manufacturers without benefiting investors.
The manufacturing group called on Congress to intervene and limit proxy advisory firms' influence, reinforce fiduciary duty, and prevent activist agendas.
"Congress must step in to depoliticize the business decisions that impact the lives and life savings of millions of Americans," the group wrote.
Several weeks later, the House Financial Services Committee
advanced four bills
along party lines that were aimed at fighting the influence of ESG investing in America's financial markets.
"ESG is an evil pollutant that must be eradicated from corporations and businesses," Rep. Ralph Norman (R-S.C.) said in a statement.
"Ultimately, the
Businesses Over Activists Act
would preserve the first amendment rights of corporations and impede economic damages stemming from the misuse of resources delegated to the management of these politicized proposals," he added, referring to one of the four bills that are now poised to be reviewed by the full House.
Earlier, James Lindsay, author of "Race Marxism" and other books challenging woke narratives,
has called
ESG a weapon in the hands of "social justice warriors" to shake down corporations and a tool in the hands of those seeking to impose a "one world government."
Meanwhile, rating agency S&P Global
recently dropped
its use of ESG scores to assess corporate borrowers amid questions over the usefulness of such metrics.