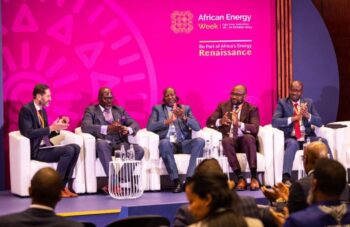 https://www.petroleumafrica.com/best-practices-to-advancing-africas-refinery-capacity/
Africa Energy Week (AEW) 2023 hosted a high-level panel discussion analyzing trends within the continent's downstream segment, as African countries seek to ensure optimal exploitation of domestic resources for energy security, affordability and independence.
Moderated by Daniel Evans, Vice President, Global Refining and Marketing, S&P Global Commodity Insights, the discussion began with a keynote speech by Anibor Kragha, Executive Secretary, African Refiners and Distributors Association (ARDA).
"Fossil fuel demand in Africa will grow by 45% to 50% over the next three decades, hence the need to boost refinery and storage capacity to avoid the continued surge in energy imports which are increasing prices across the continent," stated Kragha.
Supporting his statement Daouda Kebe, Technical Director, Senegal's SAR, said "Most of the refineries in Africa were built in the 1960s and are reaching end of life and need to be updated in line with changing energy and environmental sustainability standards."
Peter Adeshola Olowononi, Head, Client Relations – Anglophone West Africa, Afreximbank, added that "Industrialization is the only way that Africa can remain viable and for that to happen the continent needs to have sustainable and resilient downstream systems. That is why we are working with APPO to establish the African Energy Bank to invest in African refinery projects."
While the panel identified a lack of adequate financing as the biggest barrier hindering the growth of Africa's downstream projects, it served as a platform to showcase best solutions to driving investments within the segment.
Olowononi, added that with international banks pulling out financing in hydrocarbon projects due to the energy transition, there is a need for more cooperation between African banks and governments in coming up with home-grown financing solutions.
"Africa has to understand that we have an emergence. As long as we don't externalize this challenge, we will keep on suffering. Banks need to see that it is no longer about profits and capitalization but rather about guaranteeing African energy security, which will, in turn result in economic growth and more profits for them."
Kragha emphasized on the role leveraging market-based pricing, the enactment of clear policies and coordination between key sectoral ministries to support investor business plans play in accelerating the flow of investments in the continent's downstream landscape.
"We have to look at what makes sense from an investment perspective. Not all countries need to have a refinery. We need a tighter and robust intra Africa refinery value chain to ensure intra trading and cooperation between upstream and downstream players. For instance, South Africa, with its four refineries, can be leveraged by the SADC region to refine energy sourced from Namibia and Mozambique for regional energy security," added Kragha.
Zakaria Dosso, Managing Director, AEICORP said with global investors prioritizing ESG, the continent can attract new investments by building new refineries which have the latest sustainability certification instead of focusing on updating existing assets which are outdated.