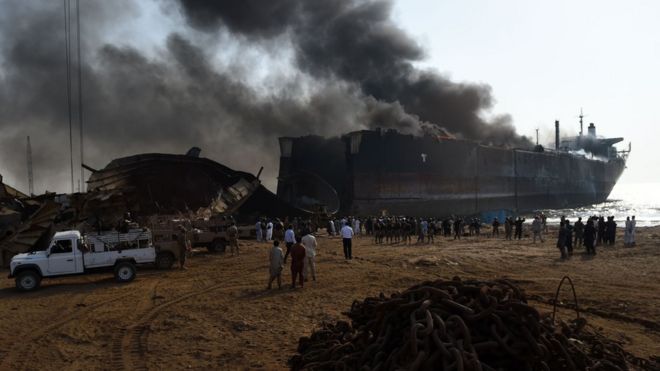 Last week, on the back of a meeting between the Pakistan Ship Breakers Association (PSBA) and local authorities, ongoing rumours about Pakistan re-opening its yards for tankers within the next month began to further intensify.
This news may well be greeted with the usual degree of cash buyer speculation that has been frequently seen in the recent past. However, the reality is that the Pakistan market has also softened in recent weeks and an influx of tanker candidates is hardly going to help in boosting levels from Gadani Buyers, GMS said in its weekly report.

Sinokor continued a clear-out of older tonnage with the sales of a Capesize bulker (a highly sought after and rare breed of vessels these days) and an Aframax, at some unsurprisingly bullish levels.

Moreover, given the spate of fixtures through 2018, there was another VLCC concluded on private terms last week, to swell the growing ranks of unsold tonnage available, and perhaps another sign that cash buyer confidence on a Pakistan re-opening maybe well-founded.

Prices have remained stagnant for several weeks, with marginal declines witnessed in both India and Pakistan, while Bangladesh was just about holding onto its levels, through what has been an overall underwhelming start to the year for Chittagong buyers.

Finally, Chinese New Year holidays interrupted the flow of deals and deliveries (as minimal as they were) last week and it may be a stilted week ahead, as people slowly drift back to work from their various holidays, GMS concluded.

The VLCC mentioned above was the 1994-built 'Yangtze Star' believed committed for about $430 per ldt on the basis of 'as is' Fujairah, while the Aframax was said to be the 'Pacific Pioneer' reported sold to Bangladesh or Indian interests for $455/$460 per ldt.