https://www.bloomberg.com/news/articles/2018-02-14/opec-russia-to-discuss-new-oil-inventory-measurements-in-april
Nigeria limiting oil production to 1.8 million barrels a day

Domestic companies are planning to bolster their output
Add independent Nigerian drillers to the list of oil producers itching to supply more crude at a time when OPEC and allies like Russia are trying to restrict output and prop up prices.
Domestic Nigerian producers are aiming to pump almost 250,000 barrels a day more crude by 2020 as part of a wider plan for the nation to lift output to 2.5 million a day, Oil Ministry data show.
Shoreline Group
, the third-biggest independent, wants to double output by December with
Seplat Petroleum Development Co.
, the second-largest, also intending to produce more.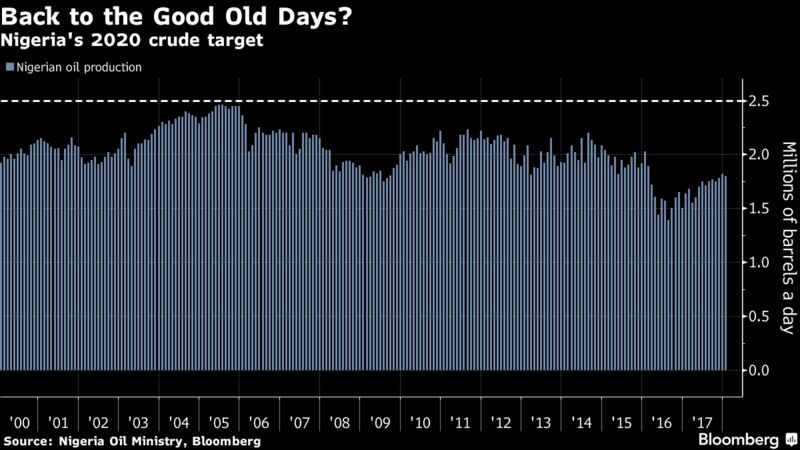 They are planning to add barrels at the same time as Nigeria participates in a global pact to restrict oil supply that's being led by the Organization of Petroleum Exporting Countries and non-member nations including Russia. If any one country relents -- and similar internal pressures are bubbling up elsewhere -- then the entire deal could come under strain.
"If they can pump more in Nigeria, I don't see why they wouldn't," said Warren Patterson, a commodity strategist at ING Bank NV. "If you get Nigeria exceeding the cap, then you're going to get others who pump a little bit more. The longer the deal goes on for, the more likely it's going to fall apart."
Not Alone
Countries and companies both inside and outside OPEC are looking to add production. Iraq is building infrastructure to allow a huge increase in capacity, while Iran's oil minister has said the country can produce more almost instantly. An Angolan field will come on stream by year end and add 250,000 barrels daily, while companies in Russia pushed to pump more before the country renewed its supply-curbs deal with OPEC late last year.
Along with Libya, Nigeria's involvement was critical when OPEC agreed with non-member producers to extend global curbs to oil production until the end of 2018. It pledged not to let output exceed 1.8 million barrels a day in 2018.
The country's total planned increase is 700,000 barrels a day. Just over a third will come from the state-run Nigeria Petroleum Development Co., a third from independents, and the remainder from oil majors. The expansion depends, among other things, on peace being maintained in the Niger Delta. A militant group
said last month
it would attack oil and gas facilities.
Refinery Feed
One probability is at least some of the extra Nigerian supply will end up feeding the Dangote oil refinery, the continent's largest, which is due to start operating next year. While doing that would help rid Nigeria of its dependence on fuels produced overseas, it wouldn't extricate the country from its commitments to OPEC.
Back in 2016, Shoreline had to cancel a planned $500 million Eurobond. With oil prices rallying, the company is making a comeback. It agreed a
$530 million
deal with financiers led by
Vitol Group
, the world's biggest independent oil trader, as it seeks to double crude output to 100,000 barrels a day by year end.
"It represents a massive vote of confidence in the future growth of our operations and of Nigerian upstream producers," Kola Karim, chief executive officer of Shoreline, said in an interview.
Shoreline's progress mirrors that of other Nigerian independents. Seplat, said to be among companies bidding for Petroleo Brasileiro SA's African oilfields, expects to ramp up drilling this year after output recovered from militant attacks and low prices, according to company statements.
"We are on course," Emmanuel Kachikwu, Nigeria's Minister of State for Petroleum Resources, said Thursday of the goal to pump 2.5 million barrels a day by 2020. "Capacity-wise, the volumes are there. Infrastructure-wise we suffer a little bit in terms of being able to deliver."
There are at least a dozen small to mid-sized Nigerian producers pumping between 5,000 and 100,000 barrels each day. Together, they plan to add incremental supply of at least 150,000 barrels a day this year. Aiteo E & P Ltd., Nigeria's largest independent, didn't immediately comment about its expansion plans.
Half a decade ago, these producers were hailed as the future of Nigeria's production because of their potential to pump 40 percent of the OPEC member's output. They had bought oilfields that hold at least a third of the West African nation's 37.5 billion barrels of crude reserves from companies including
Royal Dutch Shell Plc
,
Total SA
and
Eni SpA
.
Their day may still come. The OPEC deal is currently in place until the end of this year and global demand is rising fast. The International Energy Agency this month revised up its growth estimate for world oil consumption by 100,000 barrels a day, taking it up to 1.4 million.
"As the oil market rebalances in the years ahead, OPEC will have to lift its production cap," Pabina Yinkere, an energy analyst at Lagos-based Vetiva Capital Management, said by phone, adding that a lot of extra Nigerian crude could be used to feed the Dangote refinery. "Moves to raise production is in view of expected demand growth."
— With assistance by Alex Longley