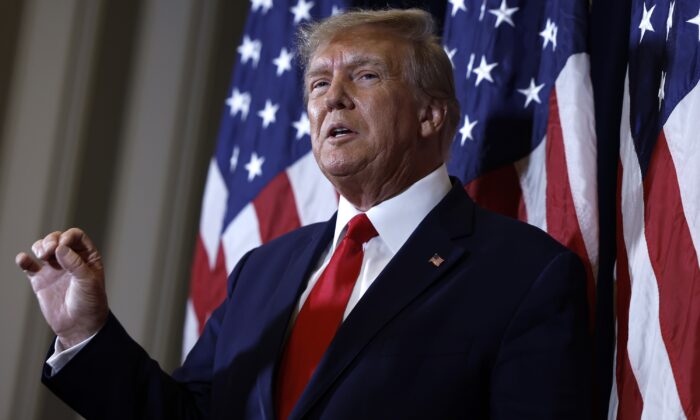 Former President Donald Trump speaks to reporters before his speech at the annual Conservative Political Action Conference (CPAC) at Gaylord National Resort & Convention Center National Harbor, Md., on March 4, 2023. (Anna Moneymaker/Getty Images)
https://www.theepochtimes.com/trump-addresses-indictment-rumors-calls-for-supporters-to-protest-take-our-nation-back_5132504.html?ea_src=frontpage_A_topstory&ea_med=list
Former President Donald Trump has issued a statement saying he expects to be indicted next week by the Manhattan District Attorney's Office and called his supporters to protest and "take our nation back!"
The Manhattan District Attorney's Office is investigating Trump for his company's classification of a $130,000 reimbursement to his former personal attorney Michael Cohen over a payment allegedly made to adult actress Stormy Daniels.
The former president has repeatedly condemned the probe as a partisan witch hunt and in a Saturday statement on Truth Social, Trump doubled down on his rhetoric.
Trump said that "illegal leaks" from the "corrupt & highly political" Manhattan DA's office indicate that he will be arrested on Tuesday of next week. He insisted that no crime has been proven and that the possible indictment in the case would be "based on an old & fully debunked (by numerous other prosecutors!) fairy tale."
"Protest, take our nation back!" Trump urged his supporters in the message.
The Manhattan District Attorney's Office declined to comment on Trump's statement.
'Witch Hunt'
Trump's possible indictment stems from the alleged misclassifying of a $130,000 hush payment made to Daniels not to disclose an affair between the two, which Trump has denied. A grand jury was empaneled in the case and expectations have been building for an indictment.
Trump spokesperson Steven Cheung told The Epoch Times in an emailed statement that the former president has not been formally notified of any pending arrest.
"There has been no notification, other than illegal leaks from the Justice Dept. and the DA's office, to NBC and other fake news carriers, that the George Soros-funded Radical Left Democrat prosecutor in Manhattan has decided to take his Witch-Hunt to the next level," Cheung said.
"President Trump is rightfully highlighting his innocence and the weaponization of our injustice system," he added.
Cheung told Fox News in a statement Friday that Trump is "completely innocent" and that the probe is a politically motivated attack to hamstring his run for reelection in 2024.
"Democrats are at it again, pushing the 'Nuclear Button' and attacking a President because of a disgraced extortionist," Cheung said. "This will backfire massively for the Democrat Party, and end in disgrace for our Nation."
The idea that a possible indictment and arrest of Trump would backfire was taken up by several prominent public figures, including Tesla CEO Elon Musk.
Musk said in a post on Twitter that he believes if Trump is indeed arrested next week, the former president "will be re-elected in a landslide victory."
Trump's lawyer, Joseph Tacopina, told MSNBC that if the former president is indeed indicted, he would "follow normal procedures" and surrender.
Rumors of the indictment and what would be an unprecedented arrest of a former president have prompted reports that law enforcement agencies are bracing for protests and making security arrangements.
An indictment would involve setting a date and time for Trump to surrender, with the former president then delivered by his Secret Service detail to the Manhattan DA's office for fingerprinting and mugshots. Following arrest processing in cases where a defendant is allowed to surrender, normal procedures suggest Trump would face an arraignment before a judge and then probably be released on his own recognizance.
Former GOP congressman and Truth Social head Devin Nunes told Newsmax on Friday that reports of the possible indictment show the nation is becoming a "banana republic" where the justice system is used as a weapon against political rivals.
"As I've said for a very long time now, as the person who led the investigation into the Russia hoax, that we have slipped into a banana republic in this country where you have a two-tiered system of justice, where Democrats run scot-free, and then someone like President Trump, or other Republicans, are held to this ridiculous standard," Nunes told the outlet.
Nunes, like Musk, believes that a Trump indictment would backfire.
"If they do move forward and indict, it'll just make it even easier for President Trump to win election because people are going to see this for what it is," Nunes said. "[It is] just a farce, and another attack on Trump at all costs to stop him from becoming president again."
Gary Bai and Zachary Stieber contributed to this report. This article has been updated with comment from Trump's spokesperson.