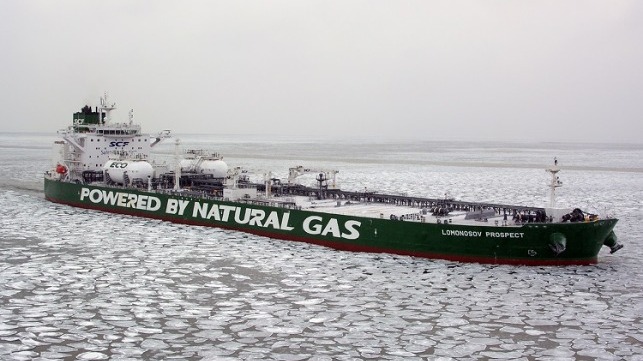 On 30th October, 2018 at 23:59 Moscow time, 'Lomonosov Prospect', Sovcomflot's (SCF) Aframax using LNG fuel as its primary fuel, successfully completed a commercial voyage along the Northern Sea Route (NSR).
She delivered a petroleum product cargo loaded in South Korea and destined for Northern Europe.
The high-latitude voyage from Cape Dezhnev at Chukotka to Cape Zhelaniya of the Novaya Zemlya archipelago took the Arc4 vessel 7.8 days to complete, during which the tanker covered a distance of 2,194 nautical miles.
During the voyage, the crew successfully tested the ship's engines and the fuel control systems using LNG, as well as the operation of navigation equipment and machinery in ice conditions and sub-zero temperatures.
The successful voyage has confirmed the vessel's high manoeuvrability and icebreaking capabilities, as well as being a highly safe, environmentally friendly and efficient vessel, SCF claimed.
The tanker sailed along almost the entire NSR without icebreaker escort, having covered some 950 nautical miles in ice conditions. She was escorted by Atomflot's nuclear-powered icebreaker 'Taimyr' only when traversing the most navigationally and hydrographically challenging area of the Ayon ice massif in the East Siberian Sea.
The tanker's Master was Dmitry Belozerov, who has extensive high-latitude navigation experience. In 2010, Capt Belozerov served as Chief Officer on SCF's Aframax 'SCF Baltica' – the first large-capacity vessel to complete an NSR transit.
The results obtained during this experimental voyage provided the foundation for developing marine transportation solutions for major industrial projects in the Arctic, such as Yamal LNG and Novy Port.
During the latest voyage, the crew was aided by a second Master/ice advisor.
'Lomonosov Prospect' is the second of six Aframaxes designed to operate on LNG as the primary fuel. She was delivered to SCF last month.
In September, 2018, SCFplaced with Zvezda Shipbuilding Complex orders for a series of two similar LNG-fuelled Aframaxes, both of which will be timechartered to Rosneft for 20 years each, following their deliveries.
In addition SCFwill provide technical supervision during the construction of the five similar LNG-fuelled Aframaxes for Rosneft, also ordered at Zvezda Shipbuilding Complex.
Upon the delivery of these vessels, SCF will provide a range of services to ensure the effective and safe management of these vessels, including the recruitment of high-skilled crews and their management.