China became the biggest buyer of U.S. crude oil in February, surpassing Canada, at a time when OPEC is cutting back output.
China imported 8.08 million barrels of U.S. light crude, nearly quadrupling its January purchases, according to data released by the U.S. Census Bureau Tuesday. That helped boost U.S. exports to a record 31.2 million barrels during the month. Canada, the U.S.'s largest trade partner, imported 6.84 million, down 20 percent from a month earlier.
The surge in U.S. shipments to Asia, a market long dominated by Saudi Arabia and other Middle East producers, comes as the Organization of Petroleum Exporting Countries trims output in an effort to end a glut that battered the economies of global energy exporters. Saudi Arabia
reduced
its pricing for some of its April crude sales to Asia as supplies from the U.S. became more competitive.
"The U.S. is a larger exporter of crude than many OPEC countries," John Auers, executive vice president at energy consultant Turner Mason & Co. in Dallas, said by phone. "That China is buying more means that the U.S. has become a larger player in the global crude export market."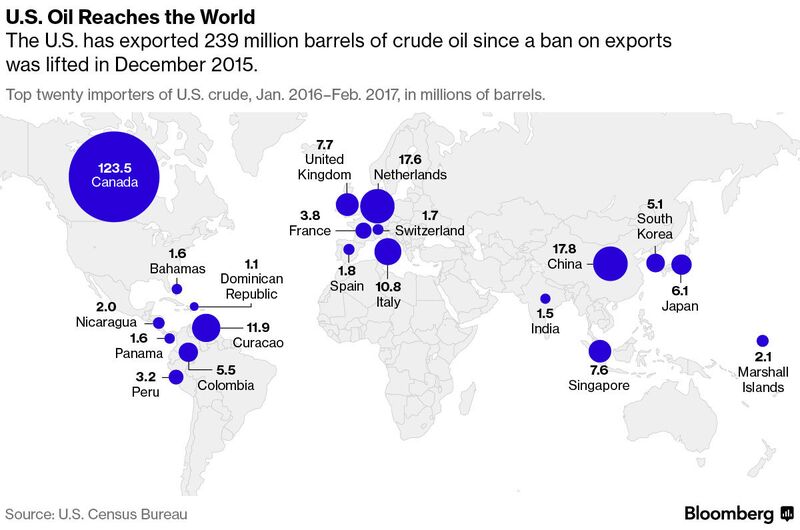 Ships hauling U.S. crude to Asia included the supertanker Alex, which
headed
for Ningbo in eastern China after loading 2 million barrels of West Texas Intermediate crude in the Gulf of Mexico in late February, a person familiar with the matter said last month.
U.S. crude exports in February jumped 35 percent from a month earlier, according to the U.S. Energy Information Administration. While shipments are
expected
stay above 2016 levels, the boost was likely aided by seasonal maintenance at U.S. Gulf refineries, according to Auers. Also, the production cuts made by OPEC countries made Dubai, an Asian benchmark, more expensive compared to the U.S. counterpart.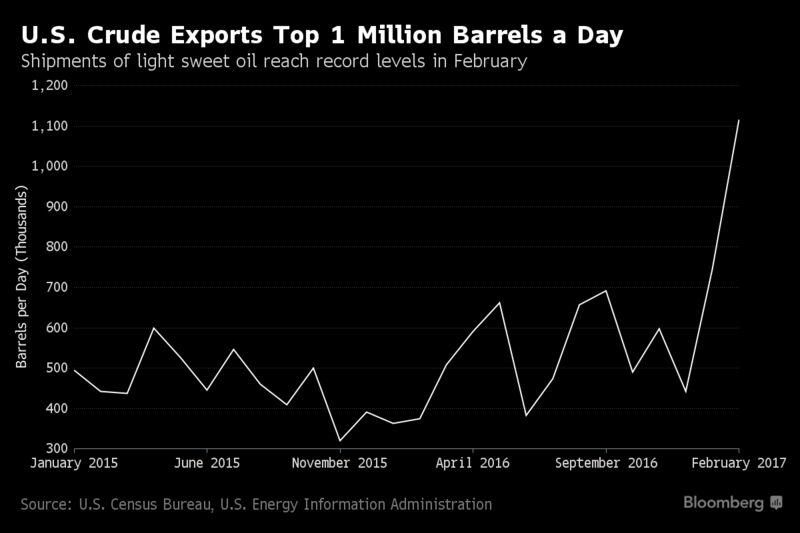 WTI on Tuesday was $1.05 a barrel below Dubai, a lower-quality grade, based on front-month swaps data from broker PVM Oil Associates Ltd. It's averaged a 50-cent discount this year, compared with a $2.43 premium in 2016.
The shipments from the U.S. to China appear to be ongoing. Sinopec
bought
1 million barrels of U.S. Mars Blend crude for loading in April, a person familiar with the matter said.
"A very strong WTI-Dubai spread enabled opening in arbitrage opportunities to Asia at a time when there were lots of turnarounds going on in the U.S. Gulf in February," Dominic Haywood, a London-based analyst for Energy Aspects Ltd. said in a phone interview.
U.S. crude inventories have remained stubbornly high despite lower output from OPEC, climbing to 534 million barrels in the latest government data, the highest level going back to 1982. In March, crude prices slumped the most since July amid concerns about global stockpiles.
Singapore imported 2.03 million barrels from the U.S., while countries including Curacao, Italy, Japan, South Korea and the Netherlands bought in excess of 1 million barrels each, government data show. Shipments included condensate derived from natural gas.