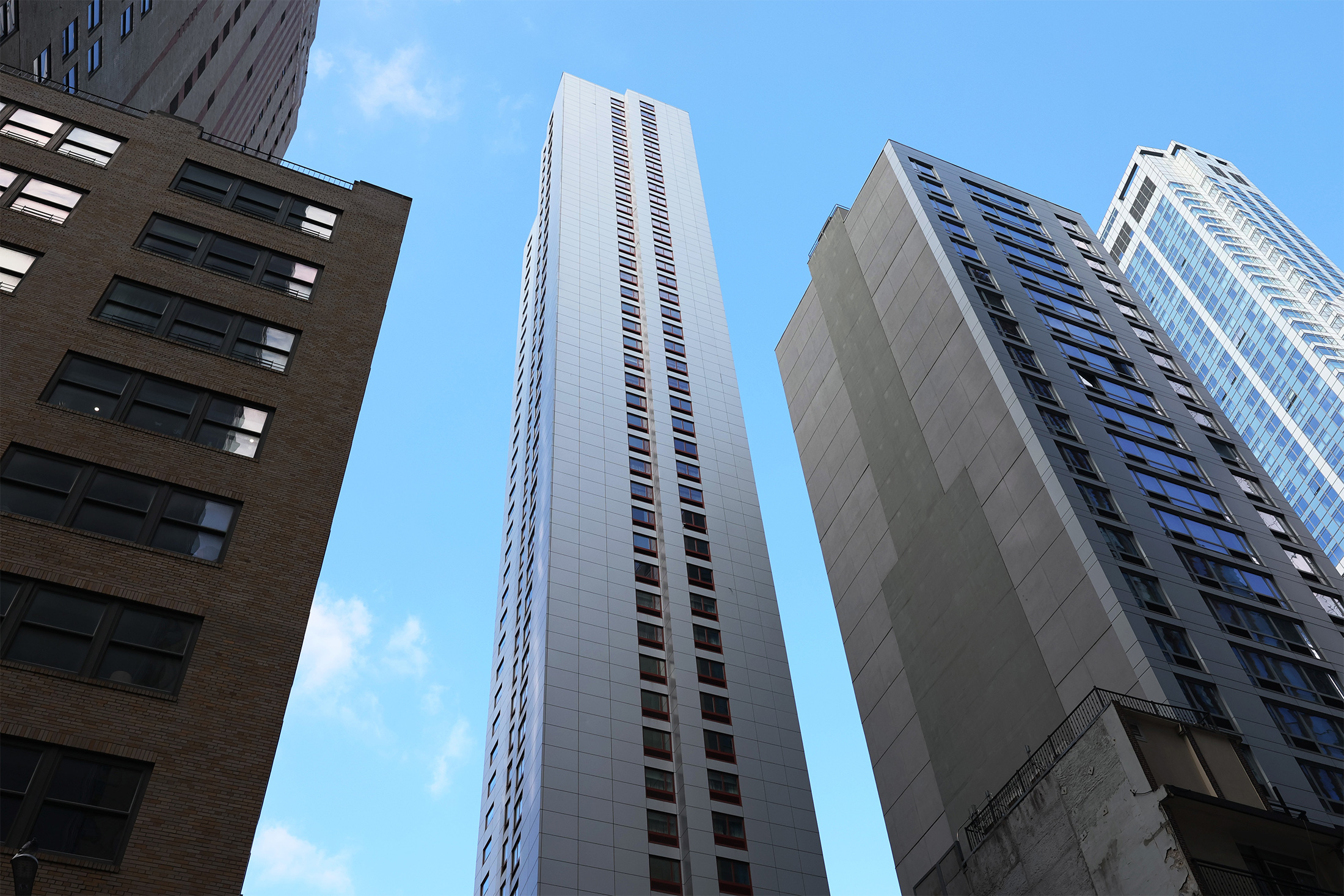 https://www.bloomberg.com/news/articles/2023-06-09/nyc-migrants-how-nyc-is-finding-housing-and-what-it-costs
The Holiday Inn in Manhattan's Financial District has had a tough few years, shutting twice during the pandemic and struggling with too much debt. In November, owner Jubao Xie put the 50-story hotel, the world's tallest Holiday Inn, into bankruptcy.
Just weeks later, New York City Mayor Eric Adams's administration came with a lifeline: It wanted to rent all 492 rooms to house roughly 15,000 migrants over the next 15 months.
The hotel, typically charging $110 a night, would get 73% more, or $190 a room. Plus, the city would guarantee full occupancy at a time when it expected to be just 70% full.
Not only would the Holiday Inn be a "good corporate citizen" by agreeing to the contract, it was expected to rake in a "significant" $10.5 million profit, according to a bankruptcy filing.
The judge on the case urged the hotel operator to take the deal. The Holiday Inn declined to comment.
The deal with the city is one of more than 140 that is now benefiting the hospitality industry beyond filling otherwise empty rooms: An analysis of records shows that in many cases, the city is paying premium daily rates to house the migrants — forking over $311 a night at the two-star Holiday Inn Express on Kings Highway in Brooklyn and $200 a night at the once-posh Roosevelt Hotel in Manhattan that shuttered during the pandemic.
The hotels range from seedy, "hot-sheets" rented by the hour to historic, century-old Midtown Manhattan palaces that have made cameos in Hollywood movies. They're helping house the more than 72,000 migrants who've entered the five boroughs over the last year from Venezuela, El Salvador and other Latin American countries.
"It is a feature of emergency procurement that you pay through the nose," City Comptroller Brad Lander said of the city's arrangements with hotels. "If you could reduce the cost of hotel rooms even modestly you would save a lot of money."
The cost of housing migrants is so extraordinary — an estimated $4.3 billion between April of 2022 and July 2024 — that Mayor Adams says he must cut city services to afford it.
To manage those expenses, Adams says the city is planning to trim services such as library hours, meals for senior citizens, re-entry programming for Rikers Island prisoners, and free, full-day care for three-year-olds. Last month, Adams also sought to unwind the city's right to shelter, which entitles the migrants to housing within 24 hours of their arrival.
Yet city property records and travel booking websites show that many of the hotels now housing migrants historically rented rooms for far less than the current citywide average hotel room rate of $316.94. Several were in significant debt, some were the sites of sordid incidents — like sex trafficking, assault and drug arrests — and many earned scathing reviews from previous guests on hotel review websites like Trip Advisor and Yelp.
Data provided by the comptroller's office shows 37 hotels contracting directly with the city's Department of Homeless Services are being paid daily rates ranging from $55 a day to $385 per day, sometimes far in excess of what the hotel rooms might otherwise rent for.
Adams Administration spokesperson Kate Smart said in a statement that each contract negotiation was unique, and that city officials are seeking out competitively priced sites to house the migrants. Those discussions include janitorial services, food services and other facilities the city can use including non-residential portion of the hotels.
She also acknowledged the city is occasionally dealing with opportunistic operators.
"We have absolutely rejected proposals on the basis of cost," Smart said. "As the mayor has discussed, we've unfortunately dealt with landlords looking to price gouge and benefit off of this crisis as well."
On average, the city is paying $256 each day to house each migrant family, officials said last month, compared to the $136 to $188 per day it pays to provide shelter for other homeless New Yorkers.
Emergency Deals
The city declared a state of emergency in October 2022, meaning its normal competitive bidding and other contract safeguarding processes — characteristically labyrinthine and time-consuming — are suspended to ensure flexibility when culling deals to provide services to the new arrivals.
These shelter agreements have been a boon for some segments of the struggling hotel industry, which is only now approaching a return to normalcy after the pandemic halted travel and left rooms empty. Occupancy rates are at 85.9%, still slightly below pre-pandemic levels, and 47 hotels with nearly 10,000 rooms remain closed citywide, according to STR. The city has roughly 130,000 hotel rooms in total.
Of the more than 140 hotels the city is using, at least 100 are being managed through a $237 million contract with the Hotel Association of New York City to provide 5,000 hotel rooms. The Hotel Association represents about 300 New York City-area hotels.
Hotel Association President Vijay Dandapani disputed the idea that the contracts are providing an economic boost. For the hotels under HANYC's contract, "the rate being offered is below the citywide rate by a considerable number," Dandapani said in an email.
The city's contracts with hotels are just the latest partnership between city government and New York's hotel industry.
During the early days of the Covid-19 pandemic, the city struck deals to use empty hotels to more safely house homeless people and prisoners from the city's correctional facilities, an arrangement that helped provide funding to otherwise struggling hotels.
While the city's powerful 40,000-member hotel union, the Hotel and Gaming Trades Council, has strong ties to many of the city's leading politicians, and was the first major labor union to endorse Adams's candidacy in the 2021 Democratic mayoral primary, only 10 unionized hotels are being used to house migrants, representing some 4,500 rooms. The rest of the hotels being used are typically smaller, outer borough facilities with non-union staff, where average room rates tend to be lower than at unionized hotels.
Lander's office estimates the city has spent 99% of the hundreds of millions of dollars it has so far spent addressing the migrant crisis on shelter and food alone, and a much smaller amount on the kind of aid that would help migrants ultimately find work and exit shelters.
"Everyone has been so focused on emergency response that there hasn't been a sufficient focus on standing up the systems you need to offer folks legal services to help them get out," Lander said. "We have done almost none of that."
A Singular Burden
With nearly 500 to 600 people arriving in the city each day in some recent weeks, officials have been increasingly desperate to find suitable shelters.
Since the spring, migrants have been housed wherever space is available — in school gymnasiums and abandoned office buildings. Earlier this week, Adams announced a partnership with 50 churches and faith-based organizations to house a total of 1,000 adult men inside their facilities, with a promise to pay each site up to $54,000 a day for the service. Officials even considered using an abandoned Toys R' Us as a shelter, New York Magazine reported. In late May, the city attempted to resettle some people in counties outside of the city, but faced lawsuits and protests from lawmakers in Rockland and Orange Counties. Last month, in the latest sign of desperation, the mayor's office asked city agency heads to identify any city-owned properties that could be converted into shelters.
Read more: One Family's Perilous Escape From Venezuela to NYC
Beyond the Financial District Holiday Inn, which entered foreclosure in March 2022 after defaulting on a $137 million loan, some of the hotels that are now being used to shelter migrants appear to have been closed or in dire financial straits prior to cutting deals with the city.
The historic Roosevelt Hotel in Midtown, which is owned by Pakistan International Airlines, has been embroiled in a lawsuit with the city's hotel union over job losses associated with its closure three years ago. But early last month, the city reached a deal to use the century-old building's 1,025 rooms as an intake center and shelter for migrants, for $200 per room, per night, Pakistani news site Dawn reported.
The Artel 535, a boutique hotel in Brooklyn's Bedford-Stuyvesant neighborhood that sits next door to a Holiday Inn Express, appears to have never opened for business. It is currently being used as a shelter where the city is paying $143 per room per day. The hotel's owners could not be reached for comment.
In Times Square, the Night Hotel was facing roughly $3 million in liabilities and a botched stake sale before the pandemic. It closed in 2020 due to unpaid debts and a dispute over its ownership. The city is paying $230 per room per day, well above the $144 rate listed on travel websites. Attempts to reach the Night Hotel's owners were not successful.
In September 2022, Wells Fargo began foreclosure proceedings against The Row Hotel, a 1,331-room Art Deco facility in the Theater District, which had closed during the pandemic and struggled to repay a $275 million loan. In October 2022, the hotel reached an agreement with the city to house migrants through April of 2023, for approximately $40 million. Earlier this spring, the hotel inked an extension of the agreement, through April 2024, for $96.7 million, according to the city comptroller's office. A representative of Highgate Holdings, one of the hotel's owners, did not respond to a request for comment.
Adams has frequently expressed his frustration with the costs the city faces to house the migrants, and with the lack of support the city has received from both the state and particularly, the federal government.
"This influx of asylum-seekers is a serious crisis, one that New York City is facing largely on our own," Adams said earlier this week, noting that the city has spent $1.2 billion on the crisis over the past year. "It's unfair."