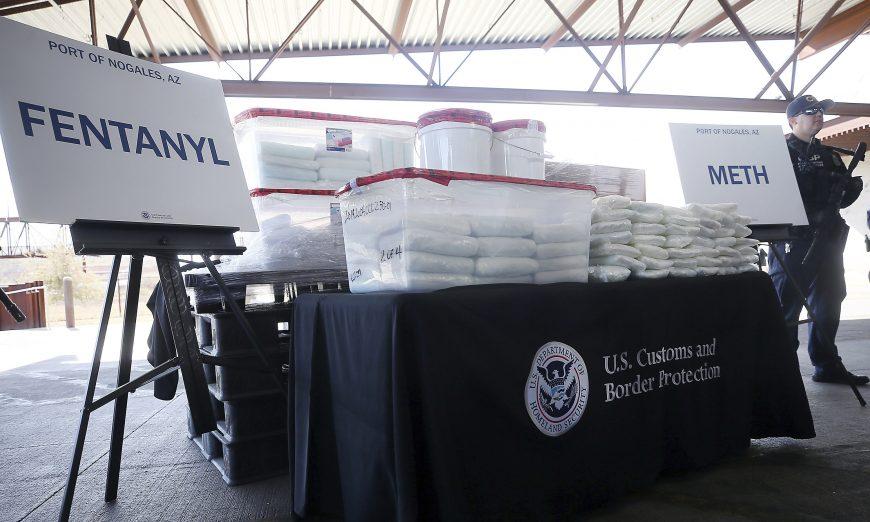 A display of fentanyl and meth seized by U.S. CBP officers at the Nogales Port of Entry is shown during a press conference on Jan. 31, 2019, in Nogales, Ariz. (Mamta Popat/Arizona Daily Star via AP)
https://www.theepochtimes.com/us/enough-fentanyl-crosses-the-us-border-each-month-to-kill-every-american-5423250
In June, U.S. Customs and Border Protection (CBP) seized approximately 2,100 pounds of illicit fentanyl at the U.S. southern border, according to the agency's latest report. The amount is enough to kill every American and then some.
One kilogram (2.2 pounds) of fentanyl can potentially kill 500,000 people, according to the Drug Enforcement Administration (DEA).
"I don't think the public is really aware of what a challenge this is," said Dr. Donna Nelson, an organic chemist and professor at the University of Oklahoma.
"You have to assume that the border agents are not catching everything that's coming into our country," she told The Epoch Times.
"And the amount that's coming in keeps increasing—not steadily, but it is increasing over time."
Ms. Nelson was also the science adviser for the show, "Breaking Bad," and the 2016 president of the American Chemical Society. She was also pivotal in showing how the chemical structure in "bath salts," "spice," and related designer drugs impact a person in a similar manner as illegal drugs.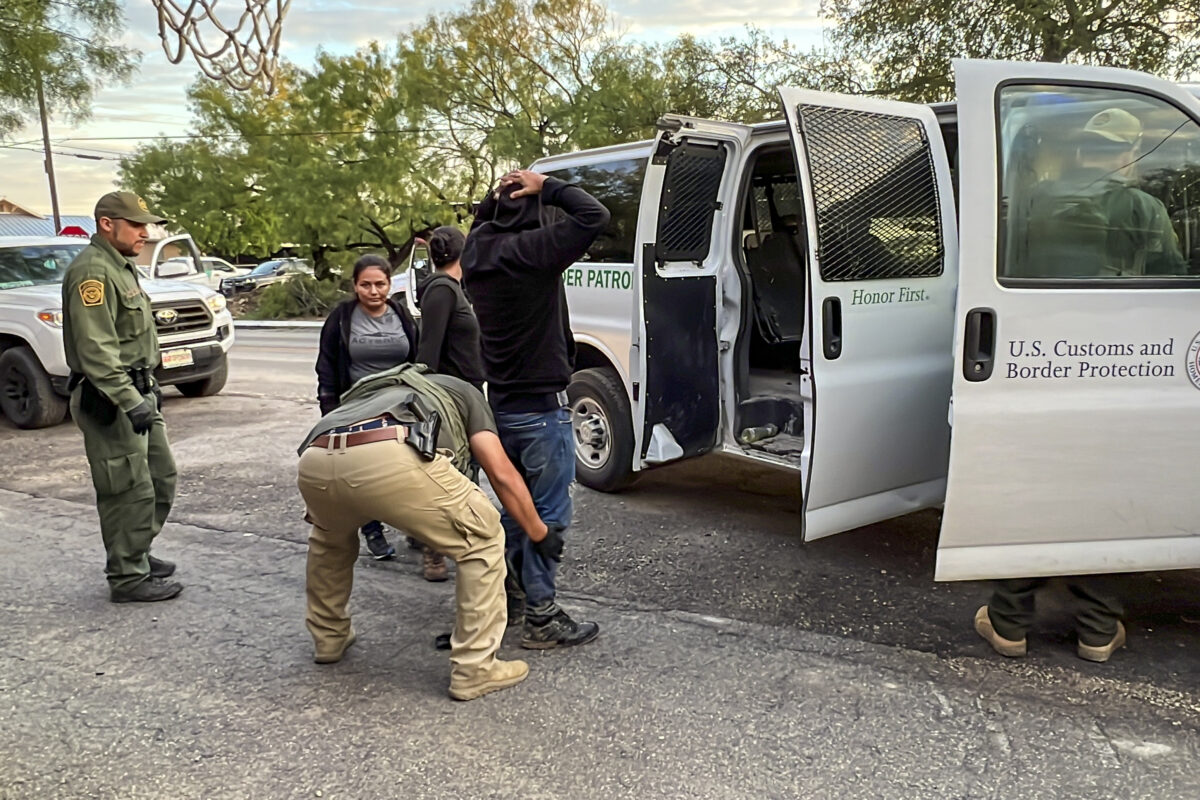 Today, however, she's turned her research prowess to what she considers an even bigger problem: illicit fentanyl, a synthetic opioid, which she says should be declared a weapon of mass destruction.
Prescription fentanyl is generally prescribed by doctors to treat patients suffering from severe or chronic pain, however, illicit fentanyl has become the source of the majority of overdose deaths in the United States.
Fentanyl and the Border
In fiscal year 2020, CBP seized an average of 445 pounds of fentanyl per month at the southern border. In fiscal 2021, that amount increased to approximately 882 pounds per month. In fiscal 2022, the average amount of fentanyl seized per month was 1,175 pounds.
The total amount for fiscal year 2023 won't be available until October, but CBP has already seized more fentanyl in the first nine months than it did for all of 2022, for an average of 2,427 pounds per month.
In less than three years, the amount of fentanyl seized at the southern border per month has increased more than fivefold.
"Every month, that's enough to kill every person in the United States," Ms. Nelson said.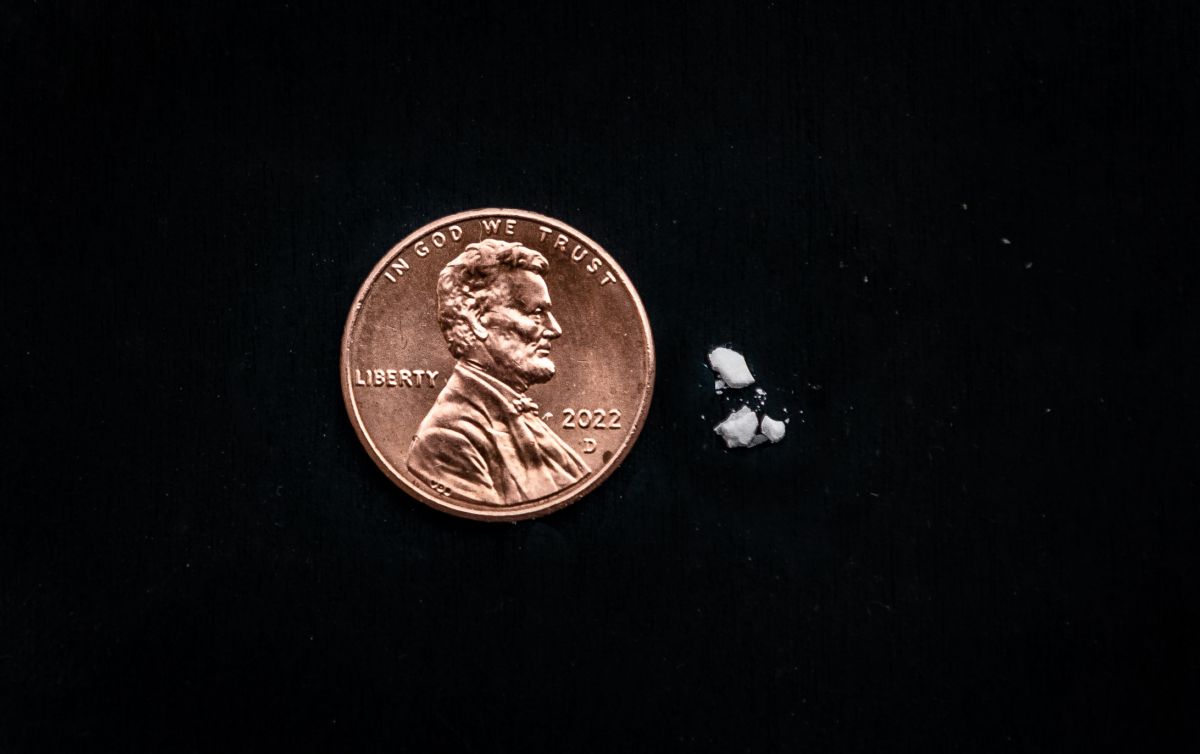 Ms. Nelson said that while Americans might hear about people dying from fentanyl poisoning, she doesn't think they're "fully aware" of the scope of the problem. To help raise awareness, she organized a symposium on fentanyl during the American Chemical Society's annual meeting in San Francisco in August.
"The public needs to be alerted about this," she said. "I don't think that they're really that knowledgeable."
She said the symposium will feature leaders in the fight against fentanyl, including a virtual presentation from Rep. Neal Dunn (R-Fla.).
Mr. Dunn introduced a resolution to the U.S. House in January, which would classify illicit fentanyl-related substances as a weapon of mass destruction.
He said the classification will make it easier to curb drug trafficking and free up resources for U.S. law enforcement.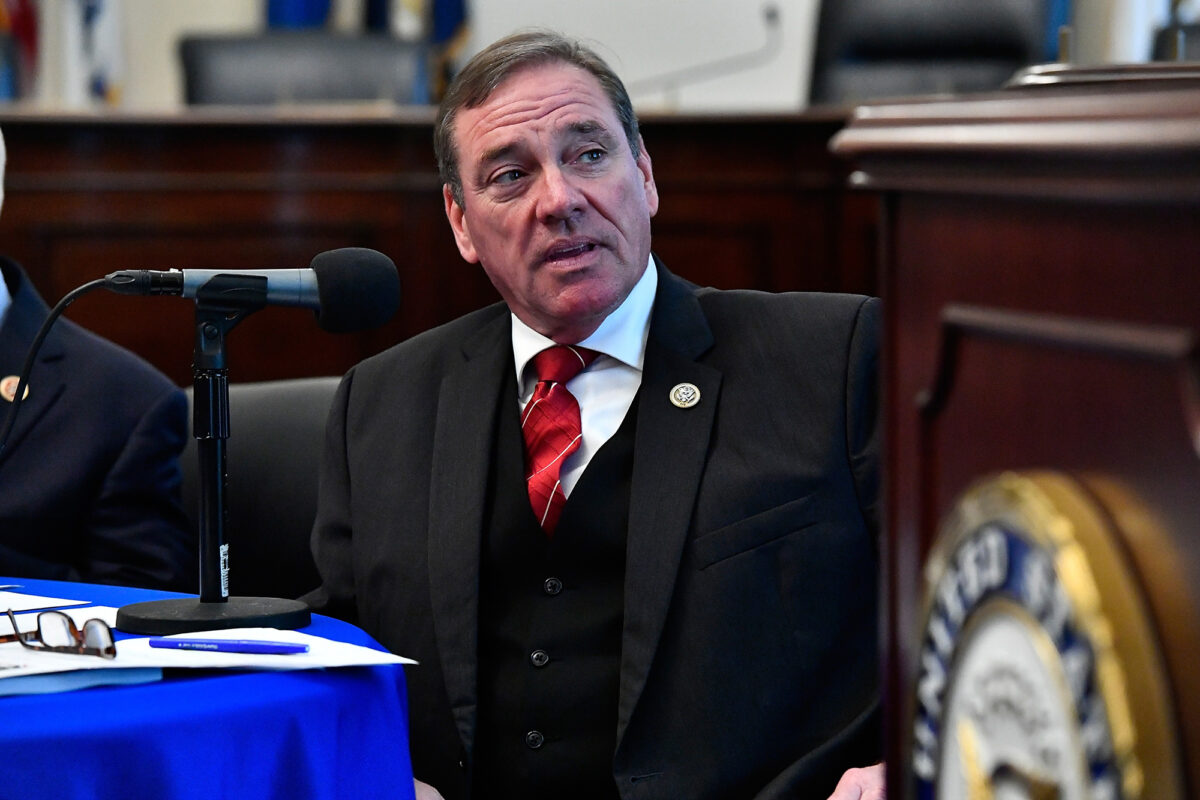 The resolution has been referred to the Subcommittee on Health.
"The House must recognize this dangerous drug for what it really is—a weapon of mass destruction," Mr. Dunn said. "Fentanyl-related substances are tearing families and communities apart, and we must do whatever we can to help law enforcement get them off the streets."
Ms. Nelson testified recently at a congressional briefing at the U.S. Capitol in support of Mr. Dunn's resolution.
During her testimony, she explained that fentanyl presents a unique challenge because of how addictive and deadly it is, that other countries, primarily China, are shipping the precursors of fentanyl to Mexico, which are then combined and smuggled across the southern border, and that scientific research hasn't kept up with the evolving illicit fentanyl crisis.
Escalating Fentanyl Deaths
Synthetic opioids, such as fentanyl, are the primary driver of overdose deaths in the United States, according to the Centers for Disease Control and Prevention (CDC). The DEA reports that fentanyl is involved in more deaths of Americans under 50 "than any other cause of death including heart disease, cancer, homicide, suicide, and other accidents."
For the 12 months ending in Jan. 2022, the CDC reports that 71,238 Americans died from fentanyl poisoning—an increase from 2020, which had an estimated 57,834 deaths.
April Babcock, the founder of Lost Voices of Fentanyl, a nonprofit organization dedicated to raising awareness on illicit fentanyl, told The Epoch Times she thinks those numbers are "significantly underreported."
"There's a family … that's pretty definite their kid died from fentanyl because they found fentanyl at his house. But guess what: He was never tested!" Ms. Babcock said. "[The death certificate] says he died from cocaine. No, he didn't. He died from fentanyl."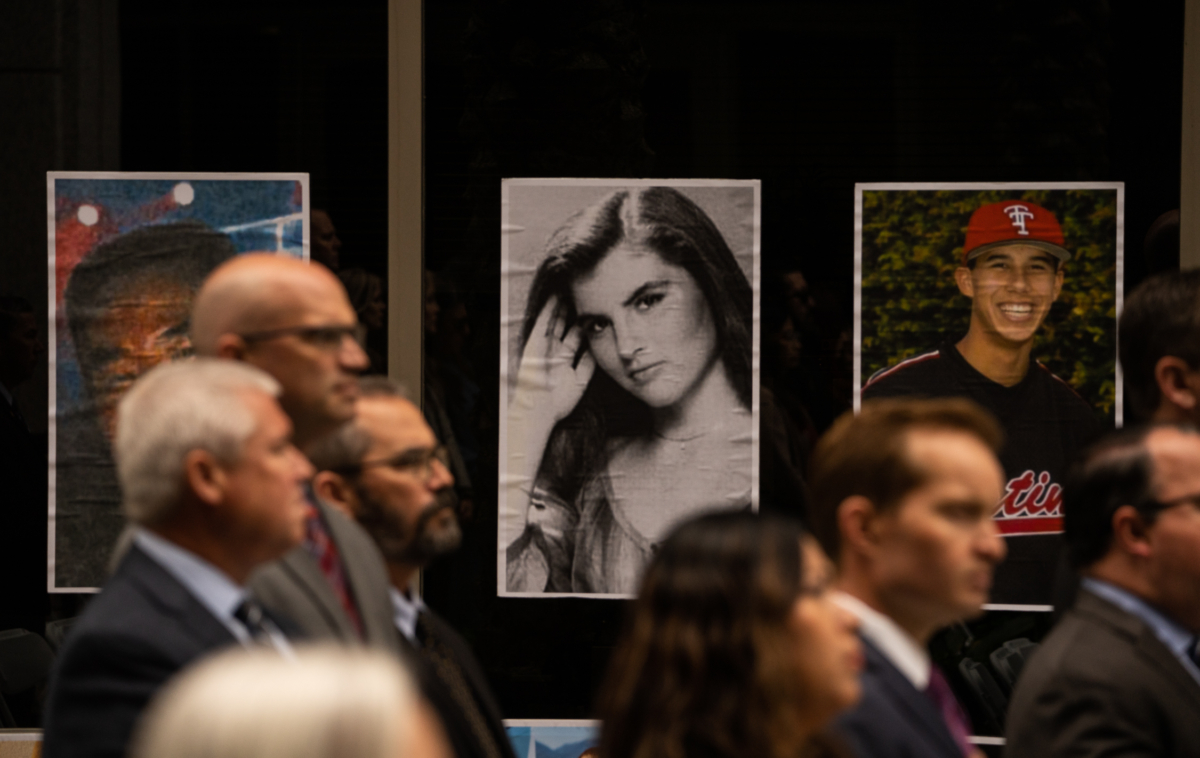 She said the family is pushing to get a bill passed in Maryland that requires all hospitals to test for fentanyl if an overdose occurs.
"I hear it all the time: 'They didn't test for fentanyl.' How are we ever going to get the right data?" Ms. Babcock said.
Border Security
On July 12, representatives from the DEA appeared before the House Homeland Security Committee Subcommittee to testify on border security.
As part of its testimony, the DEA issued a statement that said fentanyl "has transformed the criminal landscape."
"Fentanyl is exceptionally cheap to make, exceptionally easy to disguise, and exceptionally deadly to those who take it," the DEA stated.
The agency said it seized more than 58 million fake pills containing fentanyl, and 13,000 pounds of fentanyl powder in 2022.
"This is enough fentanyl to supply a potentially lethal dose to every member of the U.S. population. These seizures occurred in every state in the country," the DEA stated.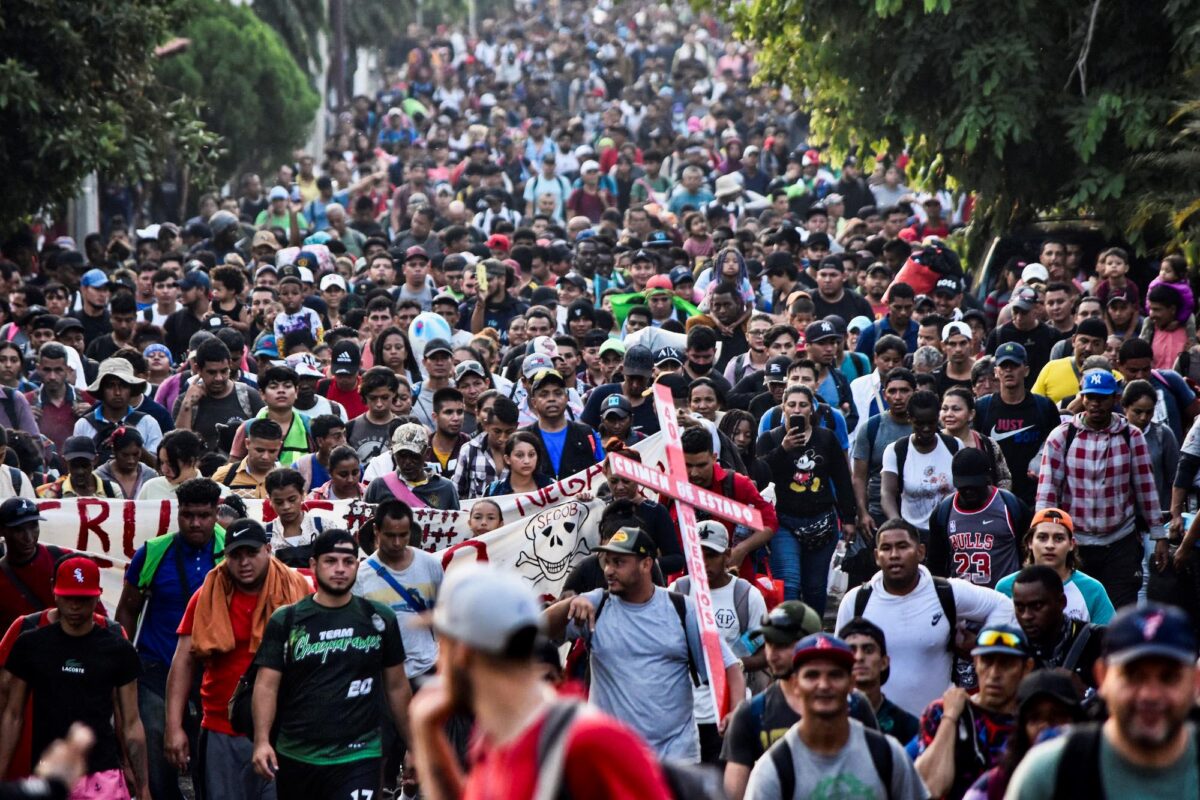 Department of Homeland Secretary Alejandro Mayorkas has insisted that the "borders are not open" and that the United States isn't facing a "crisis" at the southern border.
Rep. Clay Higgins (R-La.) disagrees. "The reckless open border policies set by President Biden and Mayorkas have greatly benefited the Mexican cartels," he stated.
"The cartels quickly learned to outmaneuver the system, and with the help of the Chinese Community Party, they have smuggled an unprecedented amount of fentanyl, taken a record number of American lives, brought in billion-dollar profits, and have torn families apart. Secretary Mayorkas' blatant disregard for the security and sanctity of the American people has wounded our great nation deeply."
Mr. Higgins said his subcommittee plans to hold Mr. Mayorkas accountable for "dereliction of duty."
For Help
SAMHSA National Helpline
1-800-662-HELP (4357)