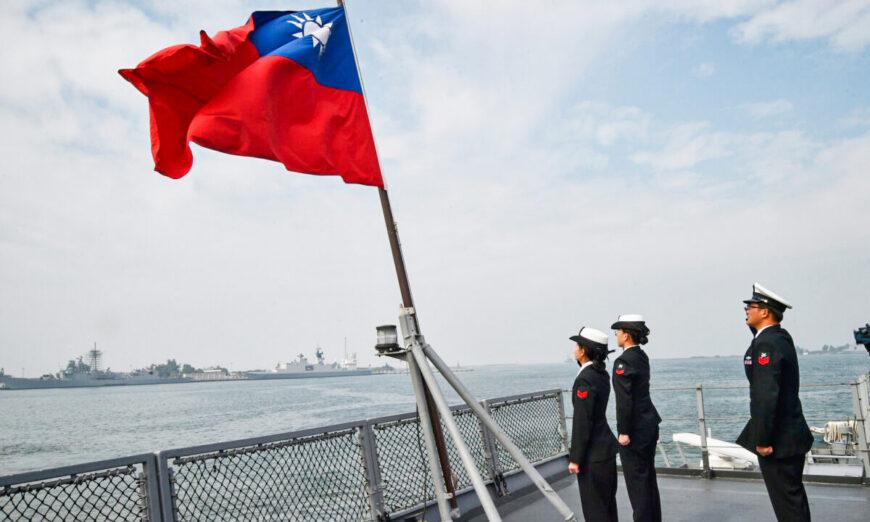 Taiwanese sailors salute the island's flag on the deck of the Panshih supply ship after taking part in annual drills at the Tsoying naval base in Kaohsiung, Taiwan, on Jan. 31, 2018. (Mandy Cheng/AFP via Getty Images)

https://www.theepochtimes.com/china/biden-admin-approves-first-ever-military-aid-to-taiwan-through-federal-program-usually-used-for-sovereign-nations-5484114
The Biden administration has decided for the first time to bolster Taiwan's self-defense through a State Department program that's typically used to assist sovereign nations.
The State Department notified Congress of a military transfer on Aug. 30, a package of $80 million of military equipment via its Foreign Military Financing (FMF) program.
"FMF will be used to strengthen Taiwan's self-defense capabilities through joint and combined defense capability and enhanced maritime domain awareness and maritime security capability," the department stated.
The notification was first reported by The Associated Press.
A State Department spokesperson confirmed the first such military transfer to The Epoch Times. Previous arms sales to Taiwan have been approved under other authorities that don't necessarily imply statehood.
"The United States has provided Foreign Military Sales (FMS) to Taiwan for years," the spokesperson said in a statement. "FMF simply enables eligible partner nations to purchase U.S. defense articles, services, and training through either FMS or, for a limited number of countries, through the foreign military financing of direct commercial contracts (FMF/DCC) program."
In January, Taiwan's Defense Ministry announced one of the biggest FMS arms deals in recent years when it agreed to buy 100 Sidewinder air-to-air missiles, 60 Harpoon anti-ship missile, and other military equipment from the United States.
The spokesperson noted that the latest military aid "does not reflect any change in the U.S. one-China policy."
"We do not support Taiwan independence," the spokesperson said. "Consistent with the Taiwan Relations Act, the United States makes available to Taiwan defense articles and services necessary to enable it to maintain a sufficient self-defense capability."
The United States has had no formal diplomatic ties with Taiwan since Washington changed its diplomatic recognition in favor of Beijing in 1979. However, the two sides have a robust relationship based on the Taiwan Relations Act, a law that authorizes the United States to provide the island with military equipment for self-defense.
Taiwan
Unsurprisingly, the Chinese Communist Party (CCP) has reacted to the U.S. military aid with hawkish rhetoric. Wu Qian, spokesperson for China's Defense Ministry, told reporters on Aug. 31 that the Chinese military will take necessary measures to "resolutely counter it."
Taiwan, a self-ruled island that faces constant coercion and military threats from its communist neighbor, welcomed the military transfer. In a statement, Taiwan's Ministry of National Defense thanked the U.S. government and stated that its decision will "contribute to regional peace and stability."
The African Union is the only other non-nation-state that has received military aid under FMF, according to U.S. officials.
It's unclear what military equipment or systems would be paid for under the FMF.
However, according to the notification, items could include air and coastal defense systems, armored vehicles, infantry fighting vehicles, drones, ballistic missile and cyber defenses, and advanced communications equipment. Other potential items include protective gear; an array of small, medium, and heavy weapons systems; ammunition; and armored and infantry fighting vehicles.
Rep. Michael McCaul (R-Texas), chairman of the House Foreign Affairs Committee, hailed the Biden administration's inaugural FMF for Taiwan.
"I am glad the administration is further implementing our bipartisan Taiwan Enhanced Resilience Act by finally providing FMF to Taiwan," Mr. McCaul said in a statement. "These weapons will not only help Taiwan and protect other democracies in the region, but also strengthen the U.S. deterrence posture and ensure our national security from an increasingly aggressive CCP."
In December 2022, President Joe Biden signed into law the Taiwan Enhanced Resilience Act (TERA) as part of the 2023 National Defense Authorization Act. The TERA authorizes $10 billion in grants and loans to provide military equipment to Taiwan over the next five years to deter CCP aggression.
To intimidate Taiwan, the CCP has been sending military aircraft and naval vessels to areas near the island in recent years. According to Taiwan's Ministry of National Defense, China sent 32 military planes and five military vessels in the 24 hours ending at 6 a.m. local time on Aug. 30.
The CCP is also engaging in cognitive warfare and disinformation campaigns against Taiwan in an effort to influence public opinion and exert influence on local policies. On Aug. 31, Taiwan's Ministry of Foreign Affairs issued a statement on X, formerly known as Twitter, welcoming Meta's decision to purge nearly 8,000 fake Facebook accounts that were connected to China's law enforcement agencies with the goal of advancing the regime's interests.
"Amid #China's widespread cognitive warfare, disinformation campaigns & the resulting global tensions, we commend efforts to unveil the malevolent behavior of the world's largest online covert influence operation," the ministry wrote. "#Taiwan stands ready to safeguard truth & stability."
The Associated Press and Reuters contributed to this report