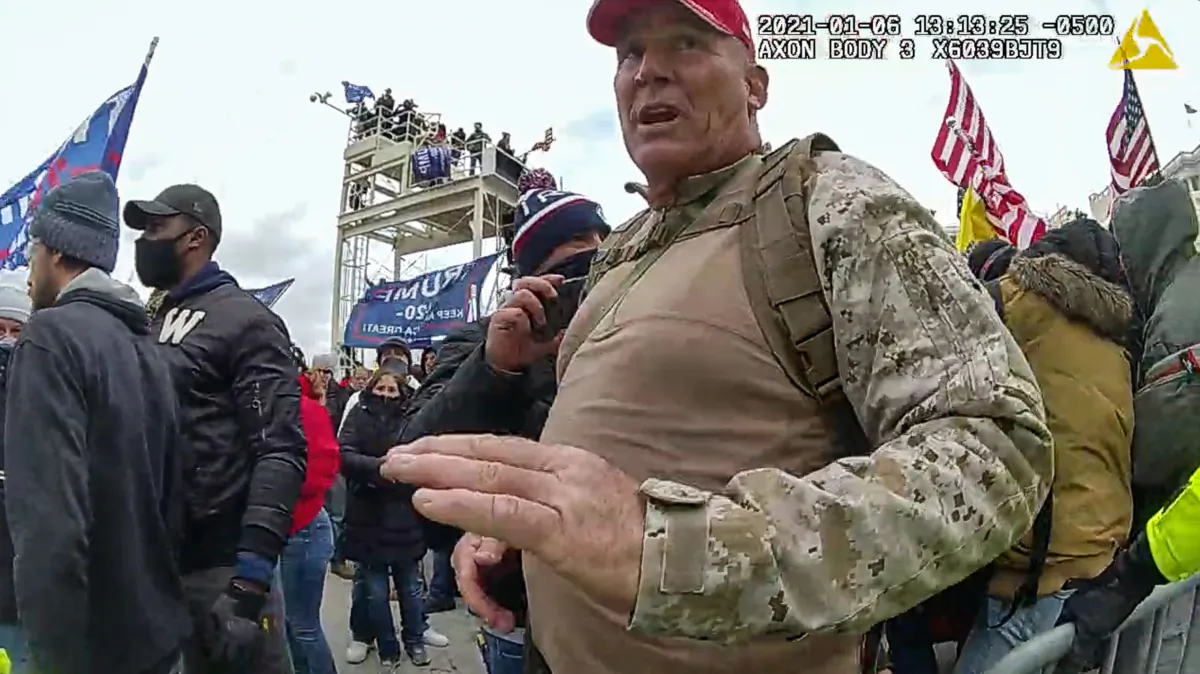 https://www.theepochtimes.com/mkt_app/us/ray-epps-pleads-guilty-to-single-petty-misdemeanor-count-5495739
WASHINGTON—James Ray Epps Sr. pleaded guilty on Sept. 20 to a single misdemeanor disorderly conduct charge, bringing to a close a lightning-quick prosecution for his actions in Washington D.C. on Jan. 6, 2021.
Appearing remotely before Chief U.S. District Judge James Boasberg, Mr. Epps pleaded guilty to disorderly or disruptive conduct in a restricted building or grounds, a Class A misdemeanor with a maximum one-year prison term.
A 14-page plea agreement (pdf) filed by federal prosecutors said Mr. Epps would face no more than six months in jail and a fine in the range of $2,000 to $20,000. The document was dated Sept. 6 and gave Mr. Epps until Sept. 15 to accept or reject the plea offer. The agreement was filed with the court on Sept. 20.
Judge Boasberg set sentencing for 10 a.m. on Dec. 20.
Defense attorney Edward Ungvarsky punctuated the end of his client's case with a statement denying Mr. Epps ever worked as a federal informant.
"Ray Epps was not before, during, or after Jan. 6 a confidential informant for the government," Mr. Ungvarsky told the court.
Mr. Epps will remain free on personal recognizance pending sentencing. No restrictions were placed on travel within the United States, although Mr. Epps will have to surrender his passport.
Judge Boasberg ordered him not to possess firearms, rejecting Mr. Epps's request to retain that right on Second Amendment grounds. As part of his conditions of release (pdf), Mr. Epps was ordered to stay away from Washington D.C., except for court hearings.
Videos Key in Case
There has been rampant online speculation about Mr. Epps ever since his photograph was removed from the FBI's Jan. 6 most-wanted website without explanation. Mr. Epps is one of a handful of people who have had their photos removed from the site since Jan. 7, 2021.
Public discussion about Mr. Epps was fueled by videos from Jan. 5 and 6 in which he urged people to enter the Capitol on Jan. 6.
The first instance was on the night of Jan. 5 on Black Lives Matter Plaza, where he told protesters, "In fact tomorrow—I don't even like to say it because I'll be arrested—we need to go in to the Capitol."
Videos also showed Mr. Epps near the Washington Monument on Jan. 6, using a bullhorn to urge protesters to go to the Capitol after President Donald J. Trump's speech.
"As soon as President Trump is finished speaking, we are going to the Capitol," Mr. Epps shouted. "It's that direction. That's where our true problems lie."
Mr. Epps appeared near the front of the crowd at the first breach of police lines on the Capitol's west front just before 1 p.m. that day. He approached protester Ryan Samsel and whispered something in his ear just before the crowd knocked down the barricades.
"In separate consensual FBI interviews, both Epps and Samsel stated that Epps said something to the effect of, "Dude, relax. The cops are doing their job," prosecutors wrote in a footnote in Mr. Epps's "statement of offense" document (pdf) filed with the court.
Mr. Epps occupied a similar position at the second and third breach points.
Mr. Epps was also part of a crowd that hoisted a giant fabric Trump banner in a heavy metal frame and pushed it at the police line.
"Epps briefly placed both of his hands on the sign's fabric and/or frame," the statement of offense read. "Once the sign was beyond his reach, Epps pointed forward, toward the line of police officers, several times."
A number of protesters who took part in the sign-hoisting were charged with assault on police with a deadly or dangerous weapon.
Evidence from Metropolitan Police Department body cameras showed Mr. Epps numerous times intervening between protesters and police, urging calm and trying to prevent violence.
During an interview with the FBI in March 2021, Mr. Epps said he was guilty of trespassing on Jan. 6, but was motivated by a desire to de-escalate the crowds.
Mr. Epps was not arrested, his case was not sealed by a magistrate judge prior to the execution of an arrest warrant, and FBI agents did not file a probable-cause statement outlining possible charges.
Most Jan. 6 cases have stretched on for months, including ones that were eventually settled with plea agreements. It's not clear from court documents if the Department of Justice had discussions with Mr. Epps prior to the issuance of the plea offer on Sept. 6.